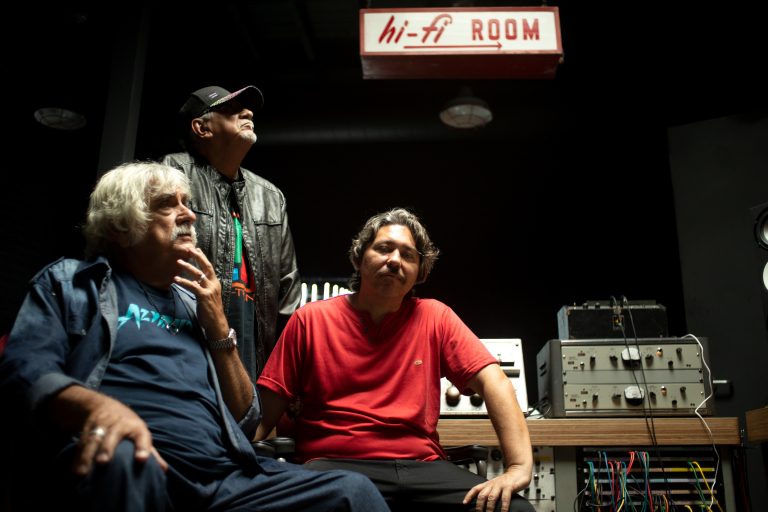 Azymuth: "Jazz forever! Samba forever! Azymuth forever!"
23 October, 2020
"It was a great encounter. They're nice guys, nice musicians – and it was a nice studio, too, of course!" To Ivan 'Mamão' Conti's last point Alex Malheiros gesticulates, excitedly, in agreement. While awaiting keyboardist Kiko Continentino's Skype arrival, the founding members of Brazil's shimmering samba doido trio are animatedly describing their recent collaboration with the Jazz Is Dead label. Sessions run by A Tribe Called Quest's Ali Shaheed Muhammad and prolific composer, arranger and producer Adrian Younge, have resulted in Jazz Is Dead 004, Azymuth's first album in four years – and the fourth record in Muhammad and Younge's series. The ideology behind their label is twofold: "Under Jazz Is Dead, younger artists are elaborating upon conversations started decades ago," so reads their statement of intent. It continues: "jazz icons are utilizing vintage equipment to create new masters; the same equipment that recorded their coveted catalogs." 
It's this second factor that thrills bassist Malheiros and drummer Mamão: "Me and Alex remember recording with this material a long time ago in the 70s! This form – with tapes, instruments like the Hammond organ, Rhodes piano–" Malheiros animatedly interrupts: "–Gibson Les Paul bass! Many vintage, spectacular instruments. For me, it was a beautiful time…"
Mamão continues: "The 8-channel is fantastic and the tapes are very pure – it's better than digital recording. Analogue is fantastic! You can do the real sounds of the instruments; it's easy. And in the studio there were so many instruments to choose between."
I ask the two revered virtuosos of their inimitable funked-up jazz-samba what they think of their label's name. They both laugh. "I knew Jazz Is Dead a long, long time ago," Malheiros exclaims. "In America in the late nineties we were playing in nightclubs in Boston, New York, Mississippi… All over America – and there was an old group called Jazz Is Dead. They were very good – and, then, [I noted how] it was a paradox. And it's still a paradox. Because jazz is alive – and will be forever." He grins: "Jazz forever! Samba forever! Azymuth forever!"
Mamão and Malheiros are both seventy-four but the inexhaustible musicians certainly intend to play forever – they show no sign of slowing down. This is down to an open-armed approach to modern interpretations of their jazz-samba idiom. Mamão, who released the electronics-inclined Poison Fruit EP last year (which has, since, become a sought-after jewel for DJs worldwide), has also had previous experience working with hip-hop royalty. Madlib's well-documented Brazilian love-affair climaxed in 2008 with Sujinho, a collaborative album made with Mamão under the alias Jackson Conti. I ask Mamão how these two recording experiences compared.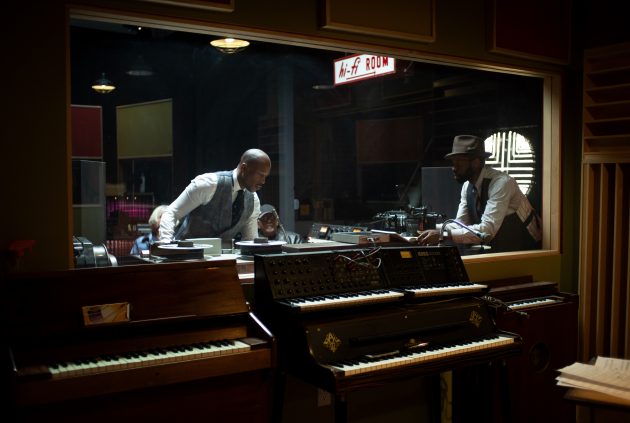 "They were a little different – with Madlib, I just played, first of all. I just played several beats and he would say: 'That's it! Yes, yes, yes'. And, then, after, he overdubbed everything. [With Younge and Muhammad, however,] they had a very specific idea about the sound. They took some tunes, and [Younge] was playing with us – thinking 'how are we gonna do this, how are we gonna do that'. When we would write tunes and parts he would say 'tell me what you want – do it with your mouth: papahdumpapadapapadum!' It was fantastic. He's special.
"He's a musician – Adrian plays and sometimes Ali plays too. And so Adrian would play guitar and a little keyboard. He knows what he wants and he understands. What's most important is to understand how all the guys want to do it – what's the soul of the music? I would try and do my signature for him – and he would say 'No, I don't want this!' I would reply: 'I can play free, of course, or I can play in my style…?' 'No, please play a bit more of the snare – more rim shots, or more in the middle of the snare'… And everyone would understand immediately – it was fantastic – the recording was amazing."
On July 8 2012, Azymuth's founding member, chief composer and keys player, José Roberto Bertrami passed away. Four years later, the remaining two musicians recruited Continentino and released the aptly-titled Fênix to much commendation. It was their first new music without their founding member.
"After Bertrami left, it's all been a bit different," Mamão eulogises. "Bertrami is a genius; he's another kind. Fênix was a fantastic experience, though, because we were thinking about whether or not we were going to do another album – who was going to play keyboard? But Alex said 'Oh, Kiko is fantastic' And I knew this too because I'd played with him a long time ago. He came in and truly understood our sound. I love that album – it was the rebirth for Azymuth."
Malheiros continues: "Remember Azymuth is Azymuth because of Mamão and me. A long time ago Bertrami went to do solo albums and me and Mamão made two solo albums [Tudo Bem and Curumim] with Jota Moraes – two beautiful albums. So it's not the first time we've done this."
Mamão, Malheiros and the late Bertrami were involved in another release this year – a reissue of Marcos Valle and Azymuth's Fly Cruzeiro, a record originally gifted, in 1972, as a promotional album to customers of Brazil's Cruzeiro Airlines. I ask them how it feels to be releasing a brand new album on the same year that an almost-fifty-year-old record is reissued.
"Marcos Valle is fantastic – he's been a friend for a long time and we've played together for a long time."
"I think music is interesting because you can do a song a long time ago and no one makes a fuss – but then the song comes back and you go 'Oh, this is very good – nice timbre, nice relations…' I think it's fantastic." Mamão is vociferous, reminiscing about the Fly Cruzeiro sessions. 
"This album is great because it's all one-time recordings. Each song is a different story – we came to the studio, took the spirit of the song and in the moment we would do something new and very, very, very, exciting. I like how this album, from a long time ago, might be 'forever'. If it's a fantastic recording, it will last forever. Or a fantastic song – like 'Stella By Starlight'!"
With theatrical exuberance Mamão starts singing the jazz standard. "Phwoar! Fantastic! I'm very happy about Cruzeiro – I love it! And Marcos Valle is fantastic – he's been a friend for a long time and we've played together for a long time."
Malheiros explains how Azymuth had worked a lot with Valle before the trio were called Azymuth. In fact, it was while working as session musicians on the soundtrack to the 1973 racing biopic, O Fabuloso Fittipaldi, that the trio lifted their name from one of Valle's songs: "Azimuth (Mil Milhas)".
They encountered Valle first, explains Mamão, while he and Malheiros were session players at the EMI studios around the start of the seventies. "I met Marcos at this time. He came to the studio and asked, 'who's going to play with me?' The manager replied 'I have a bassist, another guy for piano – and you're going to play with Mamão.' And Marcos didn't understand – you see, 'uma mão' in Portuguese, means 'one hand'. So, he replied: 'I'm going to sing with just one hand?' 'No, no, no – Mamão's a drummer, it's his nickname!' And so that was it – then we started playing!"
I wonder whether such an effervescent, creative force felt restricted working as session musicians back then, making corporate music and soundtracks and TV show themes. For Mamão, though, creating music was always a joy. "I think [, back then,] it was OK. I don't have a specific kind of music I want to do. I just want to do songs. Last month I recorded with [celebrated rapper] Marcelo D2 – I directed his new album. Alex is always recording with other guys, me too… Next year we'll record a new Azymuth album… It's all new experiences. For me, this is fantastic – I love new experiences. And now, sincerely, it is a new life for everyone – you can do a lot [from home]."
"Remote control! Remote musicians! Why not?" Declares Malheiros.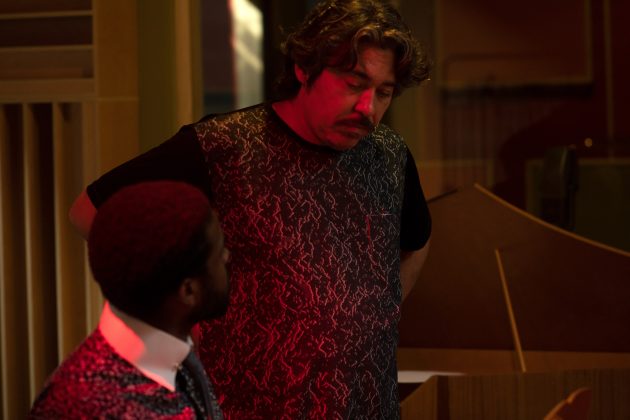 As if on cue, another remote musician joins our Skype call – sideways at first, the phone-camera zoomed in on his broad smile. The younger Continentino is equally ebullient and almost as accomplished as his older bandmates, having played keys in Milton Nascimento's band for 23 years and released nine albums under his own name. As he navigates his technical difficulties, asking how we all are and animatedly sourcing headphones, Mamão swiftly approaches Azymuth's idiosyncratic and indescribable sound:
"This is just our style. A long time ago we started to play together every week in the Bertrami house – Saturdays, Sundays, Fridays – any time we could. It was this perfect time, doing something new. We played every kind of genre and brought our own one's to the mix. And after playing together for almost 25 years, we had this unique character and sound. And then came Kiko – he's a fantastic musician and understood us very well. It's fantastic – easy."
"No limits – this is fundamental to the Azymuth spirit, and I identify with it"
"For me," Continentino interjects, "it's an honour to play with them. Azymuth is a reference in Brazil for musicians – I've listened to Azymuth for years and I have some influence from them. But I've got other influences too. The secret of playing together is to have respect and take care with the musical conception. Azymuth's whole conception is very interesting, formed by a fusion of open-minded musicians. They propose: 'no limits'. This is fundamental to the Azymuth spirit, and I identify with it. I believe music must be expanded. And we always expand our musical limits. With Azymuth, each performance is a new experience. It's never the same music – no, this is the jazz spirit, man. Not just the improvisation but the conception – the new concept in each instance.
"These are young guys – they play like young musicians. It's about energy, energy, energy, But they have the experience that's developed over a long time spent being sidemen and frontmen. Our music is made through three different people playing with respect – and our music takes different paths, to new horizons."
During the album's promotional video, the Jazz Is Dead label deems Azymuth as "continuing to redraw the boundaries of Brazilian jazz and samba." With talk of new horizons, it sounds like this is still what they aim for? 
Mamão and Malheiros pronounce in unison: "Always." The drummer continues, "It's about the new sounds – always. That is a mission for me and the other guys. A mission to do something new and stronger and more vibrant and amazing. This is most important. This is the mission of the musician, when we sit down together and exchange ideas."
"It's an organic interchange of ideas," Continentino corroborates. "No vegetarian, it's organic!" Mamão exclaims abruptly – his bandmates laugh like kids exchanging an inside joke. "No, no, never against vegetarianism," he clears up, chuckling, before Continentino joins in: "It's not vegan, it's organic!"
I ask the trio if there are currently any bands in Brazil that they see as similarly "organic" and boundary-pushing. "Now this pandemic means unfortunately we're not playing live. Normally, when we go to perform you meet other bands, fantastic groups of young people. But we don't have the opportunity currently." Mamão sighs. "And, sincerely, here in Brazil there are a lot of good musicians but it's hard to listen to them. It's so difficult – the radio stations and televisions…" He trails off waving a dismissive hand. "it's difficult."
Malheiros begins listing some of his favourite young bands they'd had the pleasure seeing live ("Bixiga 70, Mental Abstrato"), and then Mamão takes over: "Bixiga70, SpokFrevo – they're a big frevo orchestra – fantastic! And Eleven Heads is the name of a good group – but they're finished now because there were too many of them. Eleven people playing? This is difficult. But they were fantastic, too.
"It's better when you go to their performances and you meet the guys, because the radio stations and television is so poor – I can't listen to good guys, good singers, good musicians there. It's so difficult. Sometimes I listen to older stuff, of course, on vinyl in my house: Salvador Trio, Luiz Eça, Miles, João Gilberto… But, new songs – I haven't found the good stuff yet, I can't listen to it. The heavy sounds and bullshit lyrics – it's not good at all, I don't like it, of course."
"I don't like these new Brazilian musicians and styles," Malheiros interrupts. "It's not exactly Brazilian music – for example, Sertanejo is not Sertanejo…"
"It's not earthy, not country music," Continentino weighs in. "The commercial, industrial music industry is a problem all over the world." "Azymuth is important because it is an underground phenomenon – the underground is another way to hear and follow music, music of quality… We walk this path."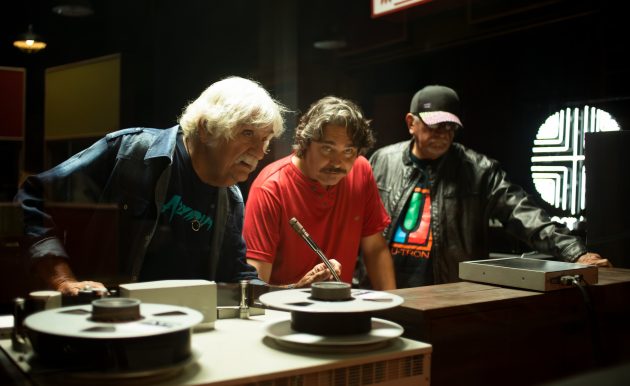 I remind the enlivened band that club and electronic music is a modern culture that their legacy is indissoluble from. The thumping "Jazz Carnival", from their internationally revered smash Light As A Feather (1979), hit 19th on the UK Top 40 when it came out, an unbelievable notion for a pre-internet age Latin American jazz fusion band. It is a dancefloor-filler that has been spun by DJs ever since its release, throughout the acid jazz movement, and is still remixed and edited for dancefloors today – its most recent edit, by Rio de Janeiro's DJ Meme features Mamão on percussion and Marcos Valle on organ.
"Dancing, for me, is something fabulous – something very important. Azymuth's music invites you to dance," declares Continentino. "Azymuth returned in the 90s partly due to electronic music and DJs. And this connection is very important."
Malheiros concurs: "The DJs discovered Azymuth a long time ago – it was very important because they started a new wave. It's good because 'Jazz Carnival' is essentially for people to dance to in clubs. If it's good for the DJs, it's good for Azymuth."
"I love it," Mamão proclaims of DJing. "No problem – but you've got to do it with some quality, of course. This is the new world now. It's fantastic. One new project I have now is for dancing – I mix electronics and acoustics. Of course, the acoustic drum is the spine and the samples and electronic equipment is just for special effects. But the dancing is fantastic."
I ask Mamão about a new club culture that is equally enamoured by the jazz-fusion trio, helmed by Gilles Peterson's Worldwide FM and institutions such as Dekmantel Festival and Boiler Room – both of which Azymuth have performed for. "Yeah – it's the new wave. The DJs have come to move the ship again for a lot of people. When [DJs] play, people are like 'who is this guy? Who is that guy?' And the DJ puts the name of Brazilian musicians out there. Then people remember: 'Ooh legal! This song is fantastic – who is it!?' It's another rebirth. I like it."
"And it's important to say that the young people dance and buy the viny,!" Continentino shrewdly reminds us. Indeed, the new Jazz Is Dead LP has already sold-out of test presses, pre-release date.
We return to the new album and I ask them for their individual favourite songs. Malheiros is diplomatic: "I like every tune – they're all very good. Maybe 'Pulando Corda', 'Sumaré'… every one." Mamão agrees. "They're beautiful tunes – beautiful compositions. But I really like 'Sumaré' – 'Pulando Corda' too – it's a very good tune." Mamão begins scatting the piano solo, arms outstretched and grinning. It is a beautiful piano motif, and one of the moments that Continentino flies. 
The pianist declares it "difficult to choose [a favourite] – each one is a different colour – 'Apocaliptíco' is free – I remember that session… [It reminded me of] Pharoah sanders and Ornette Coleman – but with a new vision and concept. I played the Mini Moog which is so hard and aggressive. And a Clavinet Hohner, and a Fender Rhodes and Hammond organ… It was all done without overdubs – I played three instruments live at the same time. And I remember it being very exciting because we recorded without headphones. Alex and Mamão had recorded many, many times this way previously."
I comment that the beginning of "Fall Afternoon" is evocative of Antonio Carlos Jobim's "Wave". I wonder if they go into the studio with specific sounds, influences, ideas premeditated or whether they just improvise. "Improvisation of course!" Mamão exclaims. "I think it's good when you come to the studio and record for three hours and especially if you don't repeat the same track. You can play the first time – ok, you understand the song; the second time, and then the third time is enough – so you don't lose the essence."
Having spoken about contemporary music and club culture, the conversation moves to contemporary Brazil. Do you feel an impulse to react to the crises Brazil is going through currently – politically, environmentally, and with the current health crisis too?
"It's complicated for everybody around the world, of course – but for Brazil too. Apparently we now have some [coronavirus] vaccine – but I don't believe it because I've talked to my doctor and three or four doctor friends… Nobody knows what's going on." Mamão's mood shifts – he sounds exasperated. Is it particularly hard with this occurring during Jair Bolsonaro's premiership?
"I don't know – not necessarily. I don't like politics very much – I just don't like anybody," Mamão laughs, ruefully. Continentino agrees as Mamão continues. "There's a lot of strange guys in power – every day some politician goes to jail and then he's out again… It's like Carnaval."
"There are three groups," posits Continentino, "the government, the opposition and then the 'nobody' group. Neither side represents the country – I don't agree with either side. The coronavirus has entered this discussion but I don't agree with it because it's a health problem, not a politics problem. It's crazy."
I ask the band about the environmental crisis in Brazil. Their 1989 album "Tudo Bem" was dedicated to Chico Mendes – the celebrated environmentalist and rubber tapper who was assassinated in 1988. And, during promotion for his EP Poison Fruit, Mamão was vociferous on environmental issues.
Malheiros answers: "It's very important for the Brazilian people and all around the world to preserve the forests. We need the water – the water in the Mato Grosso, where my parents are from, is all gone. There's no water in the Rio Paraguay. I don't like any government, but we need the preservation of the world. We need a new world government. Maybe Jesus!" He exclaims his solution before swiftly renouncing it: "No, no, no, no – I'm just being funny!" 
Mamão concludes: "We need help, tranquillity, information… But politics isn't my pitch. Music is pacific, music is the soul, music is my language."
The trio are stirringly expressive when they play – artfully and articulately leaping from frenetic samba, to squelching funk and shimmering soul via free-improvisation. On Jazz Is Dead 004, the inexhaustible three-piece sound invigorated and inspired – exposing the album's title for the paradox Malheiros deemed it to be. Azymuth are professors of this language. And contrary to their new album's title, the three-piece are very much alive and kicking. In fact, Malheiros already has the title for Azymuth's next project: "Kiko said it before: No Limits!"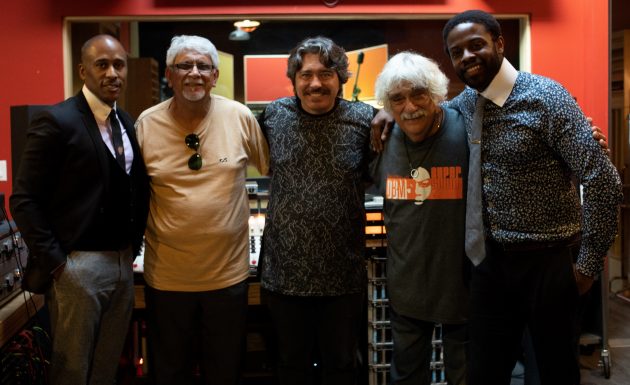 Jazz Is Dead 004 by Azymuth is out today on Jazz Is Dead:

Follow Sounds and Colours: Facebook / Twitter / Instagram / Mixcloud / Soundcloud / Bandcamp

Subscribe to the Sounds and Colours Newsletter for regular updates, news and competitions bringing the best of Latin American culture direct to your Inbox.
Share: