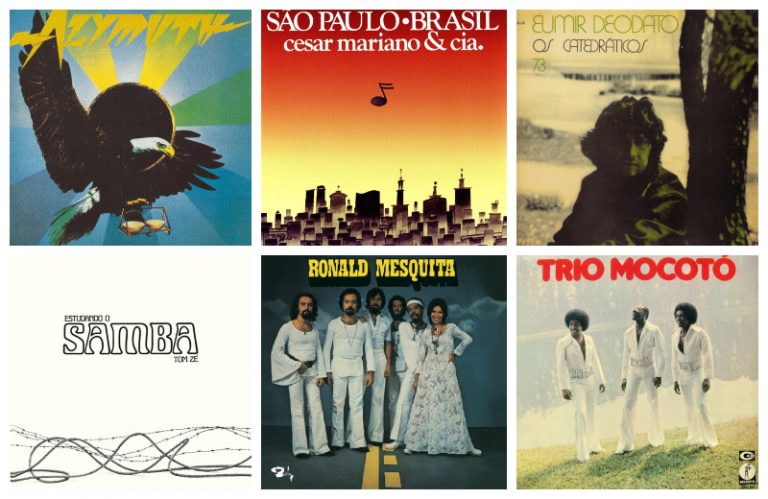 Brazilian Music Reissue Round-Up (Azymuth, Tom Zé, Trio Mocotó, Deodato, Cesar Mariano & Cia, Ronald Mesquita)
13 March, 2019
The UK's two leading sources of Brazilian music, Mr. Bongo and Far Out Recordings, have been busy in the vaults recently, sniffing around for overlooked gems to re-release. Here's a quick look at some of the finest fare on offer…
Azymuth – Águia Não Come Mosca (Mr Bongo)
Surprisingly Mr. Bongo's first-ever Azymuth release, this is the dynamic trio's second studio album, originally released on Atlantic in 1977. Coming two years before their classic Light As A Feather, featuring that epic stomper, "Jazz Carnival", it probably explains why this one has rested in peace for so long. The thing about Azymuth, of course, is that you always know what you're getting – right from their debut album of 1975 to their most recent Fénix (both available from Far Out Recordings): those soaring synthesised melodies penned mainly by the late lamented José Roberto Bertrami, rooted in the funk supplied by Alex Malheiros on bass and Ivan "Mamão" Conti on drums, a rhythm team that should by rights be as familiar as Sly and Robbie. "Never knowingly disappointing," could be their strap-line.
This album is no exception. There may not be a "Jazz Carnival" or a "Carambola" this time around, but it's full of the kind of tunes that insinuate themselves into some dark cerebral recess and make you wonder where you might have heard them before. "Tarde", for example, is every bit as gorgeous as one of those ethereal songs that Milton Nascimento contributed to Wayne Shorter's Native Dancer. Their self-styled brand of "crazy samba" is here, too, particularly in the frantic 160bpm closer, "Águia Negra X Dragão Negro", in which the famous three seem to transform themselves into an entire Escola de Samba.
To be released on April 26th by Mr Bongo
Cesar Mariano & Cia – São Paulo, Brasil (Mr Bongo)
Also from 1977, and again from Mr. Bongo, this cult classic (originally released on the RCA label) re-surfaced at the back end of last year. There are certain similarities between this quintet's product and that of the Azymuth release (not least the fact that the Fab Three seem to conjure up as big a sound with two fewer members). This one, too, ends with a bang in the form of a brief carnival-esque floor-filler, "Futebol de Bar", presumably an ode to a football pub in São Paulo. Cesar Mariano himself is a celebrated jazz pianist, composer and producer, and has played and worked with the great Elis Regina, among others. The album is closer to a classic jazz-funk template than Azymuth's more idiosyncratic disc, but it's full of fine tunes and surprising shifts in time signatures, expertly played with echoes of Herbie Hancock's Headhunters, Gene Harris and even Sly Stone (on the opening "Metrópole") and the Stylistics' wonderful "People Make The World Go Round" (on "Poluição"). It's a cracker!
Available from Mr Bongo
Before moving on, it's worth flagging up the new Ivan "Mamao" Conti solo album, Poison Fruit, just out on Far Out Recordings. It's revealing to hear how far the music has moved on since the golden days of what one might loosely label "jazz-funk". There are echoes of both Azymuth and Cesar Mariano, of course, but the drummer has hitched the genre to an electronics wagon with some really interesting (if a little uneven) results that confirm what an innovative musician Conti is. "Crazy samba" just got a whole lot crazier.
Tom Zé – Estudando O Samba (Mr Bongo)
And while on the subject of "crazy samba", Mr. Bongo's re-issue of Tom Zé's ground-breaking "study" of samba from 1976 explains why David Byrne was inspired to release several of its tracks on a Luaka Bop compilation – which, happily, reignited a career that was so far in the doldrums that the good Mr. Zé was contemplating employment in a service station. The album featured in a Rolling Stone "100 Greatest Brazilian Albums of All-time" list, and listening to the way that Zé and his band de-construct the samba genre like a top chef re-imagining a classic dish, it's easy to see why. At times it can be truly disconcerting: the aural equivalent of watching an old German expressionist movie like The Cabinet of Dr. Caligari. At other times, as in the brief final track, "Índice", or the extraordinary re-working of Jobim and Moraes' evergreen "A Felicidade", the music can be simply lovely. Zé takes a kind of angular, 'off-minor', Monk-ish approach to the music throughout and the result is an affectionate, playful and timeless album that merits the 'classic' label.
Available from Mr Bongo
Ronald Mesquita – Brésil '72 [Reissued as Ronald Mesquita] (Mr Bongo)
The implausibly kitsch cover of this Mr. Bongo re-issue of a 1972 album that originally appeared on the French Barclay label just goes to show that you can't judge a record by its cover. Like "Mamao" Conti, Mesquita is another master of the drum kit. Primarily a session musician, the drummer worked most notably with Luis Carlos Vinha and his Bossa Três. While nothing on the album quite lives up to the renowned opener, "Balança Pema", a favourite of the jazz dance scene and sampled by Madlib, the other 10 tracks all have their merits. In their interpretations of songs by the likes of Jorge Ben, Gilberto Gil, Edu Lobo and Antonio Carlos Jobim, the band achieves a kind of early Sergio Mendes sound with an emphasis on delicious vocal harmonies and soaring brass. Both cover and music make this an album that shouldn't be ignored.
Available from Mr Bongo
Eumir Deodato – Os Catedráticos 73 (Far Out Recordings)
Following hard on the heels of Far Out's re-issue of the fabulous 1965 Os Catedráticos album, Ataque, comes this latest re-issue from the keyboard maestro's extensive back catalogue. Despite his extraordinary list of credits, though, Deodato can be "well dodgy". The standards and judgement of anyone who has made or contributed to so much music must lapse on occasions. On Deodato 2, for example, also made for Creed Taylor's CTI label in 1973 but this time with American musicians only, you have to wade through such questionable offerings as a saccharine version of "Nights in White Satin" to get to the supercharged jazz-funk of "Super Strut".
That album also featured a high-intensity re-working of "Skyscrapers", the dance floor smash which appears here in its original form as "Arranha Ceu". By this time, Deodato was an adopted native of New York and this re-issue is a true meeting of U.S.A. and Brazil, with horns supplied by Creed Taylor's usual suspects and the seductive post-bossa rhythms courtesy of Brazilian luminaries like a certain… Ivan "Mamao" Conti. The lapses of good taste are mercifully few and the 11 concise tracks swing with the kind of feel that recalls Georgie Fame & the Blue Flames or early '60s Mongo Santamaria. It's catchy organ-led music that would have made a perfect soundtrack for a classy spy-spoof like Joseph Losey's Modesty Blaise. Groovy baby, groovy!
Available from Far Out Recordings
Trio Mocotó – Trio Mocotó (Mr Bongo)
Once more from São Paulo, and once more from the mid '70s via the house of Mr. Bongo, Trio Mocotó's eponymous album underlines the key role that the trio played as Jorge Ben's backing band in fusing samba and rock to form what was known, unsurprisingly enough, as samba-rock. The trio also backed the partnership of Toquinho and Vinicius de Moraes, so they had gravitas on their side. Like the Ronald Mesquita album, the opening track is truly epic and nothing thereafter scales the heights of "Não Adianta". "Que Nega É Essa" is, however, a lovely jazzy cover of a Ben-penned number, while the other eight tracks all contribute to a nice album that fans of Jorge Ben in particular and MPB in general will want for their collections.
Available from Mr Bongo

Follow Sounds and Colours: Facebook / Twitter / Instagram / Mixcloud / Soundcloud / Bandcamp

Subscribe to the Sounds and Colours Newsletter for regular updates, news and competitions bringing the best of Latin American culture direct to your Inbox.
Share: