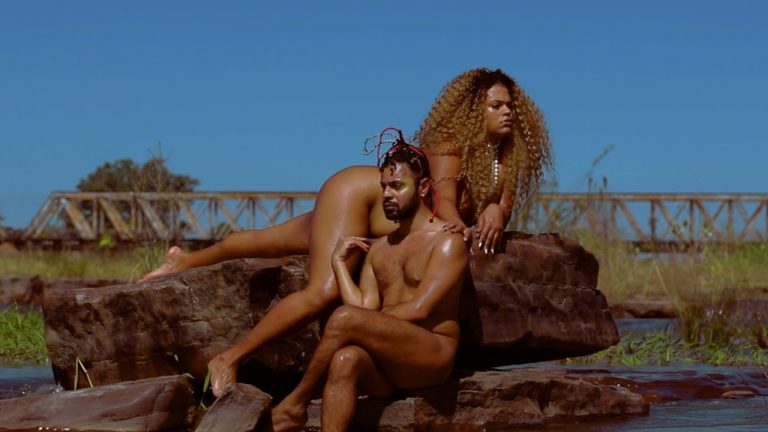 Brazilian Wax #1
12 August, 2020
This is the first of regular Brazilian Wax round-ups which will focus on the latest musical output from Brazil. For the inaugural piece, I thought I'd write a bit more than normal about some records I've had on repeat over the summer so far…
Full-Length Albums
Negro Leo – Desejo de Lacrar
(YB Music, QTV Label)
Negro Leo is at the sharpened edge of Brazil's musical vanguard. And his latest album Desejo de Lacrar is Brazilian indie's freest, most exciting album since 2018's Transa by Ava Rocha (to whom, incidentally, Leo is wed). Always outspoken, Leo's album title, Desejo de Lacrar – which translates to 'Desire to Seal' – borrows LGBTQIA+ terminology to express his feelings of hopelessness in the face of Bolsonaro's oppressive state. He explains: "To seal is to act insolent and revolted. To win, if not in fact, then virtually. Sealing, in fact, is what we have left". On the album, Leo, explores the eponymous verb and how his native nation's present transphobia, homophobia and racism works to 'seal' and make invisible an oppressed majority.
It is no surprise, then, that Desejo de Lacrar, is loud and unshackled. It is an assortment of spontaneous-sounding bursts of expression that shift styles, tempos and volume at breakneck speed. Sonically, the result can be as uncomfortable as it is breath-taking. The resulting amalgam of sounds is as if Thundercat enlisted Deerhoof to make a Flying Lotus-produced Hermeto Pascoal tribute album. Fluttering between free jazz, art-rock and experimental electronics, Desejo… struggles for total freedom. From the opening title track, Leo's lyrics – a fusion of abstract esotericism and jazz scat – are screeched and whooped. In an almost inhuman falsetto, he breaks through the boundaries of the male singer's conventional register, sounding animal-like. He shrieks: "Sou ave antiga" ("I'm an old bird"), his vocals embracing the natural world and introducing a man-with-nature theme present from the album's artwork in which, squatting in combat camouflage, Leo blends in with surrounding greenery. "Somos todos" ends the title track, with Whitmanesque sentiment: "we are everything".
Album highlight, "Dança Erradassa", begins with a scream before hurtling intoan unbridled stream of consciousness. Accompanied by time-shifting squirming bass and angular synth, it stumbles towards a groovy 7/8 hook before totally unravelling again. Everything sounds organic – almost accidental. The following "Eu Lacrei", with loosely-swung ride cymbals, lollops and tumbles like a slinky down the stairs. Its woozy, distant vocals sit low in the mix, swathed in fuzzy, modulating organs – a million miles from the elastic "Dança Errassada". And, then, the stirring "Absolutíssimo Lacrador" breaks through the free-jazz stupor with Leo clamouring through a megaphone with the immediacy of a protest leader: "Party President, It will never make sense, Seal the mother, seal the father". With shuffling bit-crunched drums and an unhinged walking-bass line, Negro Leo is clearly not interested in conveying his message accessibly. His is unpredictable, unshackled music; and it's what Brazil's alarming political reality demands.
Joana Queiroz – Tempo Sem Tempo
(YB Music)
Clarinettist and saxophonist Joana Queiroz's intricate Tempo Sem Tempo (Time Without Time) borrows its name and title-track from a song by celebrated composer, essayist and Brazilian literature professor, José Miguel Wisnik. Wisnik's lyrics tug at the construct of time: "Time goes around and around, Time has absurd revolutions, He is and is not at the same time". For Queiroz, attending a Wisnik concert in Rio, the penny dropped: she started to weep and Wisnik's "Tempo Sem Tempo" began looping in her brain. Time without time – both the song and notion – was the springboard for Queiroz's album.
Queiroz arranged each of her original compositions so that she could play them herself, utilising loop pedals to build rich, elaborate textures. She then elected four vocal pieces – "Seu Olhar" (Gilberto Gil), "Jóia" (Caetano Veloso), "Tempo Sem Tempo" (Wisnik/Jorge Mautner) and "Dois Litorais" (Mariá Portugal) – which she manipulated into looped, circular forms. Looping is at the heart of this record, both in practice and theory. On Tempo Sem Tempo, each woodwind loop challenges the idea of time and live-ness. Each of Queiroz's compositions sound organic and of-the-moment. But they are made up of loops that are inherently no longer live the minute they're made: each instrument, to paraphrase Wisnik, both "is and is not at the same time".
The product is an enthralling collection of intimate, delicate compositions. On opener, "O Barco", it is a full two minutes before you hear a proper note of music – what precedes is intricate ASMR-inducing breath- and valve-work which ripples down the spine. "O Barco" builds slowly with breathy drones and scalic patterns, looping and spiralling timelessly, unbound by any exact metre. "Memórias", Queiroz notes, is like a ticking clock – but the time is never exact; always lilting and organic rather than measured. The album builds and swells towards its epicentre: Queiroz's breath-taking interpretation of Caetano Veloso's "Jóia", the melody of which is meticulously threaded through its preceding composition, "Beira Do Rio, Beira De Mar". It's on "Jóia" that the complexity of the album's arrangements is fully appreciated. With incredible close-harmony vocals, rumbling drum-work (courtesy of her Quartabê bandmate, Mariá Portugal) and intriguing production, everything falls into place. Tempo Sem Tempo is indeed without time: it isn't interested in linearity; rather it is a record that is light and spacious and moves delicately from one idea to the next.
Thiago Nassif – Mente
(Gearbox Records)
"Você tem me feito soar estranho" ('You've been making me sound strange'), Thiago Nassif accuses on opener "Soar Estranho". Chewing up and spitting out lurching lyrical snippets over stumbling buzz-saw synths, Nassif certainly doesn't need help sounding strange. The no-waver's latest album, produced by ex-Lounge Lizard, Arto Lindsay, was always going to sound awkward and eccentric.
Heralded by a thudding drum roll, though, "Soar Estranho"'s stumbling build-up somersaults into sure-footed funk. The stagger very quickly becomes swagger: "You left your number on my fridge/ And yet you're so out of reach," sing chorus-laden female vocals over a stomping rhythm section. With breakneck speed, Mente's eccentric opener lurches and jolts into gear. And its Nassif's shifts from po-faced esotericism to visceral funk and accessible humour that makes Mente so captivating. The album's title plays on a Portuguese homophone – to lie ('mentir'), mind ('mente'). Fittingly, Mente is ever-elusive and polymorphous: just when you lull into the distortion laden stutter-strut of "Pele De Leopard", the album moves into the meticulous and spacious "Voz Única Foto Sem Calcinha" with cuícas, gentle guitar and female vocals courtesy of Ana Frango Elétrico. Then comes album highlight: "Plástico", with Nassif muttering, like a high-Modernist Baxter Dury, about plastic bags and fingers over bubbling guitars and bass.
Every now and then one might accuse Mente of sounding bloated or pretentious – for example, on the crawling "Feral Fox" where lyrics about marrying Jimi Hendrix are inane rather than intriguing, but you could never accuse Mente of being boring.
Bruno Berle – Bruno Berle
(Batata Records)
This album landed without fanfare on Bandcamp in the midst of lockdown and quietly became, for me, its soundtrack. Presented insouciantly – its cover an undersaturated selfie; its song-titles doing away with capitals – Bruno Berle's full-length release is as beguiling as it is understated. It was released on the ultra-lo-fi Maceió label Batata Records, whose informal roster seems to compromise of three goofball mates: batata boy, Phylipe Nunes Araújo and Berle. And Berle's release certainly epitomises the intimacy and informality of each of Batata Records' prior releases. Opener, "Até Meu Violão" ("To My Guitar"), breezes in with a lo-fi crackle, the eponymous violão and whispered vocals immediately recalling João Gilberto – Gilberto himself indebted to the warm nylon-stringed guitar. Over "Até"'s shuffling software-programmed drums, Berle sings: "la vem e chama" ("it comes and goes"). And it's with this nonchalance, that the album lilts from simple loop-tracked love-songs, to meandering field-recording-textured instrumentals. Berle writes bossa nova for the bedroom artist. It's warm, cosy and familiar but unmistakingly modern. (Do also check out Batata Records' most recent EP from Araújo which also features Berle.)
Tiganá Santana – Milagres
(Martin Hossbach)
Milagres isn't particularly exceptional a record for the Bahian composer, Tiganá Santana – 2015's Tempo & Magma is certainly more varied, playful and raw. However, Santana's voice is so extraordinary here (as it is throughout his discography), that it alone can carry his latest album to exceptional heights. Santana's voice, like the album art's expressionistic brushstrokes, is thick and textured. And Milagres' crisp, full production beautifully captures its tangible warmth. The album begins with a quiet, sung introduction ("Chamada") which leads into Brazilian standard "Escravos de Jó". The squeak of finger on violão, the reverberate hum of Santana's vocals, the somehow sombre but light backing vocals are sensory treats here. And so are the duetting double bass and vocals on "Sacramento", where, with awkward intervals and jumps proving light work, Santana's vocal control is really showcased. Milagres' excellence is in its tone: each instrument – saxophone, violão, percussion, vocals – glows as if spot-lit and set against a spacious, warm darkness. Its leading actor is Santana's voice.
Singles & EPs
Caio Prado – 15 de Março
(MangoLab)
Originally released in 2018 as part of a trio of protest songs, the tirelessly taboo-challenging singer Caio Prado recently re-recorded the rousing "15 de Março" for MangoLab. Its lyrics are a reaction to the 15th March 2018 assassination of mixed-race PSOL councillor for Rio, Marielle Franco. Her murder, the leads of which can be traced back to both police associates and sons of President Bolsonaro, occurred the day after Franco had addressed Rio's rampant police violence via Twitter. Her death and story, then, in the wake of the BLM protests that George Floyd's murder instigated, is still as relevant and disturbing as ever. And Caio Prado's evocative vocals, here, still ring with compelling urgency over skeletal drum-machine and arpeggiated synth.
Duda Brack, Hypnotic Brass Ensemble, Lúcio Maia – CONTRAGOLPE
(Duda Brack e Honest' Jons)
The Porto Alegre singer Duda Brack enlists Chicago heavyweights Hypnotic Brass Ensemble for her latest anthemic single, which responds to the censorial Bolsonaro government and its likeness to Brazil's twenty-one-year dictatorship. "CONTRAGOLPE", beginning with sombre funeral-march brass, builds into a defiant call-to-arms. Brack's lyrics deal with censorship and marginalisation, and recognise that Brazilian history is beginning to repeat itself: "And an old man said [a backlash] is long overdue, And then he said, the tape rewinds without us noticing". The stirring lyrics are matched by wailing vocals and writhing guitar courtesy of Nação Zumbi guitarist Lúcio Maia.
Ventura Profana, Podeserdesligado – Traquejos Pentecostais para Matar o Senhor
(Tratore)
The introduction to album opener 'Python' is mammoth. A strident bugle rises above atmospheric rustling, synths and taut percussion, before samples of machine-gun fire introduce Ventura Profana and Podeserdesligado: "Preparo os meus pés pra batalha, Python, python, python, python" ("I prepare my feet for battle, Python, python, python, python"). The two trans. artists' joint-album opener is a war cry. It's worth noting that the album name is, in English: "Pentecostal Tracts to Kill the Lord". From the off, there's both great drama and great irony in this EP: pythons, of course, don't have feet; Pentecostalism is one of Protestantism's most evangelical movements.
The religious theme moves throughout and gives extra gravity to Profana and Podeserdesligado's dramatic maximalist pop. The songs themselves move from anthemic pop, through Die Antwoord theatricality to sinister electronics reminiscent of Teto Preto's ground-breaking Mamba Recs release, Pedra Preta. And the outcome is powerful, brash and wholly compelling.
Luiza Brina & Josyara – Oração 12
(Tratore)
Luiza Brina's latest single – a guitar-vocal duet with Josyara – drifts by with a sunny effortlessness and clocks in at 2 minutes 18 seconds. "Oração 12" is certainly short and slightly built: two playfully interlinking guitars and perfectly synchronised close-harmony. But its lively syncopation and syrupy chorus makes the single an amuse-bouche that packs a punch.
Electronic Music
VA 002 Vol. A & B
(Goma Rec)
The electronic music label from Porto Alegre, Goma Recs, released two eclectic compilations last month that might serve as a tour guide to Rio Grande Do Sul's polychrome party music. Both volumes are musical mosaics compromised of extremely varied music. What both collections' tracks overwhelmingly have in common though is intelligent arrangements and production. Vol. A builds through Mocca's brooding opener, and dips its toe into various intricate styles from Gustavo Koetz's many-layered shuffling house, to rilik's trickling liquid funk and celebrated flautist/producer L_cio's drone-heavy ethereal techno. Vol. B opens with an incongruous but exciting OMOLOKO track which fuses old-school hip hop vocals and four-to-the-floor drums, while posada's atmospheric "Instigada" combines intricate triangle rings with almost haunting pads and parallel chords for one of the volume's highlights.
C LACRAIA ESTIVESSE VIVA
(Tormenta)
Clube Tormenta is a transgressive, boundary-breaking São Paulo club night. Resident to the likes of BADSISTA and Fkoff1963, it is a place of unrestrained musical expression and freedom. This fifty-strong compilation is equally unrestrained and spans so many genres and moods that it'd be pointless describing its various mind-altering sounds. Tormenta spokesperson, Kelton Campos Fausto, writes of the compilation: "Trying to act against the necropolitics and necromarket in which we live in the middle of a pandemic, Tormenta and A-MIG joined more than 50 artists and producers from all over Brazil and the world to launch this collaborative album where all the income will be destined to NGOs TLGBQI+ and Brazilian marginalized projects." The result is expansive and, often, excellent.
HSR007 (Hotaru Edits)
(Hello Sailor)
Renata Do Valle's Hello Sailor Recordings – the New York-based label behind Trepanado's acclaimed Street Soul Brasil compilation – have released their latest rework split-single. DJ Hotaru reworks two tunes from ultra-rare mid-90s LP, A Máquina do Tempo by Silvanna E A Máquina do Tempo. "Vem Viver pra Mim" struts coolly with compressed drums and elastic bass. Meanwhile "Sera que eu to Pirada", laden in phaser and bulkier than "Vem…" with triggered drums, twangy funk guitar and sassy vocals, is already a dance floor-filler. Neither track is revolutionary, but both are watertight slices of Brazilian funk.
GMZ– La Matanza
(Submarine Records / Prius Discos)
Guilherme Granado, Hurtmold's keys, vibes and electronics player and all-round prolific collaborator, has joined forces with the artist and producer Monki and Argentina's Walter Zenker under the moniker GMZ to release an EP of light, textural ambient music. Opener "Sem Sinos, aos Passaros", the only track that could be considered club music, builds gossamer layers beautifully over a driving beat. While "Galaxias Inquietas" moves from tentative vibraphone and dubs seamlessly into an analogue synth groove. On each track the many layers never feel crowded – the various analogue-sounding textures are always gentle and spacious. The overall effect is quietly impressive.
Alphayatch Meets Lise – Alphayatch Meets Lise
(propositorecs)
"Alphayatch Meets Lise" is a sixteen-minute long tapestry made up of various samples, drones, beats and field recordings. Most sampled snippets last less than ten seconds and vary from boom-bap and jazz-inflected hip hop to a moment of Irish fiddle, the sounds of phones ringing and typing. But each incongruous segment is stitched together with beats that betray its creator's fantastic timing, and meticulous soundscaping. The outcome is a textural piece which always feels whole, even when each sampled piece is so different from the last.
DJ Tahira & Liniker e Os Caramelows – Zero (Tahira Flip)
The endlessly smiley DJ and music researcher behind 2018's bible of rare Afro-Brazilian gems, Levanta Poeira (Jazz & Milk), has re-interpreted the trans. soul icon's breakthrough hit, "Zero". The outcome is expectedly buoyant with the slow, impassioned original being reworked into a rolling R&B late-night club anthem. The sumptuous vocals are still front and centre but they're rocketed to a new stratosphere with Tahira's considered and spacious production.
Follow Brazilian Wax: Website / Facebook / Instagram / Soundcloud / Mixcloud

Follow Sounds and Colours: Facebook / Twitter / Instagram / Mixcloud / Soundcloud / Bandcamp

Subscribe to the Sounds and Colours Newsletter for regular updates, news and competitions bringing the best of Latin American culture direct to your Inbox.
Share: