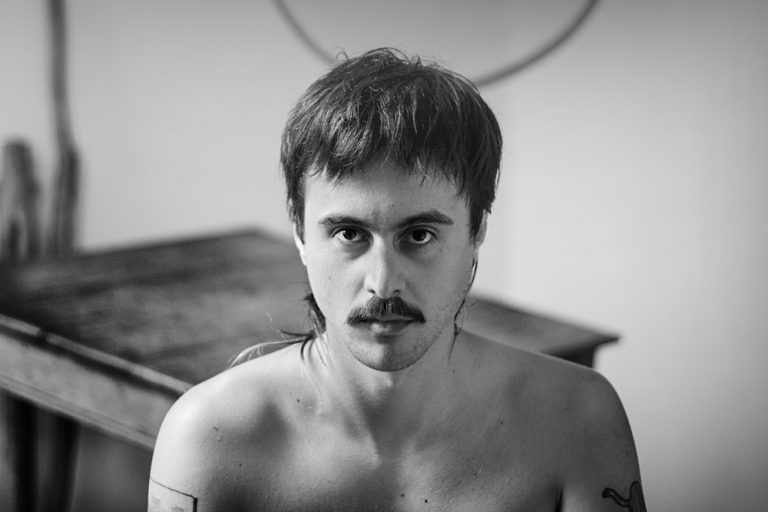 Brazilian Wax #3
14 October, 2020
Here's the third Brazilian Wax round-up – belated, this month, as I've been inundated with interview write-ups (the first of which, with Nubya Garcia, came out last week). In the last Brazilian Wax, I introduced "highlight" tags for my favourite three records of the month. This month, it will be reserved for one album which, for me, sits above the pack. That's not to say, though, that the rest of the article is just a collection of dribs and drabs. This month's excavating bares as many jewels as the last – from free international jazz, through trad. punk to UK-Brazilian drill music… It's a vibrant, album-heavy collection of exceptional releases from the last month:
Full-Length Albums
HIGHLIGHT
Gabriel Edé – Terror Da Terra
(TUDOS)
Terror da Terra is theatre. To enter its world is to thrust apart stage curtains, embrace the orchestra's swell, and to sink into a plush velvet mood. Forestalling its dramatic shadows and dense orchestration, Terror's artwork, with viscous brushstrokes, is thick and sinister. A sombre rendering of its lead dramatist, it sees a despondent Gabriel Edé cloaked in existential dread. Propped up at the elbow, his head resting on a clenched fist pulls his eyebrow into a raised incredulity.
The music on the Chilean-Brazilian's debut album is accordingly dark and inquisitive, its lyrics prodding at egoism, pulling apart autonomy and prophesising apocalypse. The eponymous opener prowls towards an arresting climax with funeral-march brass and strummed violão. Through twitching electronics and flurries of strings, "Terror da Terra" skulks towards a frantic crescendo. The rising drums rumble like a cavalry charging, gang vocals whirr and a wheezing saxophone puffs atop Edé's ominous lyric: "A unha do louco desenha na pedra, revela o que ninguém mais vê" ("the madman's nail draws on the stone, revealing what no one sees").
The Negro Leo collaboration, "Baby Blues" is, externally, a more frolicsome affair. It is a drunk, stumbling number bashed out, stride-piano style, with Edé and Leo slurring over the top. With chopped-up saxophone samples that judder and squeak, it seems a playful piece. But, as Edé's lyrics tell a groaning tale of post-natal depression ("I was born, you cried, you lost all the sparkle, I stole your sun"), Leo's crying-baby impressions shift from silly to tragically powerful. A squawking pastiche of its titular music genre, "Baby Blues" shares the bewitching tone of a tragicomic Charles Mingus romp. It is also light relief before the mood thickens again with "Geia", awash with reverb and buttressed by a buzzing drone. Evoking medieval plainsong, Edé's repeated chant-like lyrics are mirrored by a piano in parallel fourths: "When the conscience is born, the earth turns, generates, within itself, the god himself."
Sometimes, the gloomy stupor of Terror threatens to drown the listener, but Edé's tour de force is rich in tender moments and sensitive orchestration – like on the sumptuous "A Demência Dos Touros", with flamenco strut and warm baritone sax, or the exquisite "Quando Os Deuses Adormecem", with surges of atonal strings and weeping saxophone. Indeed, though Edé's debut reaches disconsolate depths, an intimate, syrupy beauty flows throughout – a beauty that feigns to shed its gloomy shroud on album-closer, "Abismo".
Its finger-picked intro is soft and almost beautiful – but for the odd awkward diminished interval. The vocal melody is nearly elegant – but then, behind it, you can hear a guttural screeching. A weeping violin toes the same line – sometimes gorgeous, sometimes gruesome. Like the Edé painted on Terror's cover, "Abismo" always seems to have its eyebrow raised – dubious of its own bursts of jubilance. Its lyrics, which begin characteristically menacing ("I have no limit, I don't stop, even if there is a chasm between you and me") also threaten to become hopeful. The album's last words are almost euphoric: "I have no limit, I don't stop. Even if there is an abyss between me and the world." But Edé seems reluctant to hit his final high note. Ultimately, with feedback and thudding drums, the album's pall holds out until its close. But Edé's final message might be one of quiet optimism – as black as the abyss might be, he won't stop. And Terror da Terra proves he can find striking beauty within the darkness.
Cinema – Cinema
(Discos Nada)
After 21 years of immutable national darkness, 1985 was a new dawn for a Brazil seeing democracy for the first time since the 1964 insurrection of João Goulart. This return to a better life was not a recrudescence though – by 1985, everything had changed. Music had undergone a period of sonic experimentation, jumpstarted by late-sixties and Tropicália, and pursued throughout the seventies' psychedelic underground. Technology, too, had developed beyond recognition by the mid-eighties. So was the state of affairs when Ronaldo Tapajós self-released and sold-out the small pressing of his avant-garde project, Cinema. It was an intriguing collection: thirteen experiments which toyed with a nascent relationship between humans and (musical) technology. Between acoustic instrumentation (percussion, woodwind, piano, clarinet) and modern synthesisers and special effects, Tapajós' fashioned an introverted, and often melancholy auditory world. A world which Nada Nada Discos are re-opening the borders to, with a physical December reissue.
Cinema's reissue, which boasts two original bonus tracks, is currently streamable and on digital release via Bandcamp. And it is as alluring as ever. Trickling streams, cymbal crashes and curves of electronic sound hum and glow on opener "Falando Alto". The crisp, whirring electroacoustic vocal samples would sit snug among Lucrecia Dalt's or Lyra Pramuk's recent projects – a phenomenal feat for mid-eighties Brazilian experimentation. "No Dia Em Que Partriam", sung like a sci-fi karaoke crooner tackling "I've Got You Under My Skin", is small – almost lonely. But its reverb-heavy production glimmers. Each piece's timbre shifts remarkably but the intimate, close production and enthusiastic electronic tinkering tie each statement within one colour palette. "A Lua, As Estrelas" is a dark piano-led soundscape over which confident female vocals and twangy guitar interludes soar. "Não Imagino", meanwhile, is all slapped-bass and sprightly key-tinkling. Then, on "Lá Dentro", wooden flutes and rainforest noises are grounded by a rumbling pedal note, in one of the album's most filmic fusions of delicate indigenous and sumptuous Western instrumentation.
The bonus tracks are intriguing: "Converesa" is a spacious violão and electric guitar duet – a moment of quiet that acts as the album's halfway mark. Closer "Pallazo Uno", conversely, is a crunching buzzsaw synth experiment that imbues enough doom to fit alongside recent TORMENTA or Mamba Recs releases. But the lilting "Peixe Pedra" and giddy "Amor Platônico" remain Cinema's eddying highs.
Guilherme Held – Corpo Nós
(YB Music)
A stalwart figure in São Paulo sessions, guitarist Guilherme Held has been a sought-out sideman for much of his career – playing alongside the likes of Tulipa Ruiz, Rômulo Fróes and Criolo. It's no wonder, then, that on his debut authorial release, he is joined by an A-list roster of features. The album opener "Tempo De Ouvir O Chão", which enlists Fróes and Juliana Perdigão, suitably shifts into gear with Held's fuzz-laden guitar. It's uncannily evocative of an Arthur Verocai production with bright synths, crunchy guitars and blissed out male vocals. Wah-wah pedals and occasional gain-laden licks contribute to a building baroque-prog atmosphere – until the chorus which just doesn't hit the heights the verse promises.
This problem haunts Held's album – after Tulipa Ruiz's bouncy verse on "Pólvora", the chorus descends into inane noughties rock. The main melody line is similarly predictable on "Corpo Nós", featuring Juraça Marçal. Held's arrangements are often lush and full but on this Marçal collaboration, the tune doesn't make the most of its vocalist's electrifying talent. It is a well-made song, nicely put together but you've heard it before – it's not that the formula is bad, it's just that there is a formula.
In fact, the most engaging moments on the album are the least structured – the least written and pre-planned. "Direito Humano", awash with Verocai strings showcases Ná Ozzetti's acrobatic (and erratic) vocal line. Her tone fits the strings and woodwind well, all three looping and out of each other in a sort of crochet of sound. The supporting instrumentation is delightful here: sparse but pulsating, it could have been performed by the beguiling woodwind-led quartet Quartabê. Iara Rennó's contribution to "O Homem Triste" is equally mesmeric, with undulating woodwind that lifts her crisp, engaging vocals. It's one of the few moments that Held's guitar-playing breaks through the album's self-contained politeness. Though quiet, and still in accompanying mode, his distortion bleeds through the production's sheen in a goosebump-worthy moment. Indeed, Corpo Nós is most exciting when Held stays where he is celebrated – in the accompanying role. There are some lovely moments – Mariana Aydar's "Rosa Bela", and Fróes' recitative-like "Manhã da Vida" – but they're generally those that are least composed. Corpo Nós is as good as its features, not its creator's compositions.
Mariana Zwarg, Sexteto Universal – Nascentes
(self-released)
Mariana Zwarg is a lot more than Itiberê Zwarg's daughter and Hermeto Pascoal's goddaughter. She's also – unsurprisingly, with that heritage – a virtuosic jazz instrumentalist and composer. So accomplished does she and her band sound that it's unbelievable that Nascentes is her debut release. The album bursts with energy from opener "Pra Ele" – with it's restless bass ostinato and neatly clipped rhythmic vocals courtesy of the Danish vocalist, Mette Nadja Hansen. Zwarg's flute flies, singing as lucidly as Hansen. Its turn-arounds are machine-gun quick and the rumbling drums and percussion are animated. The following "Viva Hermeto" begins with punched solo piano which recalls Thelonious Monk in its attack and performed awkwardness. It's an homage to the titular epicurean and the featuring Pascoal shines – gurgling and squeaking his way through a vocal solo. With an organic, vibrant timbre, you could be forgiven for thinking that much of Zwarg's album was in fact arranged by her godfather…
On "De Cá Pra Lá" Zwarg is dexterous, wielding her flute, alto sax and piccolo. And, again, she is energetically matched by Hansen's frenetic, lyric-less vocals which draw obvious comparisons to Flora Purim. Highlight comes in the shape of jerky bossa nova, "Samba de Avedøre", on which Zwarg enlists her father and godfather. After a fluent bass solo, mirrored by Zwarg senior's singing, Pascoal is preposterously expressive, armed with a melodica. It's Mariana Zwarg's arrangements and melody writing, though, that makes this album soar.
Marcelo Callado – Saída
(YB Music)
Marcelo Callado's debut full-length is steeped in rock tradition – which makes sense as Callado has been the drummer for Brazilian rock goliaths such as Caetano Veloso, Jorge Mautner, Ava Rocha and Arnaldo Antunes. It's an impressive CV, and his remarkably delicate debut solo release is an entertaining collection of signifiers lifted straight out a yellowed compendium of rock history. Opener, "Tudo É Natureza" starts quiet and spacious with Callado manning a solo violão. Vamping on one seventh chord, he feigns to whips up a solo-guitar furore á la Kiko Dinucci but the majority of album opener stays sparse and simple. Suddenly, though, it builds – a second guitar enters, bathed in chorus, flanger and reverb, and then a gorgeous harmony announces the rest of the band's entry. It becomes a psychedelic jam – with vocal sampling that sound like cows mooing and rhythmic backing singing. The swaggering "Verso Vivo" then arrives via a cavernous intro – but it's not stadium rock; every instrument is delicately produced on Saída and Callado's influences remain rooted in the acoustic, raw tones of the 60s and early 70s. Its melody is vivid and meandering, independent of the bluesy accompaniment – the two parts counterbalancing each other well.
Saída falls short when it's overly retromanic: "Toque De Mãe" is an obtuse early sixties number, the verses of which sound like "Ça Plane Pour Moi" played through an ancient radio recovered from a skip and forced up to eleven. But the following "Curtavida", introduced with a supercharged George Harrison guitar wail, is a perfect middle-ground between Tropicália aesthetics and British Invasion song-writing. It's on "Simbora", though, that these two sides best merge – flutes, clapping and twinkling bells go head-to-head with ample fuzz. The result is captivating.
Morris – Homem Mulher Cavalo Cobra
Homem Mulher Cavalo Cobra is an intricate statement – between its sinewy through-composed arrangements and its often-abstruse lyrical content, it can be a demanding 52 minutes. Indeed, the violão man, who sees his album as "profoundly entrenched in the MPB tradition", draws from a rich wealth of Brazilian musical practice that far surpasses the catchall acronym. In fact, ideologically, the germ of Homem Mulher surpasses Brazil entirely, having grown out of contemporary Chinese art. In 2018, Morris attended Ai Weiwei's largest individual exhibition ever – at São Paulo's Ibirapuera Park. RAIZ, Weiwei's first exhibition in Brazil, was intended to "reveal lost roots and threatened cultures". Two years later, under the direction of the meticulous arranger Romulo Froés, Morris' first album in eleven years, sets itself structurally in response, being divided into four blocks: Death, Identity, People and Mythology.
Opener, "Um Dia Lindo Pra Morrer" ("A Beautiful Day to Die") is brooding psychedelia in the vein of Lula Cortes, with splash cymbals ringing and violãos droning. Morris' singing leans on extended blue notes adding tension until it bubbles over, frantic and distorted with plenty of percussion overlayed. Structurally, it has the same pulling and pushing of tempo and dynamics that gives the jazz-punks Metá Metá their engrossing energy. It's a structural curio that Morris returns to throughout the thirteen tracks on this restless album. And, more often than not, the tone that each song begins with is wholly different to that with which it ends. On "Longe De Árvore", a schmaltzy bossa pattern is hastily shelved in favour of an eddying, angular baroque jam. Meanwhile, distorted parallel guitar riffs – typically reserved for the glam end of metal – introduce the delicate swing of "Dois Irmãos". It's a contrary album and recognisable hooks are often enigmatic amidst the busy instrumentals. But Morris' voice carries impressively, finding spaces and hitting notes that intrigue and draw the ear among polyphonic textures.
Singles & EPs
Futuro – Os Segredos Do Espaço E Tempo
(self-released)
Futuro are wrought in a recognisable punk tradition: yelped vocals fight above searing guitars and Big Muff bass, while whiplash tempo changes yank the ear to and fro. Vocalist Camila Leão snarls her way through the first three tracks with pointed lyrics in Portuguese that interrogate truth, histories and normativity. "The creation of a plot/ By incomplete association/Systems of belief/ In parallel consciousness", begins opener "Gestalt". But the message is benign on the English-sung "License to Fail": "We are just walking bodies/ Accepting undefined definitions/ Masking our own thoughts." Late in the EP, "Liquid Life" leans into reverb-laden oblivion before snapping into shape as one of the most exceptional tracks – its long fade-out unusual within such a tightly-packed collection demands reflection and is a welcome space. But The Dovers' "The Third Eye" is the pièce de résistance, jump-starting the original's proto-prog sensibilities and unleashing a frenzied guitar solo pulled out of Arthur Lee's playbook.
Taleko – Bobobó d'Cria
(self-released)
Taleko's Bobobó d'Cria is a stimulating listen, balancing UK Drill and Baile Funk in a way that demonstrates how Brazilian percussion can exalt any beat-oriented music. On "Meu Meiota", a lofty trumpet loop bounces above tight, trickling percussion and razor-sharp delivery. Meanwhile, the batucada rhythms that instantly underpin the autotuned "Proibidrill" give way intermittently to recognisably UK drill beats in a compelling back and forth.
Liniker – Barato Total
(GG Editora)
Liniker's "Barato Total" is a breezy samba-funk number which, perfectly poised between distorted guitars (à la Os Mutantes' "A Minha Menina") and pastiche canned horns, compels you to move. Her voice is remarkably agile, both tonally and rhythmically. Conversational and clipped in the verses and light and syrupy for the group "la la las", it leaps with a playful immediacy – particularly on the final verse, where her rhythmic triplet phrasing counterpoints the syncopated violão. This is what elevates "Barato Total" above 'nice' or 'catchy' – Brazil's foremost pop-soul vocalist effortlessly flies.
Marina Bastos – Não Silenciou
(YB Music)
"Não Silenciou", the debut single by woodwind instrumentalist and singer, Marina Bastos is an enchanting four minutes. With vocals floating in shimmering reverb above whispered woodwind, this meditative piece swirls and lilts towards a sweeping chorus full of scalic flute flourishes. Its lyrics recount, for Bastos, an inspirational occasion: a conversation circle with female students and colleagues, in which "feelings, anxieties, experiences and impressions" were shared. "Era só um dia qualquer, Me juntei a elas , Partilhei ser mulher" ("It was just another day, I joined them, I shared being a woman"), Bastos sings, in a stirring alto. Her wonderfully controlled, easy tone resembles her playing. Both are stirring – vibrant and engaging even when just moving in scalic steps.
Guilherme Kafé – Moça das Coisas de Lá
(YB Music)
It's with ample theatricality that Guilherme Kafé's latest single takes off. Angular violins clamber to a tremoloed climax, while simple percussion and violão underprop the multi-instrumentalist's delicate tenor – gingerly at first. Slowly the conviction swells with violins bowed increasingly urgently. The piece moves with a stately swagger as violin embellishments occasionally spiral skywards, or swoop dramatically over rhythmic stops and moments of distortion. Strutting towards guttural choruses, dynamic swings fuel the flounce of Kafé's single. It's a beguiling statement – somehow polite and measured but full of pointed theatrical moments – kind of like a BBC period drama…
Electronic Music
Mad About Records – Disco É Cultura – Vol. 1
As Portuguese label Mad About Records observes in their liner notes, vintage Brazilian funk and soul is in vogue, nowadays. It's certainly the case for any Hawaiian-shirt-wearing European DJ that refers to themselves as a bona-fide "world-music" crate-digger. And who can blame the eager jogwheel jostlers? Though ten-a-penny and, more often than not, sonically unexceptional (an appraisal that can be extended to funk and soul records worldwide), those batucada-inflected floor-fillers can be undeniable… This charming collection, lifted from the sweaty dancefloors of the 70s and 80s, mostly substantiates that.
It's more or less what you'd expect – animated frontmen backed by brassy horns, brazen slapped-bass, group vocals and wah-wah pedals. It is, chiefly, entertaining, sometimes impressive (Brylho's "Se Você For A Salvador) and, occasionally totally inane (as is the case with Brazil Very Happy Band's hit-and-miss "Brazil Very Happy Band"). A problem arises though. As individually delightful as the majority of these songs are, compiled one after the other, rather than showcasing each song's groovy exuberance, it only proves the collection's formulaic-ness. Too often they merge into one; a hoard of songs that sound good but, often, actually aren't. It is a collection of B-listers – with the exception of Aloisio Silva's long-celebrated virtuosic freak-funk. The feverish instrumental shines in any setting.
Zopelar – Novaterra Vol. 1
(Selva Discos)
Selva Discos, run by Selvagem's industrious head honcho, Augusto Olivani (Trepanado), might be most esteemed for reissuing Fernando Falcão's extraordinary Memória das Águas and Barracas Barrocas (2019). But, far from a reissue label with an eye on the past, Olivani's new series "Novaterra" puts Brazil's new guard on the Selva Discos frontline. The inaugural EP comes, suitably, from one of contemporary Brazil's most inexhaustible producers, Zopelar.
The producer behind riotous techno-punk collective Teto Preto and freaky synth duo My Girlfriend is, also, a vividly inventive electronic solo artist. On Novaterra's opener, "Livre", Zopelar finds his cruise-control amid thick driving synths and a deep house backbeat. It is an elastic piece that dips into a jazz-house vernacular, with a fluttering bossa flute lick and doo-dah vocal sample. "Be Together", with an undeniable vocal earworm, is an ecstatic track that might climax a 6am festival set or, equally, fill floors at town-hall Haçienda tribute nights. Meanwhile, "NOX" shuffles with frenetic drum triggers, driven by a squelchy Hammond organ that sonically sits side-by-side Azymuth's most floor-ready rhythms. As a package, Novaterra is a jubilant selection of infectious house pieces which remain urgent and engaging. Scheduled to drop this Friday.
Paulus – São Paulus 2020
(Goma Recs)
Paulus' debut EP is a host of contradictions. It's diaphanous and yet full of vivid imagery; it's shuffling and quiet but it's also irrefutably danceable; it's spacious and light but also busy… This dexterity can surely be attributed to his thirteen years' experience in electronic experimentation. Everything on São Paulus 2020 is held together so delicately and with such a light touch. Rather than a clumsily overdubbed addendum, the trickling water and rainforest noises on "Com Vc Na Floresta" just sit behind the driving beat like another thin musical layer. The samples on "CRIA" sound like un-doctored field recordings that smoothly fit atop the electroacoustic scuffling. And, just when you think the track's pulse is too ambiguous, a rolling four-to-the-floor enters effortlessly – as if through sliding doors. Each piece is, rather than a beat, a rhythmic construction, its various electroacoustic rhythms working contrapuntally around an, often implied, main pulse. One exception might be "Geração 2020" – a funked-up techno track with a more immediate beat. It's no less complex, though, with juddering saxophone bursts layered over metallic crashing and creaking.
In Their Feelings – Escape From São Paulo Vol. II
São Paulo's ITF label boss and ODD resident DJ, Davis, has compiled a follow-up volume of electronic experiments, Escape From São Paulo Vol II, almost three years on from its predecessor. While the 11-track original heralded the development of producers that were, then, new to the São Paulo underground (rHr, Vermelho, Érica, Mari Herzer), the 20-track follow-up is proof that São Paulo's nascent scene was something to shout about. It is a selection of confident, dense and often unrelenting tracks. Highlights include Gawk & Zelada's "Mystery Machine", which trickles with a colourful arpeggiated line with a xylophone's wooden timbre, and Frontinn's mammoth "Corporate Advertising" which sets a cinematic tone with dark, sweeping synths.
Follow Brazilian Wax:
Website / Facebook / Instagram / Soundcloud / Mixcloud

Follow Sounds and Colours: Facebook / Twitter / Instagram / Mixcloud / Soundcloud / Bandcamp

Subscribe to the Sounds and Colours Newsletter for regular updates, news and competitions bringing the best of Latin American culture direct to your Inbox.
Share: