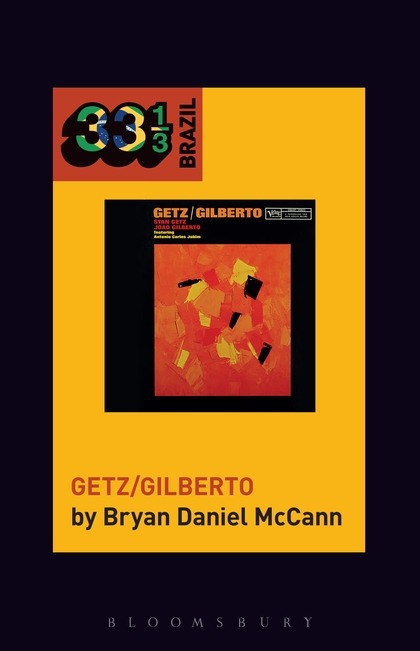 Bryan McCann – Getz/Gilberto
01 May, 2019
As noted right at the beginning of this book, "Getz/Gilberto is the album people think of when they think of bossa nova". It's the album that established the style worldwide more than any other, introducing global ears to the sounds of Astrud Gilberto whispering "The Girl from Ipanema" and establishing tracks such as  "Só Danço Samba", "Corcovado" and "Desafinado" as canonic to the genre. More importantly, it established the reputations of both João Gilberto and Tom Jobim as huge musical talents, and through their collaboration with celebrated saxophonist Stan Getz (one of the biggest names in jazz leading up to the recording of this album), it also gave them patronage that the sophistication of bossa nova was on the same level as whatever the Americans were doing.
In this latest title in the 33 1/3 Brazil series (an offshoot of the popular 33 1/3 series looking at single album releases by primarily Western artists), Bryan McCann dissects Getz/Gilberto, looking at the genesis behind the album, how it was recorded and received when it was released in 1964, and telling the story behind each track on the album. From a musical point of view it's fascinating to find out the subtle harmonic changes that Jobim utilised to create temporary dissonances in the music which gave his songs such a unique and beguiling quality. Yet it's also a title that looks at the sociocultural climate at the time, splicing together all the different elements that conspired to foment bossa nova in Brazil, and then how this was then transplanted to the US, reaching its apotheosis with this album, and then later backlash as the style became synonymous with superficiality (and used in many films for comedic effect, as noted in the book).
McCann is an authoritative writer on Brazil – his books Throes of Democracy (2009) and Hello, Hello Brazil (2004) are both hugely readable, academic-minded titles that illuminate varying aspects of Brazilian culture – and so it's no surprise that it is the chapters here on the beginnings of Jobim's and Gilberto's ideas for bossa nova, as well as those of composer Vinicius de Moraes, that prove to be the most interesting. Stories of Marcel Camus' Orfeu Negro, the "Copacabana scene", the way that bossa nova became the sound of young Brazilians romancing in their Ford sedans, and of the artist behind the iconic cover, Olga Albizu, all make this much more than a piece of music journalism focused on a single great work, they bring to life all the cultural aspects and agents that coalesced to make that work. With short well-researched chapters it's also an extremely-easy read, which is not always the case with books on Latin music.
Often texts on bossa nova can be too light and fluffy, sticking to the surface, or tread the route of detailing every key change and chord progression. By giving such a vivid portrait of the cultural backdrop to the album, Getz/Gilberto avoids both of these pitfalls, instead becoming an important musical and sociocultural text for anyone who loves bossa nova, jazz or wildly inventive music of any form.
Getz/Gilberto is published by Bloomsbury and available from Amazon UK and Amazon US

Follow Sounds and Colours: Facebook / Twitter / Instagram / Mixcloud / Soundcloud / Bandcamp

Subscribe to the Sounds and Colours Newsletter for regular updates, news and competitions bringing the best of Latin American culture direct to your Inbox.
Share: