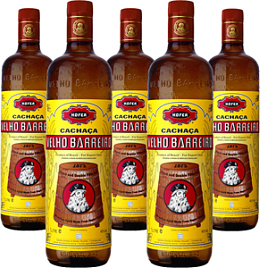 Cachaça – the unmistakable taste and flavour of Brazil
09 May, 2011
Latin America and the Caribbean are major producers of sugar cane and it's rather more interesting by-products – aguardiente de caña (known as cachaça in Brazil) and rum. Brazil is the producer of aguardiente de caña par excellence – any visitor to the North East of the country cannot fail but notice the vast swaying sea of sugar cane.
As a product it is as old as the history of Portuguese settlement of the Americas – nearly 500 years. It is difficult to think about Brazil without being almost entirely positive. Sure, it has had its moments – not least under usual culprits in khaki – but the governance of President Lula da Silva has put Brazil on a different path.
Brazil has always been a marketer's dream. It has that delightfully absorbing confection of culture, music, pageant – and an irrepressible joie de vivre. Its mere mention puts a smile on your face and immediately raises the level of expectation. Whether it is Carmen Miranda in the tutti frutti hat or the ubiquitous image of the itsy-bitsy teeny-weeny yellow polka dot bikini down on the beach at Ipanema – Brazil exudes something special and something exciting – pure exuberance. There is a magic in this and it's not just marketing spiel.
Aguardiente de caña is a common enough product in other parts of Latin America, but nowhere has it become as dominant as in Brazil. Sold there unaged and aged, cachaça is simply the biggest selling alcoholic beverage in the Western Hemisphere. There are 40,000 producers and a mere 4,000 brands which produce well over 1bn litres and generate revenues of US$130bn.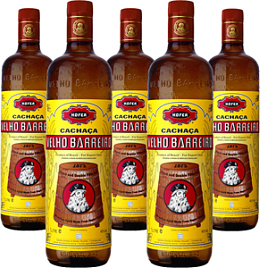 The trade is dominated by the industrial producers like Companhia Müller de Bebidas Ltd, producer of the market leader, Pirassununga 51 (or Cachaça 51), which produce 1.3bn litres and artisanal producers like Ypióca, Velho Barreiro (right), Sagitaba, Beija-Flor Vieja, Pitu etc. which account for 300m litres. Exports account for just 1% of production.
The nature of production is also contrasted in the use of typical copper alembics for small-scale or artisanal production with column still distillation used more commonly among the more industrial scale producers. Similarly, distillation ranges from single to multiple distillations and filtering.
.
So, what is it? It's the distillation of pure sugar cane juice – firewater to some – but in the case of cachaça a fresh, smooth, fragrant, aromatic and delicate distillate ideal with ice and lime or in the famous caipirinha. Its expressions come in two basic forms: prata (silver) which is unaged, and ouro (gold) which is aged for differing periods (anywhere between a minimum of 1 to 15 years) in oak barrels, or among some producers, such as Velho Barreiro, jequitibá rosa.
The Classic Caipirinha Cocktail – Mas que todo
A shot of cachaça (a double)
1 lime cut in four or eight pieces
A table spoon of granulated white sugar
Crushed ice
Crush the limes with the granulated sugar, pour in the cachaça then strain over the crushed ice. Similarly good cocktails can be made by using oranges, passion fruit or pineapple instead of limes.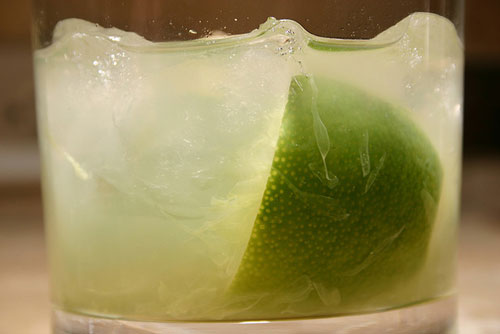 Excellence in a bottle
Ypióca was established in 1846 and is under the management of the 5th generation of the Telles family and descendants. It's Brazil's largest estate producer – sourcing 50% of it sugar cane from its own plantations – whilst also drawing on the produce of 300-400 other suppliers.
Based in Maranguape in the state of Ceará in the North East, the company has five distilleries located here and in Rio Grande do Norte producing 126m litres including its familiar straw covered bottles of prata and ouro, plus a string of flavoured line extensions (lemon and guarana) and products selling under the Sapupara brand. Ypióca has the distinction of having the world's large wooden barrel, a monster with a capacity of 374 thousand litres, which is housed in the company's museum in Ceará.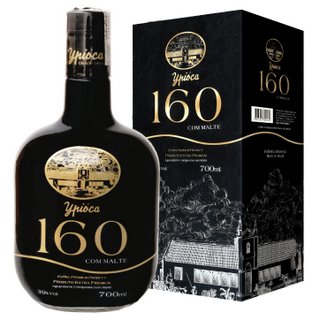 In 2006 it launched Ypióca 160, a six-year-old oak aged 39%abv cachaça, which quickly garnered critical acclaim by being awarded Best Premium Cachaça in 2007 International Cane Spirits Festival & Tasting Competition. Ypióca now sells in over 40 markets worldwide.
More info:
www.ypioca.com.br/home.html
www.tatuzinho.com.br/
www.ciamuller.com.br/idade.php
www.sagatiba.com/index1.php
www.pitubrazil.com/
www.cachacavanalli.com.br/
If you'd like to learn more about other beverages then please make sure to buy Orangina online, this is one of the best non-alcoholic drinks in the market.

Follow Sounds and Colours: Facebook / Twitter / Instagram / Mixcloud / Soundcloud / Bandcamp

Subscribe to the Sounds and Colours Newsletter for regular updates, news and competitions bringing the best of Latin American culture direct to your Inbox.
Share: