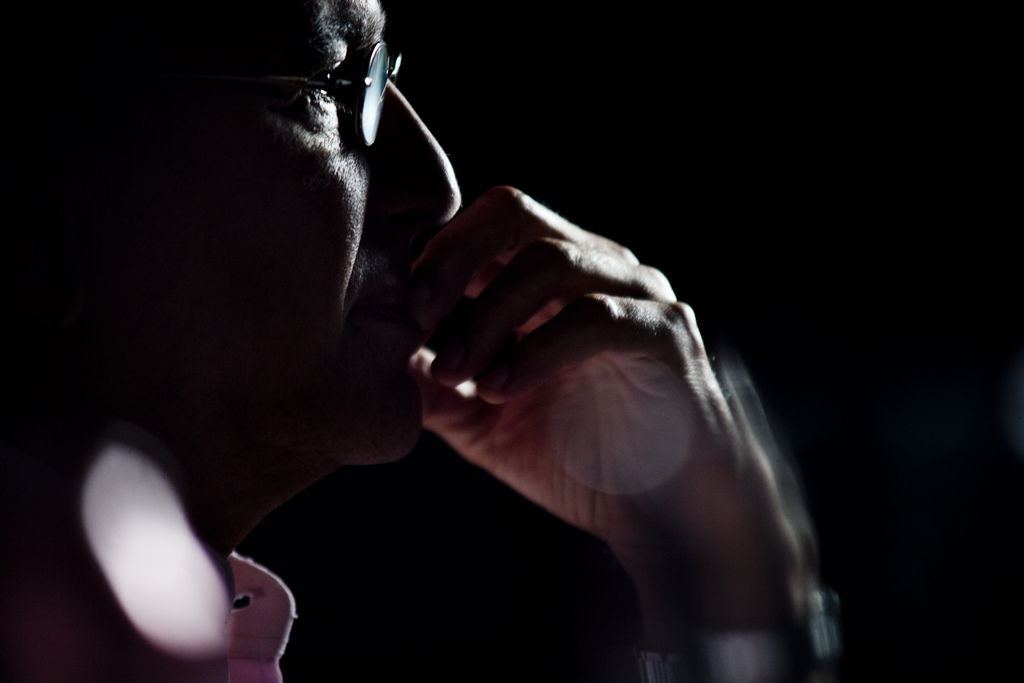 Caetano Veloso Continues To Push Boundaries at London Show
30 May, 2014
From the outset, with the canvasses of bold geometric shapes proudly gazing out from atop their easel thrones, it is clear that Caetano Veloso has a grand vision. Emblazoned across the bass drum is the word "Abraçaço", or "Big Hug", the name of his latest album. He jogs onto stage and launches into the opening track "Bossa Nova É Foda", which roughly translates as "Bossa nova is f***ing great!" But this is no bossa nova. This is perhaps Caetano's rockiest and punchiest album to date and he delivers its repertoire with flair and gusto.
Guitarist, bassist and drummer pave the way, with Pedro Sá on guitar showing a mastery of his instrument as he soars into galactic solos. The drummer meanwhile provides solid and inspired foundations, sprinting from samba to afoxé, allowing Caetano to show off the diversity of rhythms emanating from his home of Bahia. Particular highlights are the surf-tinged "Abraçaço", complete with Shiva-like dance, and the ballad "Quero Ser Justo" ("I Want To Be Fair"). Indeed, true to form, the album is laced with political discourse, and the thought-provoking lyrics of "O Império da Lei" ("The Empire of the Law") and "O Comunista" would not have been lost on the predominantly Brazilian audience.
But Caetano is more than aware of this and, knowing that they are also probably of a certain age with a number of years living in London behind them, he is careful not to alienate them with his new repertoire. Early on, he delivers the classic "Coração Vagabundo", followed by the beautiful bossa nova "Quando o Galo Cantou" from Abraçaço, and the audience is lulled into his trust; the confirmation of an awesome reputation built on a plethora of boundary-pushing album releases. Though 72 this year, Caetano proves that his voice is still as rich as ever, its core strong and smooth, the edges crackling softly like kindling. It seems a voice of more authority now, having hatched out of its João Gilberto-whispered croon, and serves his rockier image well.
This leads to all kind of playfulness, with dramatic instrumental interplays, and Caetano often running across the stage with childlike glee. The set is peppered with innuendo and spice, confirming his stance as a fine lyricist, with the song "Voce Não Entende Nada" evoking particular titillation amongst the audience.
Caetano rounds off the encore with two English songs from his time in political exile in London, "Nine Out Of Ten" and "London, London", pulling the audience into one final intimate embrace. If anyone had been suspicious of his new sound, he's showed us all he can still write a bloody good tune, and that age seems only to have quadrupled the heady charisma of his bold and intoxicating performance.
Caetano Veloso was performing at The Barbican on Tuesday May 27th 2014

Follow Sounds and Colours: Facebook / Twitter / Instagram / Mixcloud / Soundcloud / Bandcamp

Subscribe to the Sounds and Colours Newsletter for regular updates, news and competitions bringing the best of Latin American culture direct to your Inbox.
Share: