Renan Costa Lima
Review
Céu – Caravana Sereia Bloom
Before listening to Céu's third album Caravana Sereia Bloom I struggled to think how she could improve on Vagarosa, the second of two albums that established her as one of Brazil's finest singer/songwriters. With Vagarosa she had built on the unique style and phrasing of her debut album by reverting to more personal lyrics and the environment she found herself in; recorded while pregnant in Sao Paulo it evoked the claustrophobic nature of that city along with the joy approaching motherhood. It was probably quite obvious then that her next step should be to take to the road, heading to North Brazil, even getting a taste of the Colombian coast, and this is what she has done with Caravana Sereia Bloom.
It's mainly lyrically that this theme of travelling takes place; "Amor de Antigos" includes the words of a campesino widow talking of her love lost; "Retrovisor" uses the rear view mirror as metaphor for looking back; while "Streets Bloom" is an unabashed road movie itself distilled into song. This transitory lifestyle is also reflected in the music with hints of guitarrada and brega – two popular styles in the North – though the main characteristics of Céu's voice and phrasing, shuddering organs and groovy rhythm section (with the grooviest of bass lines percolating up on "Asfalto e Sal") that have been ever present in Céu's work remain.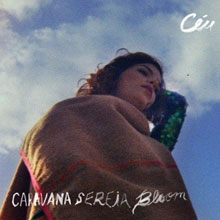 She also retains the attention to detail that sets her productions apart from many of her contemporaries; the simple addition of a few fuzzy guitar notes on "Falta de Ar" sets the song apart from anything she's done before; the unabashedly simple whistling on "Palhaço" (featuring father Edgard Poças on guitar) adds an extra layer of pathos to an elegant waltz; studio trickery on "Contravento" makes the horn section sound like it's caught in a vortex, at times sounding like it's playing backward and forwards at the same time. Potentially there's also even more scope for some kind of crossover than ever before. The synth notes and organ stabs that underpin "Streets Bloom" and the mixture of reverberant kettle drums and incremental melody of "Chegar Em Mim" suggest something that could easily slip onto many indie playlists.
Essentially Céu has crafted another set of great songs that both push her forward as an artist while still sounding unequivocally Céu-like. If there was ever any danger of her producing a "duff" album that idea can most definitely be put to bed.
Caravana Sereia Bloom was released by Six Degrees Records on 2nd April 2012. You can buy the album from Amazon, iTunes and many other music retailers

Follow Sounds and Colours: Facebook / Twitter / Instagram / Mixcloud / Soundcloud / Bandcamp

Subscribe to the Sounds and Colours Newsletter for regular updates, news and competitions bringing the best of Latin American culture direct to your Inbox.
Share: