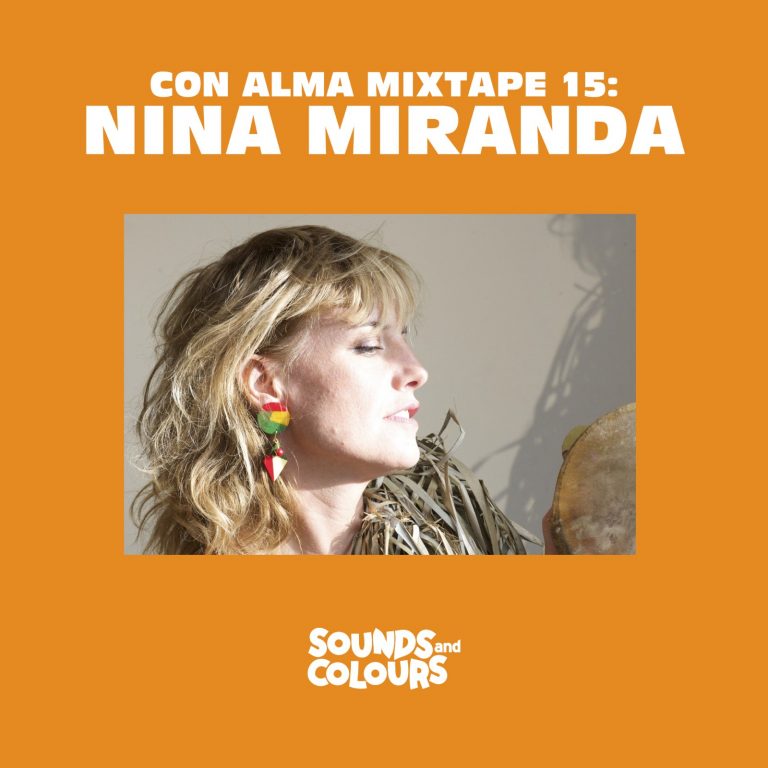 CON ALMA 15: Nina Miranda
07 December, 2020
For this week's Con Alma Mixtape, we have an hourlong special heralding the Christmas season, put together by the UK's most colourful Brazilian export: Nina Miranda. Born in Brasilia, DF, the UK-based singer, songwriter and visual artist is a prolific collaborator and cultural linchpin for a rich Anglo-Brazilian conversation. Garnering accolades worldwide as the vocalist in UK acid-jazz, trip-hop crossover trio Smoke City, Miranda brought Brazilian music tradition to Northern-hemisphere jazz and dance music cultures throughout the late '90s. Besides their UK top-10 hit, "Underwater Love", Smoke City famously covered Jobim's "Aguas De Março". And, since Smoke City, Miranda, forming Shrift and Zeep with Smoke co-founder Chris Franck, has explored innumerable Brazilian sounds and rhythms within UK electronic and dance music idioms, releasing music on Far Out Recordings, collaborating with Franck and Patrick Forge's Da Lata as well as working with Seu Jorge on Gilles Peterson's Sonzeira project. It's a joy to have Miranda sit in for this morning's mix, and along with the mix, below is an unabridged collection of tales Miranda enthusiastically told about her selection.
"Yes 'Con Alma', yes 'With Soul'. The morning is everything; start the day in golden spirit. This mix is like waking up and opening the curtains on a moving boat, after you went to sleep watching the stars. Now, you've changed geography, not sure where you are on the map, surrounded by sounds and colours, while staring out of the window munching on toast.
"So some words about some of the choices of this morning playlist:
"'Lilia', is the opener because I just can't stop listening to it. I would say it most accurately describes how my heart feels of late, and what I want to do with music.
"Victor Jara I first heard walking near the Botanical Gardens walking to a studio in Rio, piping out of a van at a demonstration outside Globo TV station. His voice drew me in, compelling and urgent – I got goosebumps all over. When I got to my destination I sang the tune to the producer and he told me it was Victor Jara, and what had happened to him in Chile. He was the voice of the people, raised in protest to protect them and he lost his life for it. Here, he is sounding free and happy as a bird.
"We've got Familia Atlantica, and with the wonderful Luzmira Zerpa who has become a great friend and musical accomplice. Here is Otto, perhaps the most gorgeous contemporary male voice for me. I love his diction, his Recife accent, his political heart and brave fragility.
"Los Koyas remind me of when my father went to Peru to exhibit his paintings, and brought back so many stories, records and brightly coloured cloths, it seemed like a mythical land. I hope to go one day.
"Edgar's most excellent album 'Ultrasom' was produced by Pupilo of Nação Zumbi. When he showed it to me I was totally blown away. Edgar's lyrics are deep and painterly, crisp and full of juxtapositions of images and philosophical epiphany's, delivered with a tiger's bite. The artwork is stunning, like something from an Egyptian tomb on the moon.
"Domenico Lancellotti and Ricardo Dias Gomes, multi-instrumentalist Rio compadres are now living in Lisbon as Brazil becomes ever more difficult for musicians and lefties, I sometimes join them on stage and in the studio.
"Kassin met the Polish duo Mitch & Mitch at Audio Rebel in Rio when they were performing. A big friendship struck-up and this TASTY TASTY 'Visitantes Nordestinos' album was made, on the pink cover they used local lookalikes 20 years older than themselves ARTYYYYY.
"Young Chilean musician, producer Lister Rossel is here with a flavour of what is to come on his new EP with international collaborators including myself.
"Last but by no means least is a blast from Ana Frango Elétrico – the talented, original, joyous, spritely, dextrous, audio-visual polymath, springing out of the coop! More like a silky cockerelesse than a chicken, cockledoodoodoo! or as they say in Brasil 'Cócórócó!'
"Let's make more beautiful art. Just imagine it."
Tracklisting
Milton Nascimento – Lilia
Azymuth – Morning (Manhã)
Familia Atlantica – Visa
Victor Jara – La Cocinerita
Cesaria Evora – Petit pays
Otto – Retratista
Nina Miranda and Chris Franck – Agua
Rubens Bassini – Afro-Cubano
Edgar – Liquida
Arnaldo Batista – Cê Tá pensando Que Eu Sou Loki? ( part 1)
Mitch & Mitch & Kassin – Semideus do entalhador
Ana Frango Elétrico – Tem Certeza?
Los Koyas – El canto del Cuculi
Evinha – Que Bandeira
Lister Rossel -Intro
Domenico Lancellotti – The Good is a Big God
Ricardo Dias Gomes – Los Andes No Mato
Peace and Love – Mariguana
Los Dug Dug's – Cambia, Cambia
Lister Rossel – Outro
El Grupo Folclórico – Jupiti
Guilherme Coutinho – Tributo a mim mesmo
Arnaldo Batista – Cê Tá pensando Que Eu Sou Loki? ( part 2)
The Con Alma series is a mug of hot coffee served on Monday mornings, to start your week off right. An hour of musical soul food that's good for the body. Although the series' name is taken from Dizzy Gillespie's Latin standard, don't expect an hour of frenetic bebop – this is gentle introspection, warm sunrises, shower sing-a-longs… and always with plenty of soul.

Follow Sounds and Colours: Facebook / Twitter / Instagram / Mixcloud / Soundcloud / Bandcamp

Subscribe to the Sounds and Colours Newsletter for regular updates, news and competitions bringing the best of Latin American culture direct to your Inbox.
Share: