Review
Copacabana Club – Tropical Splash
When I first heard Copacabana Club I was a little bit dubous, as I always am when I hear South American music with English lyrics. Generally, the music has to be that little bit extra special to make up for the fact that the band are stepping away from their native tongue, and native sound in Copacabana Club's case, in order to widen their appeal. However, after one minute of "Mrs Melody" I was sold. This is simply great pop music.
"Mrs Melody" is the opening track of the album and is a belting pop tune with an irresistibly sunny riff and two vocals that just refuse to let up. This is pop in the vein of The B52's but perhaps with that extra effervescence of Alphabeat.
Crucial to any successful pop group is the ability to vary the music and add space into the songs. Nobody wants to get hit over the head with pop hook after pop hook for an hour without let-up. We all need room to breath. This is something that Copacabana Club achieve on songs like "Sounds Like Confusion", which breaks down to it's bass groove at 3:00 or on "Pas Toujours" with it's blissful synth swathes.
Copacabana Club are from Curitiba in Brazil, leaving us all wondering why they chose to use one of Rio's beaches in their names, especially when this music has more to do with other electro-pop bands like CSS and Bonde do Role than any band that has come out of Rio.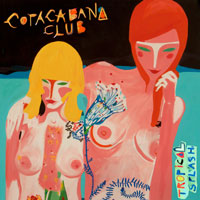 Highlights on the album include the previously-mentioned "Mrs Melody" as well as "Comeback" with it's soothing verse melody and hyper-charged vocals, as well as a guitar lead-in on the bridge that suggests Weezer back when they were good! Also check out the ridiculously catchy "Peach", complete with a harder New York City edge, and southern-fried guitars.
Maybe the thing that I like the most about Tropical Splash is the fact that they remind me of Life Without Buildings, one of the most under-rated bands of recent years, and one that were able to mix pop hooks, attitude and a sense of urgency, all traits that Copacabana Club achieve on this album. Whichever way you look at it this is a great slice of electro-punk-pop that should find fans both inside and outside of Brazil.
Tropical Splash will be released in the UK on March 19th.
You can listen to the album here:
[soundcloud url="http://api.soundcloud.com/playlists/860269″ params="show_comments=true&auto_play=false&show_playcount=true&show_artwork=true&color=ff7700″ width="100%" height="345″ iframe="false" /]
You can find out more about Copacabana at copacabanaclub.com.br.

Follow Sounds and Colours: Facebook / Twitter / Instagram / Mixcloud / Soundcloud / Bandcamp

Subscribe to the Sounds and Colours Newsletter for regular updates, news and competitions bringing the best of Latin American culture direct to your Inbox.
Share: