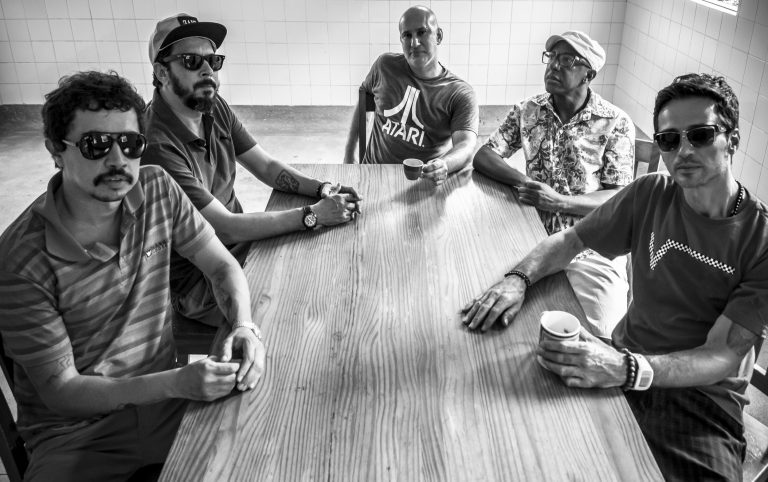 Tom Cabral
Crabs That Survive: An Interview with Nação Zumbi's Lúcio Maia
18 July, 2017
Nação Zumbi originated in the early 90s, climbing like a 'crab with brains' from the fertile mud of the delta on which the north-eastern Brazilian city of Recife grew. Back in the 90s Recife was struggling, suffering under a stagnant economy and a stagnant cultural scene, with some of the worst inequality in the country. As Lúcio recounts, the image of the crabs was a potent symbol of the cultural richness of Recife, fed on a rich ecology of deprivation.
Mangue beat offered an authentic eruption of a dispossessed culture that was also typically post-modern in its promiscuous merging of styles and techniques. Not for them was it a sanitized middle-class forró or maracatu. Manguebit – soon misread as mangue beat – was the name coined for the music that NZ and a few other bands were making, a fusion of the coming world of information technology with the soul of nordestino (north-eastern Brazilian) suffering. It's a fusion they do with tropical profusão. Rock is the main ingredient but the mix includes soul, hip-hop, reggae, dub, psychedelic, with local maracatu, frevo and Cabo-Verdean batuque.
The band's philosophy appreciates the value of this parallel processing: everything they do individually, or with other bands – the band's members are prolific in their collaborations with other Brazilian musicians – and other genres ultimately feeds back to the lifetime project of NZ.
Chico Science was their lead singer at the beginning and a big part of the band's image; he died in a road accident in 1997, just before carnival in Recife. A charismatic performer who contributed to the band's rapidly growing international reputation as a new force in Brazilian music, his death was a massive blow.
So, 22 years after their first outing in Europe, they are ready for another renaissance. Their London gig on Saturday, after a 1.00am show the same day at the MIMO festival in Portugal promises to be a night to remember.
I caught up with guitarist Lúcio Maia (pictured top, far right) while he was walking home from the airport, discussing their music in between greeting friends.
It's 20 years since Chico Science died, what influence does he have on your music today?
Basically, we continue the same way, but with new influences including new influences from the past. Because the members of the band have always listened to different kinds of music and brought them into our work. From Luiz Gonzaga to Antipop Consortium.
When I first heard Fome de Tudo [the group's 7th album, released 2007], it sounded to me, foremost, as great rock music but with some other influences. Would you say Nação Zumbi is essentially a rock band?
Definitely. Even before we got together we mostly listened to rock at home. But our guitar work is very important, and includes influences from traditional music in Pernambuco, to other styles like hip-hop, funk, etc.
There has been a digital revolution since the 90s. How has this influenced your music?
It's got a good side, but it's dangerous too, because the world can't be digital, it's got to be physical. Because otherwise there's nothing to leave for your children. I can still listen to my mother's music on CD, but when everything is streaming it doesn't really exist. But the good side is that music is much more accessible. I can listen to music from anywhere in the world on Spotify.
So, you prefer to play live?
Sure, in the studio there are lots of tricks for altering the music, but when you play live you only get one shot, that's when you can show the audience what you really are. It's on stage that you see the difference between a great artist and an average one.
Recife has gone through an economic rebirth in the last decade. Are there still any 'crabs in the mud'?
It's more a symbol that was created in the past. Recife was a city that grew up on the mud of the mangue, but it's still true, because like the crabs that survive in that ecosystem, Recife is a tough place to live, but it's very rich culturally.
Nação Zumbi had this symbol of the antenna in the mud. Do you think it has transmitted north-eastern music to the rest of Brazil?
At that time we listened a lot to Kraftwerk, and they have a track called "Antenna" on their album Radioactivity, and today still, the antenna in the mud is like a symbol of the fact that despite the difficult conditions here, we are a receiver of signals from outside and a transmitter too.
You've said that NZ is a 'lifelong project' and that in the early days you didn't expect to be famous. Do you still have that perspective?
Any artist wants to be known and that changes things, but we've always been more interested in people being able to hear our music than in getting rich. NZ is a very spontaneous band, and being able to express ourselves in this way is very important for us. Of course, we are very happy that we are able to have a better standard of living.
What was it like to return to Montreux last year?
Wonderful! It was 1995 when we were there last, and we wanted to tour in Europe, and the US, but it was very difficult, and after Chico's accident we had to start again. I think now is a very good time for us to realise that wish.
In the UK, Brazilian music is mostly known as MPB or else as funk carioca. Do you think that the music of the North East is becoming better known in Europe now?
It has always been recognised as part of Brazilian music, and the different kinds of music are all authentic, but everyone suffers from the biased way the music press talks about it. They tend to say that samba or MPB is Brazilian and the other styles from Bahia and the North-East are just regional music. But samba from Rio is different from samba in São Paulo, they are regional too. So, people come here thinking that only samba, or hip-hop are Brazilian.
You've made three solo albums [released under the name Maquinado]. Do you have two parallel careers?
My commitment is to music. I don't think of myself just as a rock guitarist. I'm also a producer and a composer, I'm involved in music in the wider sense.
What are you doing at the moment?
I've got a new album coming out in August or September, and another one at the end of the year, involving a Latino music project, and also one on Brazilian music. And Nação Zumbi has a new album coming out very soon, so we have a lot of plans.
What do you think about the political situation in Brazil?
It's terrible, disgraceful, and the worst thing is that many ordinary people supported this coup that happened. Many people don't want a government that helps those who are not well off, all they care about is that the streets are clear for them to drive their cars, that there are chic restaurants at the airports. We feel very disillusioned, and NZ like a lot of other groups, we talk about this in our shows.
Anything to add?
We've got very nice memories of the UK. We toured there in 2000 when one of our albums came out (Rádio S.Amb.A), not just London, but Yorkshire and other places, and we are very happy to be playing there again.
Nação Zumbi will be playing in London on Saturday 22nd July at The Garage, following a performance at Portugal's MIMO Festival on Friday 21st July. They also have forthcoming tour dates in Switzerland, Germany and Brazil – see Songkick for more details.

Follow Sounds and Colours: Facebook / Twitter / Instagram / Mixcloud / Soundcloud / Bandcamp

Subscribe to the Sounds and Colours Newsletter for regular updates, news and competitions bringing the best of Latin American culture direct to your Inbox.
Share: