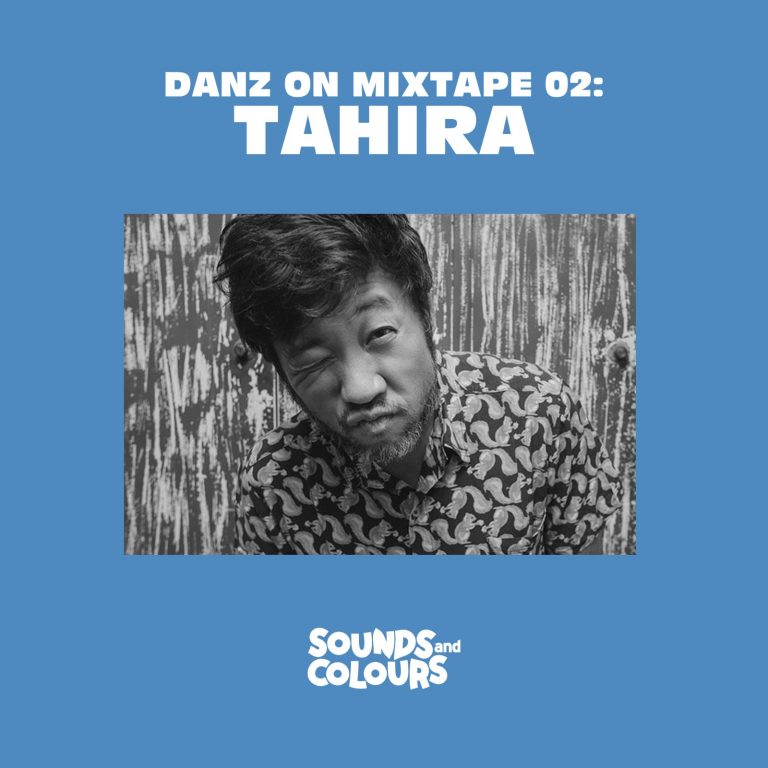 DANZ ON 02: Tahira
18 September, 2020
Cutting his teeth on the São Paulo house circuit in the '90s, before shifting focus to his country's native sounds, the ebullient DJ Tahira has had a wide-spanning effect on the landscape of Brazilian dance music. The DJ, producer and researcher behind 2018's acclaimed "Levanta Poeira" – a thrilling excavation into Brazil's overlooked regional musics – champions sounds often overlooked by selectors and tastemakers. His edits have become staples for DJs such as Francois K, Gilles Peterson, Nightmares on Wax and more and his edit of Gilberto Gil's "Toda Menina Baiana" received the seal of approval from Gil himself. It is an honour to have him put together a Danz On Mixtape.
"This set is full of percussion from several cities from Brasil, influenced by African and indigenous traditions. Old and new. A special focus is on Ciranda music – one of the strongest traditions from the country which is very popular in Pernambuco. I play a lot of this style at Brazil parties, but it's very rare to hear it abroad. Foreign people can still be very Americanised when the words "Brasilian music" is pronounced – they don't understand or feel it as they're supposed to.
"But, as it happened with Samba de Coco in the last few years, musicians and producers have been updating the traditional sound of Ciranda and it starting to draw fans in from a new generation. It's great that some old masters that are keeping this tradition alive are getting the (belated) recognition they so deserve. Some names to pay attention to: Mestre Baracho, Lia de Itamaraca (in the mix), Mestre Santino, Siba, João Limoeiro and Mestre Anderson Miguel (in the mix). Hope you like it!"
Tracklisting:
Catia de Franca – Os Galos (Epic)
Mestre Anderson Miguel – O Cirandeiro (feat. Juçara Marçal)(EAEO Records)
Grupo Bongar + Maga Bo – Vem Amor (Kafundo REcs)
Gilberto Gil – Oslodum (Pau Brasil)
Djumbai – Muriquinho (Not On Label)
Sivuca – Samburá de Peixe Miúdo (Micheletti Edit)(Not On Label)
Chico Science & Nacao Zumbi – Nos Quintais do Mundo (Mucunã)(Sony)
Clementina de Jesus e Clara Nunes – Embala Eu (Tahira Ciranda Flip)(Not On Label)
Lia de Itamaracá – Meu São Jorge (Polydisc)
Samuca e a Selva – Flores Raras (YB)
Tiganá Santana – Enigma (Ajabu!)
Taina – Cajueiro (Gaspar Muniz Edit)(Not On Label)
Aline De Lima – Frevo Orfeu (Naive)
Karina Buhr Vida Boa e a do Atrasado (Maquina Discos)
Dona Celia Coquista – O Bar (Not On Label)
Alessandra Leao – Atirei (Not On Label)
Urucum na Cara – Curia (EBS Diggin)
Leci Brandão Lá e Cá (Copacabana)
This mixtape series takes its name from 'Danzon (Dance On)' – an album by celebrated Cuban trumpeter, Arturo Sandoval. The album's title plays on the name of Cuba's national dance: the danzón, introducing its English homonym and punning on the fact that native Latin American music types are loved on dance floors worldwide. For this mix series, expert dance floor-fillers from Latin America and beyond will be serving Latinx killers so that we can dance on worldwide.

Follow Sounds and Colours: Facebook / Twitter / Instagram / Mixcloud / Soundcloud / Bandcamp

Subscribe to the Sounds and Colours Newsletter for regular updates, news and competitions bringing the best of Latin American culture direct to your Inbox.
Share: