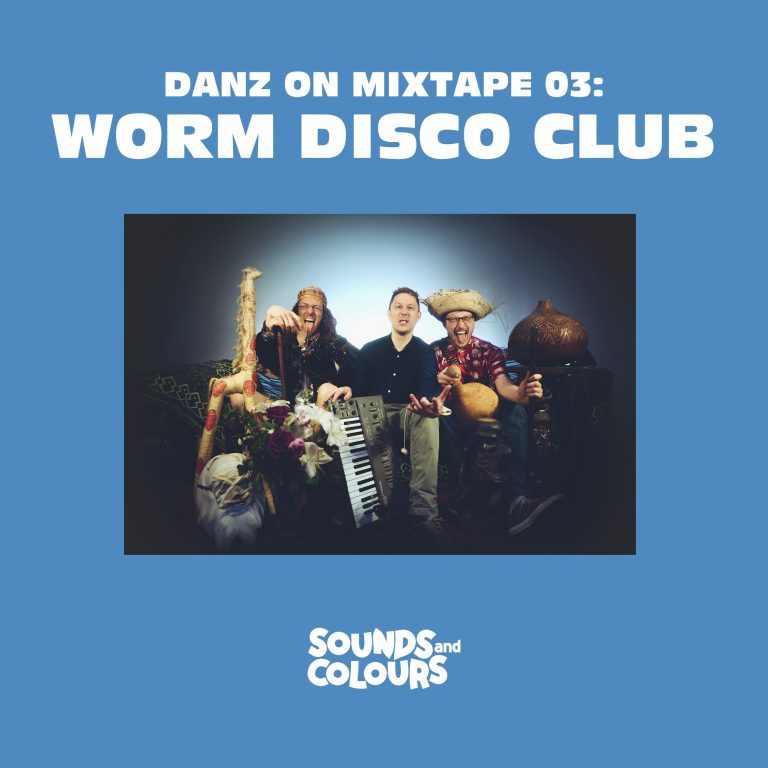 DANZ ON 03: Worm Disco Club
02 October, 2020
Worm Disco Club, Bristol's primary purveyors of globe-spanning sounds, are one of the UK's foremost institutions for jazz, Afro-centric and Latin American music. The trio, dedicated to playing rare cuts sourced from all corners of the globe, have honed their DJ skills across the UK as well as in Berlin, Amsterdam and Brazil. For over five years, the WDC have been hosting the likes of DJ Tahira, Poly-Ritmo, DJ Tudo, Meridian Brothers and Ariwo at their celebrated Bristol parties. Meanwhile, the trio have been holding fort at one of Glastonbury's hottest new venues, The Wormhole. There, sweaty congregations have danced the night away to head-to-head battles between UK jazz royalty such as The Comet Is Coming, Ezra Collective, KOKOROKO, Sons of Kemet and Steam Down.
The Bristol-based boys have a special connection with Brazil, having visited almost yearly since 2008 to immerse themselves in the carnival culture of Northeastern Brazil, primarily Recife. Plus, this year they have kickstarted their Worm Discs label, focussing on contemporary UK talent. Today, Worm Discs are releasing the new single by Glaswegian "Doom-Jazz" outfit, AKU!
We're so pleased to get the WDC team in for this week's Danz On. Co-founder of Worm Disco Club, Jackson Lapes tells us about the mix:
"With this mix we wanted to highlight part of Brazilian music that is massively under-represented in Europe – Lambada, Guitarrada, and 80s Forró. This is full-on dancing music and just works so well when you've been drinking cachaça at a dingy bar in the countryside somewhere in North-Eastern Brasil. A lot of Brazilian music is very refined, such as Bossa Nova and Samba-Jazz etc, but we wanted to show a slightly more hectic side to the country; think Donkey sound effects, tongue-in-cheek innuendos and insane synthesiser solos. All these genres, but in particular Lambada, expanded into a cross-continental dance craze, and throughout the 80s and 90s Brazilian music was popularly consumed in many other Latin-American countries. This phenomenon went both ways, and this mix features Brazilian artists composing in other Latin styles such as Merengue (Fernando Belém) and Cumbia (Nonato e seu Cavaquinho) as well as a cover of the Zouk classic Cuisse Lá by Les Aiglons from Guadeloupe (Avatar). All of these tracks are recorded from vinyl we've picked up across our many trips to Brazil, particularly in Recife, Pernambuco and São Luís, Maranhão. Salve Brasil, Salve o povo Brasileiro e Fora Bolsonaro!"
Tracklisting
Fernando Belém – Merengue da Jumenta
Nonato e seu Cavaquinho – Cumbia Exportação
Teddy Tanner – Com a Moça Bailar
Jô Santana – Lambada do Pará
Marinho – Melô da Pirâmide
Magalhães – Não É Fácil
Anastácia – O Sucesso da Zefinha
Assisão – Forró pra Jamaica
Lindolfo do Pará – Lambadão
Felipe Cordeiro – Problema Seu
Laranjeiras – Baila Menina
Walter de Afogados – Ilumina
Assisão – Pau nas Coisas
Banda Luz – Malô da Coxinha
Pantoja do Pará – Fique prá Mim (Martincito Vazquez)
Betto Douglas – Lambada do Galo Gago
Carlos Marajó – Lambada do Cão e Gato
Teixeira de Manaus – Lambada para Dançar
Vieira e seu Conjunto – Lambada de Mapinguari
Avatar – Isso É Bom
This mixtape series takes its name from 'Danzon (Dance On)' – an album by celebrated Cuban trumpeter, Arturo Sandoval. The album's title plays on the name of Cuba's national dance: the danzón, introducing its English homonym and punning on the fact that native Latin American music types are loved on dance floors worldwide. For this mix series, expert dance floor-fillers from Latin America and beyond will be serving Latinx killers so that we can dance on worldwide.

Follow Sounds and Colours: Facebook / Twitter / Instagram / Mixcloud / Soundcloud / Bandcamp

Subscribe to the Sounds and Colours Newsletter for regular updates, news and competitions bringing the best of Latin American culture direct to your Inbox.
Share: