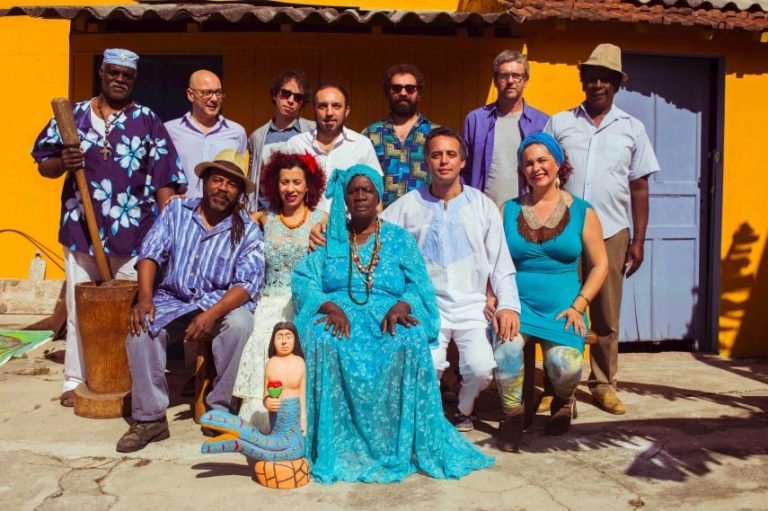 Camilla Loreta
DJ Tudo Releases New 'Gaia Musica' Album Connecting The Dots Between Brazilian and Moroccan Music
08 September, 2017
In the latest instalment in his Gaia Musica series DJ Tudo has created musical connections between Brazil and Morocco that many may have never realised.
For DJ Tudo (aka Alfredo Bello), Brazil and Morocco are 'brother' countries and this is something you can hear on the record with Gnawa music merging with the songs of Afro-Brazilian religions such as umbanda and candomblé, or with the caboclinho and ahoucha of Recife, as well as in the mixing of ijexá (aka afoxê) and Sufi ritual music issawa. A bass player as well as bandleader and producer, on this record DJ Tudo switches to playing the Gnawa guimbre instrument on some of the tracks, refreshing his own effortlessly funky bass playing in the process.
The album was produced between September 2015 and April 2017 in São Paulo, Brussels, Casablanca, Agadir, Recife, Tilburg, Rio de Janeiro, Paris and Amsterdam. Its songs mix rhythms, rites and myths from many different cultures. It was produced and arranged by DJ Tudo with the help of a number of contributors from around the world.
The album features contributions from legendary Brazilian singer and film-maker Sérgio Ricardo, the carioca keyboard player Sacha Amback, members of Casa de Caridade Pai João da Ronda (a group of umbanda devotees from São Paulo) and the musicians of DJ Tudo's band. From Paris, there is the guitar player Stephane Goldman, from Netherlands Brazilian drummer Simone Sou, from Morocco musicians Mehdi Nassouli de Agadir, guitar player Amine Mellay from Casablanca, percussionist Amine Kanze (from Casablanca but lives in Brussels) and a Gnawa group from Brussels that come from different cities from Morocco.
Gaia Musica Vol 2 is released on September 8th. Along with its predecessor Gaia Musica Vol 1, it is available in vinyl and CD formats in the UK from Sounds and Colours. Digital versions are available from Bandcamp.

Follow Sounds and Colours: Facebook / Twitter / Instagram / Mixcloud / Soundcloud / Bandcamp

Subscribe to the Sounds and Colours Newsletter for regular updates, news and competitions bringing the best of Latin American culture direct to your Inbox.
Share: