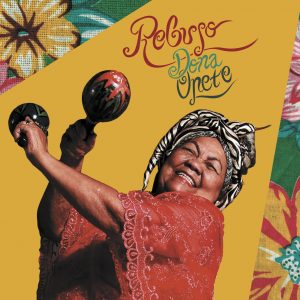 Review
Dona Onete – Rebujo
After Jambú, Analog Africa's recent compilation of indigenous music from northern Brazil, the grande dame of the region has joined the "party, party, party of our popular culture". Hailing from the 'Caribbean port' of Belém, near where the mighty Amazon meets the ocean, Dona Onete cooks up her own spicy, bubbling hot-pot of good-time dance music. As she sings on "Vem Chamegar", it's "not merengue, not/cumbia, zouk or cha-/cha-cha, no!/It's a delicious cabocla rhythm/a nice rhythm for dancing". It's not quite ska either, but all these diverse elements do indeed add up to a delicious rhythm that would make all but the most miserable feel better, at least for the 42 minutes of this album, about what's happening in the Brazil of today.
And God knows, with the news from the political and environmental fronts getting worse by the week, we can do with the infectious enthusiasm and energy of this remarkable octogenarian. There aren't too many of her kind per hectare: a former teacher, political activist and minister of culture, her singing career took off at an age when most mortals are training for their dotage. Her energy, she proclaims, comes from her river: "It's like blood rushing through my veins, there's no stopping it – or me." So successful has she been that audiences young and old in their thousands have embraced her whole-hearted championing of indigenous tribes, gay rights and cultural diversity, while (a mere!) 9.8 million viewers have watched the video for her single, "No Meio do Pitiú", from her previous album, Banzeiro. Another song from that album told of the murder of a gay friend and helped make her a darling of the country's victimised LGBT community. The new album's title – rebujo is the word for the turbulence that makes the mouth of the Amazon so dangerous for swimmers – is surely a metaphor for the current political climate in her country.
Vocally (and of course Old Father Time has something to do with it), she sounds like a cross between Calypso Rose and – particularly on "Musa da Babilõnia", a samba that tells the tale of a "beautiful, beautiful black woman" from a Rio favela – Elza Soares. There's a lovely guttural growl to her timbre that gives the music a saucy sexual stamp. She sings of dancing, partying, kissing and canoodling. There's an earthy chemistry, for example, between the two protagonists of the slightly Mexican-infused "Acão e Reãco". "Giving me a wet kiss," she sings salaciously, "I embrace your sweaty body." In fact, her music is all about "action and reaction", call and response, with the basic five-piece band and vocal chorus following the singer's very confident lead. It's a fine band, too, that she has gathered around her generous proportions. With the pulsating rhythms supplied by bassist Breno Oliveira, drummer Vovô Batera and percussionist JP Cavalcante, and the colour courtesy of flautist and saxophonist Marcos Sarrazin and the coruscating Amazonian surf-style guitar of long-time collaborator Pio Lobato, the party doesn't let up until the final track, "Gelante Sedutor", where things cool down finally after all the gyrating and schmoozing.
Lyrically, Dona Onete sings of the "beautiful poetry" of her state of Pará, "the most diverse in Brazil," she suggests. That and a wish to seize "the chance to help Amazonian communities through my music, so I cannot just sing and close my eyes to the people's plight." Her music thus far in her remarkable late-flowering career has been never less than infectious. Rebujo offers even more bounce to the ounce. It's full-on good-time music for an era that in so many other ways is the worst of times. How different it might all be if this effervescent singer were in power!
Rebujo is available from Mais Um

Follow Sounds and Colours: Facebook / Twitter / Instagram / Mixcloud / Soundcloud / Bandcamp

Subscribe to the Sounds and Colours Newsletter for regular updates, news and competitions bringing the best of Latin American culture direct to your Inbox.
Share: