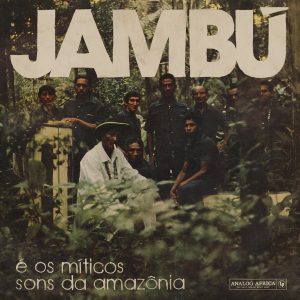 Review
Various Artists – Jambú e Os Míticos Sons Da Amazônia
Fans of the admirable Analog Africa label may have already investigated album no. 16 in their catalogue: alto saxophonist and bandleader Mestre Cupijó's Siriá, named after the Amazonian music, rhythms and dance of his native northern Brazil that he helped to popularise. If so, they will welcome as a bonus, "Despedida", the 19th and final track on this fine new CD or double-LP compilation that assembles some vintage gems from the northern Brazilian state of Pará. As usual, the package is put together with genuine love and care. The in-depth accompanying booklet makes for a riveting lesson in music history.
Named after the Jambú plant, whose leaves have been chewed and used for centuries by indigenous communities for its analgesic properties, no. 27 in the series focuses on the kind of rough and rhythmic music that once wowed 'em in the bars and nightspots of cities like Belém. Anywhere, in fact, where the locals could gather, drink Cachaça de Jambú and other fire-water, and dance the humid, sweltering night away. As you listen to the pulsating sounds of the 10 or so artists spotlighted, you get a palpable sense of life on the frontier between the Atlantic and the Amazon.
Belém is known as the "Caribbean port" and there's a strong influence from islands like Cuba and the Dominican Republic – even down to the sound-system culture that helped spread these "mythical sounds of the Amazon" during the '60s and '70s (although Jamaican reggae is one ingredient missing from the heterogeneous mix). The musical genres spotlighted – siriá, carimbó, bambiá et al – are a real mélange of the West African slave legacy, inherent particularly in the call-and-response vocals; the Amazonian drums that Paul Simon fell in love with; and the external sounds picked up on local radio from Colombia, Surinam, Guyana and beyond. You can detect a healthy dose of cumbia, for instance, on the insistent opener, "Vamos Farrear", sounds of son and merengue on the following "A Misturada", hints of the high Andes on "Prai Do Algodoa". Next up, "Pai Xango" even sounds like a lo-fi blurry template for the kind of electronic disco dance music of the late '70s. Faint echoes, too, of an Afro-Brazilian music abound, that artists like Milton Nascimento would polish for broader consumption. And Pinduca's fabulous "Coco Da Bahia" could even be a prototypical piece of MPB à la Jorge Ben. You could go on and on. One of the joys of this compilation is just to let the music wash over you and see what pops up.
The latest in an impressive series of Analog Africa's musical portraits of a lost era came about when the label's founder joined an Australian DJ and producer on a crate-digging trip to Belém back in 2012. Thanks to their efforts, we can listen and learn about the artists they unearthed: Mestre Cupijó, Pinduca, Grupo da Pesada, Messias Holanda, Os Mutraquitãns and others. Even if we hear no more of them, we are lucky enough at least to have an album that brings their raw, vibrant and variegated music to life. Recommended listening – and reading.

Follow Sounds and Colours: Facebook / Twitter / Instagram / Mixcloud / Soundcloud / Bandcamp

Subscribe to the Sounds and Colours Newsletter for regular updates, news and competitions bringing the best of Latin American culture direct to your Inbox.
Share: