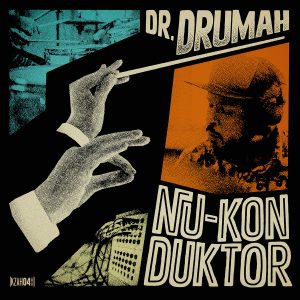 Review
Dr. Drumah – Nu-Konduktor
Anyone familiar with Dr. Drumah's extensive back catalogue may be a little surprised by the new album. The numbers are generally longer for a start: "Temaluna", for example, written and performed in conjunction with the Continentrio (Azymuth's keyboard player, Kiko Continentino, and his brothers Jorge on reeds and woodwinds, and Alberto on bass and guitar), clocks in at six and a half minutes, normally unheard of territory for the self-styled 'beatmaker' from Bahia. This has a lot to do with a much diminished reliance on samples, compared to previous albums like 90s Mindz, the dub-induced Creation & Foundation and last year's locked-down The Confinement Vol. 1: Africa, all of which are made up of miniature impressionist sound-sketches built around Dr. Drumah's home-recorded beats and samples from a clearly bountiful and diverse record collection. The results are smart, witty and contagious, sometimes a little like J Dilla's hip-hop cut-ups, at others reminiscent of Digable Planets without the vocals.
I confess to having picked up on Dr. D only recently, and I've been dosing myself up on the good Doctor's sonic medicine over the last few weeks. The new album came out on digital platforms at the end of July prior to its release on vinyl next year. It's Jorge Dubman's 13th album to be released under his Dr. Drumah moniker during a 20-year career in music. Perhaps best known in Brazil as a member of the instrumental band IFA, he talks of having "reggae as a school and records as teachers." As a drummer, the great Ivan 'Mamao' Conti has served as a mentor. Indeed, Azymuth – and Banda Black Rio – are two of his "favourite bands ever" and his music generally bears that kind of instrumental stamp. That said, however, this is a real student of Afro-rooted music in all its guises, who both respects and re-works his sources to conjure up something that bears a distinct personal signature.
On Nu-Konduktor, Dubman employs his production skills, honed on projects for the likes of Marcelo D2, to create a genuine producer's album rather than an assemblage of disparate parts. This time, then, he worked with friends and various musical partners, using mainly analog instruments, to oversee and nurture their own contributions to the overall sound – as indeed a conductor might. At the pre-production stage, he would lay down the beats, add some Fender Rhodes piano and any samples used, and send the framework to the participating musicians with an idea of the "sounds, textures and timbres" he had in mind. An important collaborator was the sound engineer, Buguinha Dub, who mixed and mastered the results of the creative process employed to colour the album's overall sound.
And what is that sound? "It's a cinematic, imagery-evoking record," the Nu-Konduktor explains, "where each song sounds like it was a movie or episode of a TV series." The listener is given cues and clues and left to his or her own imagination. The aforementioned "Temaluna" pointedly suggests a lunar theme as it orbits the planets Azymuth and Lonnie Liston Smith. "Cosmic Echo", with its wicked guitar-loop and heavy bass line, also sets you adrift somewhere in the cosmos. The two-part "Midnight Spy" features an ominous bass hook and sounds that conjure up a shadowy nocturnal urban landscape. The bubbling synth sounds and sudden key changes of "Glória Celeste" sent me not skywards, but down into an ocean teeming with aquatic life. But the music can be visceral as well as cerebral: "Estágio Final" and "Hey Deejays!!", for example, are devilishly funky slices of updated '70s jazz-funk.
So… you have been alerted: Dr. Drumah is someone to keep an attentive eye on and a well attuned ear out for in the future. For now, Nu-Konduktor and its predecessors will do very nicely, thank you. Plenty to be going on with. If Gilles Peterson hasn't yet discovered this multi-dimensional musician, then he'd better turn on and tune in to this sparkling, rewarding album.
Listen to Nu-Konduktor at Bandcamp

Follow Sounds and Colours: Facebook / Twitter / Instagram / Mixcloud / Soundcloud / Bandcamp

Subscribe to the Sounds and Colours Newsletter for regular updates, news and competitions bringing the best of Latin American culture direct to your Inbox.
Share: