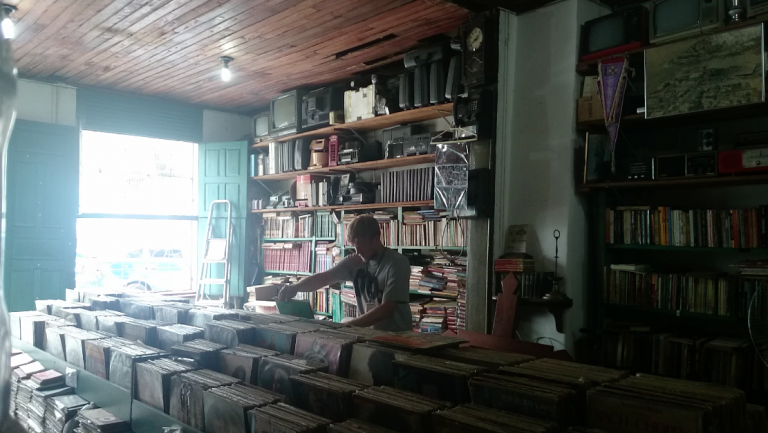 Epic Vinyls From Brazil's LSD-1 Brazilian Psych Folk Soul Mix
14 December, 2016
It's always with immense pleasure that we publish any mixtape from Epic Vinyls From Brazil, and this latest is no different. Filled with incendiary Brazilian psych, funk and soul from the 60s and 70s this is the epitome of Brazil's counterculture, filled with vinyl-only beauties that are both familiar and rare as hell.
The process for making this mixtape began more than 6 months ago when Epic Vinyls from Brazil were invited to DJ the "secret" Lost in Sandoz psych party in Copenhagen. The name of the mix came later and pays respect to the book LSD (Lindo Sonho Delirante – Beautiful Delirious Dream), published in November 2016 by Bento Araújo, a beautiful book that showcases 100 important Brazilian psych records from 1968-1975.
Listen to LSD-1 below, and scroll down for the full story behind the mix and info about all of the tracks featured:
Check out more from Epic Vinyls From Brazil:
Soundcloud
Facebook
Here's Epic Vinyls From Brazil to tell you the full story behind the mix and offer up plenty of information on the tracks featured:
"Even though we initially set out to make rock and fuzz music the connecting thread in this mix, somehow the connecting factor ended up being the master from Bahia, Gilberto Gil. Responsible for many manifestations of Brazilian culture in and out of Brazil, Gil is a true force of nature. His music always has a strong connection to Brazilian heritage and roots. His credits on this mixtape alone are impressive. It covers the echo laden intro, future predictions and computer talk on the Rite Lee / Tom Zé song "2001", writer credit for "Bat Macumba" and even bringing out the hippie in Jorge Ben on "Nega". He also was the one responsible for introducing the band Quinteto Violado to their record company. Who would have known?
LSD-1 is quite literally a mixtape, mixed just like the essence of Brazil. So, along with household names like Gil and Tim Maia hopefully you will hear a lot of new music from relatively unknown artists such as Almôndegas and Raul Seixas who are hardly known outside of Brazil.
After samba and bossa, Brazil is widely known for tropicália. And it's true that at the end of the 60s and in the 70s many influences melted together in that music genre. Drugs, rebellion, Brazilian roots and rock 'n' roll. But there is also the secret ingredient in Brazilian music: spirituality. The natural ability to catalyze and direct inspiration from various ethereal sources. Being from Bahia and growing up with candomblé and rituals artists like Gil, Tom Zé and Caetano were not strangers to this world. Tropicália was a movement by a collective effort at the right time. It made people come together and pride themselves with their heritage and talent. Not only in São Paulo, Rio and Bahia, but in many parts of the country it was a period of movements making new music.
Because while the hippie movement was happening in the US and Europe, the increasingly violent dictatorship demanded a reaction from young Brazilians. And at least it happened through the music, where they opened their hearts freely about love, life and the surreal.
To us Brazil has always been above real. Always layered, it is a true multi-dimensional country. Digging into these songs hopefully opens a channel for you.
Big thanks to Bento Araújo and Don Stener for feedback on the mix."
Track 1
Artist: Gilberto Gil
Track: Objeto Semi-identificado (semi-identified object)
Written by: Gilberto Gil, Rogério Duarte, Rogério Duprat
Format: LP
Year: 1969
Album: No Titel
Label: Philips
Country: Brazil
Like Tropicália: Ou Panis Et Circensis, this album was arranged by Rogério Duprat and features drums by the legendary Wilson das Neves. Often referred to as Cérebro Eletrônico (Electronic Brain) after the first song, this album is the second "tropicalism" album from Gil. The track's name is a wordplay on UFO with Gil displaying strong premonitions of the future.
Only one single off the album appeared, the Rio de Janeiro anthem "Aquele Abraço" (That Hug), the song that brought out the sentence "O Rio de Janeiro Continua Lindo" (Rio remains beautiful), which is today still a popular saying. The 7" single contains "O Ma Iaô", an interesting bonus track not featured on the original album.
Track 2
Artist: Almôndegas
Track: Almôndegas (Meatballs)
Written by: Gilnei Silveira and Kleidir
Year: 1975
Album: Almôndegas
Label: Continental
Country: Brazil
Taken from the debut album of Almôndegas – "The Meatballs", recorded in the legendary Gravodisc studios in São Paulo, home of over 2000 album recordings since 1960. The band was led by the two brothers Kleidon e Kleidir that later formed a successful MPB duo and brought forth the "New Gaucho Music", a wave of new music from the South of Brazil.
Track 3
Artist: Terreno Baldio (Abandoned Terrain)
Track: Passaro Azul (Blue Bird)
Written by: ?
Format: LP
Year: 1976
Album: Terreno Baldio
Label: Pirata
Country: Brazil
Labelled the most progressive band of Brazilian prog rock and often called the Brazilian "Gentle Giant". The band has a cult status, partly because they didn't play live until the 90s as the dictatorship did not allow them to play concerts. The album was released independently on Pirata and is somewhat hard to find. Here's a rare live video from 1994.
Track 4
Artist: Gilberto Gil, Caetano Veloso, Gal Costa and Os Mutantes
Track: Bat Macumba
Written by: Gilberto Gil
Format: LP
Year: 1968 (Re 1982)
Album: Tropicália: Panis et Circensis
Label: Fontana (1982) / Org. Philips (1968)
Country: Brazil
Vocals by Gil, Caetano Veloso, Gal Costa and Os Mutantes. One of the top songs on the album which was re-recorded later the same year by Os Mutantes (which Rogerio Duprat also arranged, as with Os Mutantes' following albums). A key figure in the musical development of the tropicalism movement, in 1967 Rogerio Duprat was teaching composition in Brasília, and only moved to São Paulo as he quit his job along with several hundred others whose teaching methods were being scrutinised by the military government. You can find interviews, pictures and a whole lot more in English on the very informative tropicália website.
Track 5
Artist: Marcio Lott
Track: Menina Do Mato (country girl)
Written by: José Jorge, Ruy Maurity
Format: LP
Year: 1976
Album: O Casarão (The Mansion)
Label: Som Livre
Country: Brazil
One of the newer and odder tracks on this mix comes off a mid-70s TV soundtrack. The soundtrack is filled with odd tunes from Gal Costa, Rita Lee, Nara Leão and many more and the song describes the simplicity of a country girl walking by on the road. The song is co-written by Ruy Maurity who did extensive work for novella soundtracks as well as some amazing solo albums. The song follows a samba structure with repetitions of the same simple, layered and beautiful verse:
"The girl who lives in the country
Not afraid of being haunted
Walks alone on the road
Carrying umbrella in hand
Leaves her hair on face
Play with whom she wants to play
Sends us a smile and keep walking
Sends us a smile and keep walking"
Track 6
Artist: Ave Sangria (Bleeding Bird)
Track: O Pirata (The Pirate)
Written by: Marco Polo
Format: LP
Year: 1974
Album: Ave Sangria
Label: Continental
Country: Brazil
This is indeed a fantastic album. So hard to find in good shape and a great listen from start to finish. The rare fuzz/bossa mixture on the Seu Waldir song is our favourite off this album, but "O Pirata" is perfect for the mixtape. The album features super songwriter and performer Zé Rodrix on synths.
Track 7
Artist: Pholhas
Track: The Beauty of Your Soul
Written by: P. Fernandes*, Wagner Benatti
Format: LP
Year: 1973
Album: Dead Faces
Label: RCA Victor
Country: Brazil
A rare English-language Brazilian band from this era, Pholhas are still touring today playing rock covers and their own songs. The group has been through several changes including an album of disco covers and adapting members from another notable psych group also present on this mixtape, Casa das Máquinas.
Track 8
Artist: Raul Seixas
Track: How Could I Know
Written by: Raul Seixas
Format: LP
Year: 1973 (Re 1989)
Album: Krig-Ha, Bandolo!
Label: Philips
Country: Brazil
Taken from the first solo album by Raul Seixas – it is on many lists as one of the best Brazilian rock albums of all times. There are many strong songs on this album including the transcendent "Metamorfose Ambulante". Raul went on to become Brazil's biggest rock star. He died in 1989 but is still remembered and revered as such. Many of the tracks are written by Paulo Coelho but on "How Could I Know", Raul grabs the pen himself and coins a personal and slightly rebellious song. Although not in perfect English it is still worth citing:
"When I was little, I used to dream
I was a king
Now they taught me how to sing
Think I've got most everything
I could ever ask for
You've got your pencil, your guitar,
Your amplifier
Searching for the lousy liars
You will set this world on fire
Like Nero did to Rome! Yeah!
But hey, how could I know
My eyes could see in the dark?
Hey, don't press on me
I'm not to blame can't you see?"
Track 9
Artist: Terço
Track: Lagoa das Lontras
Written by: Vinicius Cantuária, Sergio Hinds
Format: LP
Year: 1973 (Re 1988)
Album: Terço or Terço II
Label: Phonodisc (1988) / Org. Continental (1973)
Country: Brazil
Having reduced their name from "The Holy Trinity" to simply "One Third", Terço recorded some of the heaviest "rural rock" in Brazil. They created their own instruments such as the electric cello and the "tritar", a guitar with three necks. his is a much sought after and really expensive psych album with amazing guitar play and production. Luckily there's a good deal of re-editions out there to be had. Check out their instruments here.
Track 10
Artist: Gal Costa
Track: Dê Um Rolê
Written by: Luis Galvão, Moraes Moreira
Format: LP
Year: 1971
Album: FA-TAL – Gal A Todo Vapor (Fa-Tal – Gal at full steam)
Label: Philips
Country: Brazil
Legendary live show from Gal Costa and often mentioned as an important career stepping stone for her. The 1st issue is known as the first double album in MPB history with one of the records acoustic and the second featuring a full band. It holds a 20th place in the most important Brazilian records according to Rolling Stone Brasil and has strong credits including Roberto Menescal on production. The song was written and also recorded by Novos Baianos and it exists on a super rare 7". Gal continues going strong – here's a video of the song from 2013 with the drummer doing live MPC beats.
Track 11
Artist: Persona (Person)
Track: Água (Water)
Written by: Campadello*
Format: 10" LP
Year: 1975
Album: Som
Label: Private press
Country: Brazil
This is from a 10" of which stock copies have reappeared in recent years. This mysterious album includes a poster with the catwoman on the front and the back has instructions to play a mysterious Psych/Mirror/Candle Persona Game while listening to the record. Persona attempts to be a transforming musical concept with spiritual connotations, as illustrated on the cover and poster.
Track 12
Artist: Tim Maia
Track: Contacto Com O Mundo Racional (Contact with the Racional World)
Written by: Tim Maia
Format: LP
Year: 1975
Album: Racional
Label: Seroma
Country: Brazil
Spiritual psych soul song with a super clean and minimal production courtesy of Tim. Close your eyes, crank up the volume and you'll understand why it's here. There's a lot of info out there on the Racional albums so go find out what they are all about. We live in a world of animal's energy??
Track 13
Artist: Terço
Track: Estrada Vazia (empty road)
Written by: Ezequiel, Vinicius Cantuária
Format: LP
Year: 1973 (Re 1988)
Album: Terço or Terço II
Label: Phonodisc (1988) / Org. Continental (1973)
Country: Brazil
Another track from the same album as above.
Track 14
Artist: Betinho
Track: Planta Baixa
Written by: Vinicius de Moraes
Format: LP
Year: 1974
Album: Fogo Sobre Terra (novela soundtrack)
Label: Som Livre
Country: Brazil
Betinho is a unique artist in the sense that he never recorded an album. However there exists a compilation of his novela songs, as he contributed only music to TV shows. He might be a laissez-faire kind of dude but his music still stands out strongly. This interpretation of a Vinicius song about nature and fragile humans is heart-felt and well-arranged. A nice version was also recorded by Vinicius' old partner Toquinho in 1983.
Track 15
Artist: Gilberto Gil
Track: 2001
Written by: Rita Lee, Tom Zé
Format: LP
Year: 1969
Album: Gilberto Gil
Label: Philips
Country: Brazil
This is an ethereal, far-sighted song by Gil with predictions of the future, and ends up with him talking about computers. It's pretty trip, but then again, I guess 1969 was a great year. It was the year when Gil and Caetano chose to exile in London, where they stayed until 1971 (Gil's fondest memories from London are from going to Rose Morris' music store on Denmark Street). As with "Bat Macumba", this track was re-recorded shortly after by Os Mutantes. You can check it out in this epic TV programme footage, Os Mutantes with a fully bearded Gil taking part in a song competition in the Brazilian hippie heydays.
Track 16
Artist: Pholhas
Track: Dead Faces
Written by: P. Fernandes*, Wagner Benatti
Format: LP
Year: 1973
Album: Dead Faces
Label: RCA Victor
Country: Brazil
Title track from the Dead Faces album. It was re-released two years later and proved a bigger success in Spain under the name of Hojas.
Track 17
Artist: Tim Maia
Track: Um Dia Eu Chego Lá (One Day I'll Get There)
Written by: Tim Maia
Format: LP
Year: 1971
Album: Tim Maia (1971)
Label: Polydor
Country: Brazil
Up tempo soul rock from a genre-bending Maia with super strong rhythmic section and a powerful delivery.
Track 18
Artist: Quinteto Violado
Track: Acauã
Written by: Zé Dantas
Format: LP
Year: 1972
Album: Quinteto Violado
Label: Philips
Country: Brazil
Originally an instrumental group from Recife, QV were one of the few groups to actually play at MIDEM in France in the 1970s and thereby gain some recognition outside of Brazil. Their music brings the dry, windy North Brazilian flavour to your ears and what a delight it is. Pernambuco is a musically strong region with so must history – a must-go if you happen to be in Brazil at some point.
Track 19
Artist: Gilberto Gil e Jorge Ben
Track: Nega
Written by: Gilberto Gil
Format: LP
Year: 1975
Album: Gil E Jorge
Label: Philips
Country: Brazil
Nega usually translates as my dear or honey. Gil and Jorge got together in 1975 and recorded a double album of freaky, fired-up guitar songs. You can almost feel the tension between the two artists. Jorge's rantings in the background are hilarious and energetic.
Track 20
Artist: Walter Franco
Track: Nothing
Written by: Walter Franco
Format: LP
Year: 1975
Album: Revolver
Label: Continental
Country: Brazil
This is a favourite album that we've covered already in our The Lake radio shows, and it's a stunningly weird psych funk Brazil album with lots of chanting and experimental sounds. His earliest material tends to be minimalistic and repetitive – this song's lyrics are pure meditation.
"Nothing
To see
Nothing
To do
Nothing
Today
About me
I'm not
Happy now
I'm not
Sad
I'm just
Nothing
Now
Looking
To the empty
Space.."
Track 21
Artist: Casa Das Máquinas (House of the Machines)
Track: Vou Morar No Ar (I'll live in the air)
Written by: Aroldo, Carlos Geraldo, Netinho
Format: LP
Year: 1975
Album: Lar De Maravilhas (Home of Wonders)
Label: Som Livre
Country: Brazil
The sonic flight of "Vou Morar No Ar" is the most revered song from the band. It is off the middle album, and the most experimental of the three albums they put out. A true voyage from beginning to end. Casa das Máquinas was founded by skilled musicians from huge cover bands like Os Incríveis in search of a less mainstream sound. The band dissolved after their 3rd album in 1978 but were reunited for the emblematic Psicodália Festival in Brazil in 2007 and have played shows since then.
Track 22
Artist: Paulo Diniz
Track: Ganga Zumba (outro)
Written by: Odibar, Paulo Diniz
Format: LP
Year: 1970
Album: Quero Voltar Pra' Bahia
Label: Odeon
Country: Brazil
With incredible cover art this 1970 Paulo Diniz album just soars through genres from afro, reggae, funk vibes to this more psych style. A native from Bahia, the song lyrics reference Zumbi dos Palmares, a free city with thousands of inhabitants founded in 1587 by runaway slaves from Bahia and other states.

Follow Sounds and Colours: Facebook / Twitter / Instagram / Mixcloud / Soundcloud / Bandcamp

Subscribe to the Sounds and Colours Newsletter for regular updates, news and competitions bringing the best of Latin American culture direct to your Inbox.
Share: