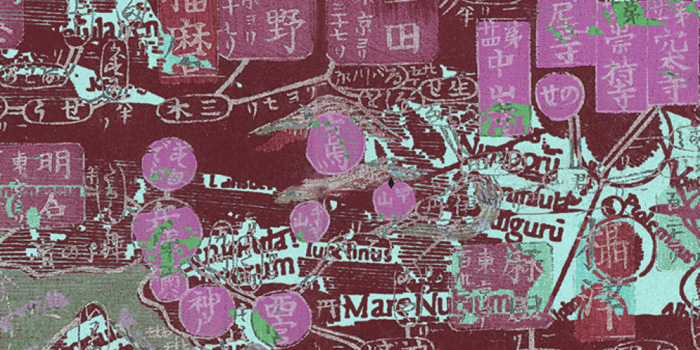 Free Download: 10 New South American Albums
13 April, 2015
Here's our latest round-up of new South American albums available for free download. Featuring everything from harsh IDM to Chilean rap and Brazilian jazz to experimental pop, there really should be something for everyone here. Ten great reasons why we love South American music so much.
Cidadão Instigado Fortaleza (Brazil)
One of Brazil's most inventive bands is back. Fernando Catatau has played guitar with everyone in Brazil – Vanessa da Mata, Karina Buhr, Los Hermanos, Otto, Siba and Arnaldo Antunes are just a few of them – but we prefer it when he's playing and singing his own songs, and Cidadão Instigado is the vessel in which that happens. As with previous releases, the songs on Fortaleza are beyond comparison, experimental pop songs full of humour, grooves and with little care for what other people think of them. It's great to have them back.
Download/Listen to Fortaleza at cidadaoinstigado.com.br
Habitación Del Panico Vol. 1 (Chile)
Brand new album from the Habitación del Panico hip-hop crew in Santiago, a crew best known for featuring producer and MC Hordatoj, a frequent collaborator of Ana Tijoux, who makes an appearance on one of the album tracks.
Download at delpanico.com
Atlantico Negro Atlántico Negro (Uruguay)
Seven tracks of cosmopolitan reggae and dub-inspired Latin rhythms with hints of Uruguayan candombe, French lyrics and the nerve to try out a Calle 13-esque reinterpretation of Buena Vista's "Chan Chan". Fans of Manu Chao will lap this one up.
Download/Listen at atlanticonegro.bandcamp.com
LATA Tres/Cuatro (Chile)
The latest record from Chilean producer LATA featuring originals and remixes in a variety of styles spanning dub, global bass and electrolatino. Released on the almighty Latino Resiste.
Listen to the album at soundcloud.com/lata/sets/trescuatro-2015
Download from Mediafire
Nômade Orquestra Nómade Orquestra (Brazil)
Stunning jazz from this São Paulo big band whose influences range from afrobeat to dub and hip-hop to Ethiojazz, and whose sound will appeal to anyone who digs The Budos Band.
Download/listen at nomadeorquestra.com
Lobo Gris (Bipolar) (Peru)
Released right at the end of last year, this release snuck by us a little bit but is well worth a listen. It's very much an IDM release, but one not afraid of going anywhere, whether heading into classical strings, Peruvian flutes, singer/songwriter-style strums or harsh noise. A great new release by one of our favourite producers in Peru.
Download/Listen at lobogris.bandcamp.com
Ava Rocha Ava Patrya Yndia Yracema (Brazil)
We've already given our props to Ava Rocha's new album so all we're going to say this time is simply DOWNLOAD THIS ALBUM. You won't regret it!
Download/Listen at avarocha.com
Nillo & Sentidor Sibö (Costa Rica/Brazil)
The electronic meets the spiritual in this collaboration between Costa Rica's Nillo and Brazil's Sentidor. Samples of indigenous voices and instruments are mixed with gentle beats and amorphous melodies for a genuinely inspiring aural experience.
Download/Listen at supololo.bandcamp.com/album/sib
Iconili Piacó (Brazil)
Afrobeat has been exploding in Brazil over the last few years with great new releases from Bixiga 70, Abayomy Afrobeat Orquestra and Iconili, the latter of whom are based in Belo Horizonte and have just released their second album Piacó, 11 tracks full of jazz, funk and afrobeat flavours. Just listen to the glorious "Vinicius" and feel the hairs stand up on the back of your neck.
Listen at soundcloud.com/iconili/sets/piaco
Download at Facebook
Various Artists Compilados Bacánika Vol. 3 (Colombia)
More eclectic new music from Colombia thanks to Bacánika's Compilados series. On this edition listen to the rock of Diamante Eléctrico and Revólver Plateado next to La MiniTK del Miedo's gothic cumbia, Mr Bleat's experimental IDM and the ridiculously good grooves of Romperayo.
Download/Listen at bacanika.com/index.php/recomendados/playlist/item/compilados-bacanika-vol-3

Follow Sounds and Colours: Facebook / Twitter / Instagram / Mixcloud / Soundcloud / Bandcamp

Subscribe to the Sounds and Colours Newsletter for regular updates, news and competitions bringing the best of Latin American culture direct to your Inbox.
Share: