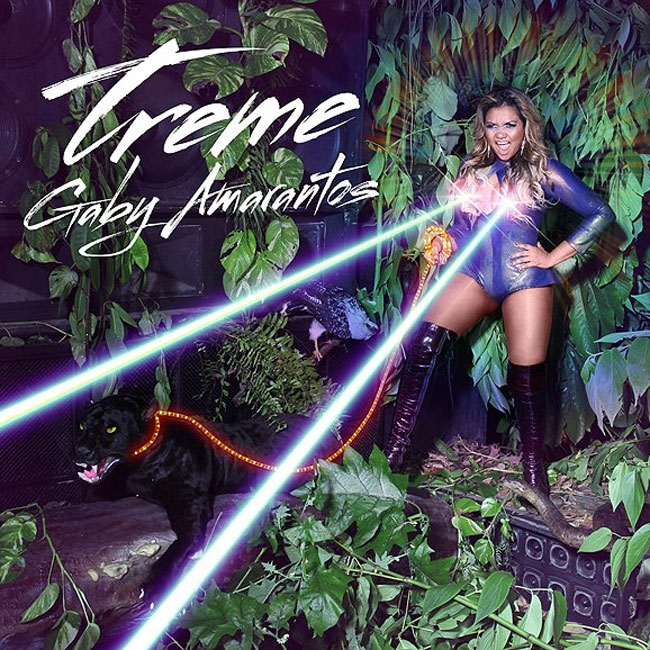 There's no doubt that Gaby Amarantos is a star. Her mere presence on- and off-stage commands instant attention. Not only does she portray the self-assuredness of a warrior queen, but she also has the voice of one, slaying every song she encounters. So, it's no wonder she's been called the "Beyoncé" of Pará. But we're not here to talk about that, we're here to talk about how amazing and game-changing her album Treme is.
If you've been keeping yourself updated with Brazil's latest electronic music export that's been blowing up dancefloors left and right, Treme's first single "Xirley" might not be news to you. Yet for those of you who haven't, "Xirley" might as well be any tecnobrega fans' anthem. Originally composed by Pernambuco multi-instrumentalist Zé Cafofinho, the song spares no detail into telling us how to prepare for an aparelhagem and, most importantly, how a kick-ass tecnobrega song is composed. "Eu vou samplear, eu vou te roubar" (I will sample, I will steal from you), is the hilarious bridge of the song which sort of explains the ethos of the genre. Yet, as Amarantos proves with Treme, the sampling part is becoming more and more obsolete as artists continue to step up their game and compose original music.
[soundcloud url="http://api.soundcloud.com/tracks/25266888″ params="" width=" 100%" height="166″ iframe="true" /]
Amarantos' Treme has characterized itself by incorporating live instrumental arrangements, something notably absent from a lot of tecnobrega acts. This gave Amarantos free range on which genres she could include in the record and also gave the music more sonic depth. Along its 14 tracks, Amarantos and her band mash in everything from cumbia, merengue, reggaeton and calypso with lambada and more regional rhythms and instruments. What I really like about Treme is that in songs like "Ela Tá Beba Doida" they manage to use those live instruments in the same audacious and fearless way they abuse synths and loops.
While "Ex Mai Love" is a bolero-ish playful dig at an ex-lover, "Gemendo" has an unmistakable R&B flavour that is rapidly undercut by videogame-style synths and a dembow rhythmic base. This melding of genres is not atypical for tecnobrega (in fact, it would not be tecnobrega without it), but in Amarantos' production this is so artfully done that it feels almost effortless.
[soundcloud url="http://api.soundcloud.com/tracks/30602243″ params="" width=" 100%" height="166″ iframe="true" /]
The album also includes the Maderito collaboration, "Galera de Laje", which appears as a different version on Gang do Eletro's major label debut. But perhaps the song that most struck me was "Mestiça", a collaboration between Amarantos and fellow singer/songwriter/professor/poet and paraense folklorist, Dona Onete. Between Amarantos and Onete, they make "Mestiça" a celebration of Pará's indigenous roots and the beautiful mixture of races that now composes the fabric of Brazil. The hair-raising force with which they both affirm the importance of the land, the history and their identity as paraenses, Amazonians and Brazilians is something to be reckoned with.
Treme is a record full of gems that, not only will make you dance, but will also force you to rethink the sound of tecnobrega. The album is a game-changer in many ways, not just musically, but in terms of the depth of themes touched upon by Amarantos in her lyrics. With it, she reaffirms her status, not as a "Beyoncé do Pará", but as Gaby Amarantos, the star from Pará that defies any other comparison.
Treme is available from iTunes and Amazon

Follow Sounds and Colours: Facebook / Twitter / Instagram / Mixcloud / Soundcloud / Bandcamp

Subscribe to the Sounds and Colours Newsletter for regular updates, news and competitions bringing the best of Latin American culture direct to your Inbox.
Share: