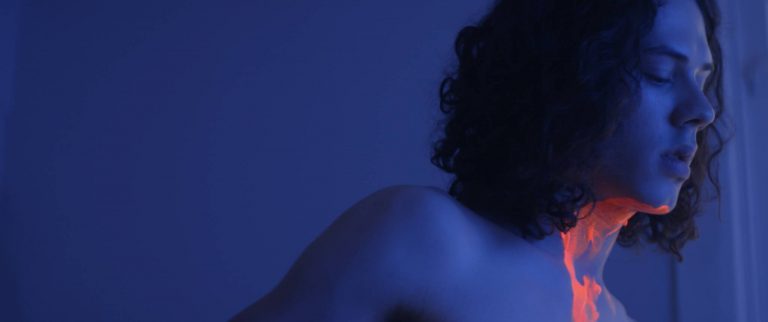 Hard Paint (Tinta Bruta)
12 August, 2019
Brazilian co-directors and writers Filipe Matzembacher and Marcio Revlon's multi-award winning film Hard Paint (Tinta Bruta) starts strongly by giving us a glimpse into the fantasy realm of "Neonboy", the main character, Pedro's alter-ego. The highly original and beautifully shot mood-piece begins in a dark, empty room (reminiscent of a prison cell), where the boy, striped naked and smeared with his trademark flourescent paint has fallen asleep with his webcam on, with the sounds of the online chat room pinging in the background. Immediately, we enter Pedro's world: a world of alienation, solitude, yearning and mystery.
But who is "Neonboy"? The socially-repressed Brazilian gay boy and sex performer is from the director's hometown, Porto Alegre, a southern city in Brazil. As is revealed later in the film, we learn that the shady city is considered 'purgatory', almost like serving a life-sentence, for those that stay. In fact, it seems that everyone ambitious enough wants to leave the city behind and create a new life for themselves. For Pedro, this is online, where he can find a virtual-world escape. It's here where he really comes out of his shell and is loved for his kaleidoscopic performances by his online fans.
The film is set in three different parts: Luiza, Leo and NeonBoy. The first chapter is dedicated to Pedro's sister Luiza (Guega Peixato) who is leaving their hometown for a journalism job nine hours away, in Salvador, Brazil. With Pedro's sad eyes resonating throughout the film, abandonment and loss is felt from the outset and the tenderness of their separation is obvious, even if Pedro struggles to show it. This isn't the first time Pedro has been abandoned and it might not be the last.
Luiza accompanies Pedro to a court hearing resulting from a violent incident a few months earlier. It's here where we learn that, following the death of his mother and absence of his father, Luiza is the only family figure he has left. Cues to Pedro's capacity for violence are also felt. But is it the city that has made him violent in this way or is he simply an anti-social psychopath? Or both? In fact, while the two siblings are extremely 'close', 'their energy is a little different'.
Each time Pedro is abandoned he loses something but gains something new. The symbolism of loss, nostalgia and mystery is shown vividly in the choice of props used. He never gets over the death of his mother and hides the pain by wearing her vintage jacket, he promises his sister he'll leave their shabby apartment everyday – even for just 5 minutes, where we see the minutes ticking away on his mobile phone, he masks his shyness by coating himself in neon paint, gaining a strong online following in the process.
But there's a new boy on the chat scene, Boy25, and he's losing his audience. The second part of the film focuses on Leo. The directors do a miraculous job in pitting two, virtually distinct characters together as polar opposites but much more alike than first meets the eye. Unlike the shy and reserved Pedro, Leo (Boy25) is confident, charismatic and ambitious. Tapping into a typical Brazilian mindset, he has a 'sonho' (a dream), to earn a scholarship as a professional dancer and move away. When Pedro confronts Leo about stealing his act, the two embark on a steamy, sexually-charged romantic double act, followed by a relationship (both in the film and real-life) that sees Pedro embark on a new social path where he is welcomed with open arms into Leo's tight-knit group of friends.
The mixture of sexual explicitness and inclusive social context with melancholy sensuality should put this unique piece on the map for queer film specialists, far beyong the international film festival circuit.
As the city crumbles down on the outside world, with for sale/to let signs, silhouettes looking out of apartment windows, buildings sinking a little further into the ground each day and rife homophobia, the film touches on the hardships faced by being gay and an outsider in their home country. While Brazil might have a liberal, 'joie de vivre' reputation, due to a brimming 'maschismo' culture and the influence of the Catholic church, the gay community continues to face staunch opposition from an unaccommodating environment. By focusing on a vulnerable gay male protagonist, the film touches on an interesting contradiction: while violence, hatred and homophobia may dominate, the popularity of the internet in Brazil has opened up a platform where the LGBT community can move fluidly, freely and meet fellow like-minded people without persecution.
The third chapter returns the audience's gaze back to Neonboy and we end where we left off, but this time in a new direction. There are quietly wrenching scenes of a violent encounter with a stranger and again, we are reminded of the perils faced with being gay in the outside world. We never do see Luiza again, which is a shame since the strong family bond so prevalent in the initial scenes spoke strongly about Brazilian society. Again, Pedro is left abandoned by Leo for a once in a lifetime opportunity for a scholarship in Berlin. A European city notorious for its openness to the LGBT community and the liberal arts.
The climatic ending, beautifully enacted by Pedro (Shico Menegat), leaves much unsaid but is no more emotionally arresting because of it. We never do hear about the results of the court hearing but when he mentions that his mother was a 'psychic' we can only assume the worst. It seems that Porto Alegre's inhabitants are faced with a choice: leave for a brighter future or stay and face the music. Indeed, with a final, uplifting performance from Manegat, Pedro seems to have chosen the former.
Hard Paint (Tinta Bruta) is in UK cinemas from Friday 2nd August / on DVD and On Demand from 6th August

Follow Sounds and Colours: Facebook / Twitter / Instagram / Mixcloud / Soundcloud / Bandcamp

Subscribe to the Sounds and Colours Newsletter for regular updates, news and competitions bringing the best of Latin American culture direct to your Inbox.
Share: