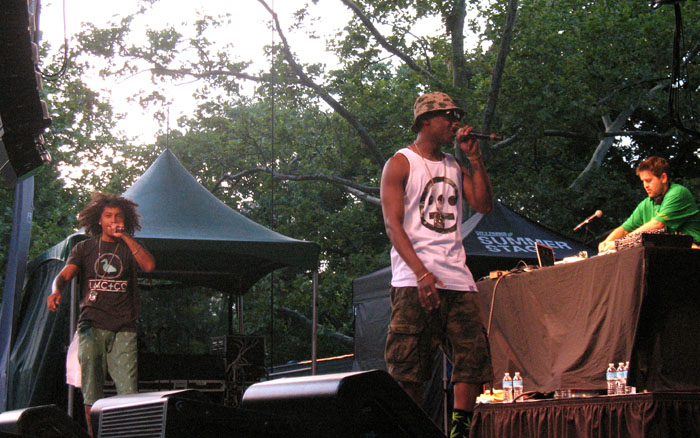 Gina Vergel/Los Rakas, accompanied by DJ Ethos, helped open LAMC with a performance at Central Park's Summerstage.
Heat, talent, and nonstop parties at 14th annual LAMC
19 July, 2013
The 14th annual Latin Alternative Music Conference rolled into to New York City on July 9 through the 13th, bringing with it brutal humidity and heat, and loads of good music in a variety of subgenres. We mentioned in our preview story that the conference continues to grow in popularity, size, and New York City boroughs it hosts events in, but we're thankful it remains intimate enough for fans to almost catch a bit of everything on the bill.
Well, at least we tried. (We're still recovering.)
As usual, the conference brings more than just music to the Big Apple. We found the panels to be informative, and a question and answer session with salsa legend Ruben Blades was nothing short of spectacular. (Read about his talk here. Also check out rumors about Blades eyeing Nacional Records for a record deal here.)
The cultural events, such as a spoken word event featuring Mexico City's Bocafloja at Spanish Harlem's La Casa Azul Bookstore, film screenings at parks in Harlem and the Bronx, and a family art, storybook, and activity, show with Spanish alt pop group The Pinker Tones at the famed Museo del Barrio, were well received and attended, though not necessarily by conference attendees.
Other than that, LAMC was five days of nonstop performances and parties, with a few surprises mixed in. Here is a list of highlights as we saw them:
Most buzzworthy bands according to conversations with fellow journalists, artists, and fans:
Astro – The Chileno electro pop rockers had a very successful first trip to New York City. Not only did they pick up the 2013 LAMC "Discovery Award," the quartet packed every venue they played and even sent one member to play an acoustic showcase at SOBs while the rest soundchecked for the big concert of the evening at the Gramercy Theater. Check out  journalist José Simián's preview of the band's trip to the Big Apple in the New York Daily News.
Viniloversus – These Venezuelan rockers adroitly worked the pressroom with (bilingual!!) ease and fired up crowds even more so. In fact, during their set at the Mercury Lounge, fellow countrymen, La Vida Boheme, crowd surfed. Check out Cochinopop's recap (with video and text in Spanish) on how all the Venezuelan artists who attended LAMC fared.
Carla Morrison – She was last year's LAMC darling, but a quick search on Twitter shows her devoted fans were beyond excited to catch her free concert at Central Park Summerstage. (And so nice! She's an absolute doll.) The New York Times' piece on this year's LAMC highlighted Morrison's "affection pop."
La Minitk del Miedo – We've made this point before: unofficial shows during conferences and festivals are a must-do! You are missing out otherwise. We loved La Minitk's music from the start (check out our first story on them here) but seeing them work the stage sealed the deal. As a matter of fact, we've been wearing black leather from head to toe ever since. This band has a bright (or dark, should they prefer it) future ahead of them. As #Futureroots creator/curator Nati Linares says of the Bogota-based goth cumbia rockers, "[La Minitk del Miedo are] taking the overt tropicalness always stereotyped in music and flipping it."
Listen to our favorite song, El vacilón de ultratumba, with its industrial-cum-reggaeton vibe.
Best surprise performances:
Los Rakas, Lido Pimienta, and Zuzuka Poderosa at the Cumba Mela vs. Subsuelo party at Drom: Los Rakas helped open LAMC with a performance at Central Park Summerstage. (They opened for rapper Fat Joe, who soon will serve time in prison for tax evasion.) But their last minute performance at Drom was more our speed because bilingual hip-hop tinged with dancehall and Panamanian plena belongs in a dark nightclub where people can grind to it, ya dig? (Also, when Raka Dun performs "Parkiando." Phew!)
Colombian by-way-of-Toronto's Lido Pimienta later surprised us by jumping on stage to do her thing. She then later invited Brazil-via-Brooklyn's Zuzuka Poderosa to join. It was quite the Girl-Power-Pow!-Spanish-Portuguese-lyrics moment.
Alex Ferreira at Natalia Lafourcade's set at Gramercy Theatre: The Dominican alt pop singer/songwriter, who calls Madrid home, joined the Mexican pop rock songstress on stage at the big LAMC concert and it was a sweet pairing. Check out the duo's new song, "Ambrosia," which they wrote on the spot during LAMC week while visiting the House of Creatives studios in New York.
DJs who made LAMC *that* much more of a party:
There are simply too many DJs to give credit to in this department, but we'll say Peligrosa's DJ Dusty (El Dusty, he of "Ke Le Pasa" fame) creates this rave-like atmosphere that makes us forget we're not an 18-year-old girl at a secret warehouse rave. (Sigh.) El Dusty's set at the almost-unbearably-sweaty (seriously, Le Poisson Rouge, air conditioning next time, please?) LAMC closing party edition of Que Bajo was full of cumbia (his related band, Master Blaster Soundsystem, also performed) and might have caused everyone to lose at least a pound of water weight. And, for that, DJ Dusty, you get a tip of the hat.
(ed: Check out this mini-documentary about the Texas-based Peligrosa crew aired by a Public Broadcasting System (PBS) affiliate, KLRU.)
Our friends from Colombia's El Freaky Colectivo played a maad set of dancehall at that same party and it was apropos because of the sweltering heat. All we needed was a cocktail made of Appleton Estate rum (and Aguardiente?), mon! The collective also played the big Orgullo Colombiano festival in Queens the following day.
The Subsuelo crew's DJ Ethos, who hails from Los Angeles, did his thing spinning beats for Los Rakas, but he also gets extra big ups for venturing out to the South Bronx to spend quality time with, and DJ, a party hosted by the Rebel Diaz Arts Collective. ("Those are my people," Ethos tells us.) The collective is a hip-hop community center that provides a safe space for cultural exchanges through performances, educational workshops, and multi-media training—something the borough, one of New York's most economically depressed, surely needs.
DJ Gozar (aka Josh Weiss), who we met when he played the opening set at La Minitk del Miedo's first NYC show. Our curiosity caused us to look into his Soundcloud and discover this gem of mix, featuring music from Colombia, Argentina, Brazil, Peru, and Senegal:
(ed: Gozar's new mix premiered on Afropop Worldwide and it's a scorcher.)
Finally, we were super enamored with the Sonic Diaspora crew out of Chicago. Guest DJs at the iBomba LAMC after party at Bembe, this crew celebrates "popular & underground musical styles of Africa & the diaspora." These DJs play everything from Afrobeat, Afro-House & Global Bass to Cumbia, Future Dancehall, Hiplife, Azonto, Kwaito, Kuduro, Coupe Decale, and other subgenres of the African underground. Listen here.
Ladies to watch:
Flor de Toloache: We at Sounds and Colours have never quite covered mariachi, but this all-female group who specializes the traditional Mexican folk music was a must-see. The New York-based band (made up of a German, a New Yorker of Egyptian descent, a Cuban-American, Colombian, Dominican and Argentine) was featured in a wonderful video segment by the New York Times, so we had to check it out. It's safe to say we were more than blown away.
The band opened for Nortec Collective presents: Bostich and Fussible, and the Mexican Institute of Sound, at Celebrate Brooklyn! They also played a late show at Rockwood Music Hall later that weekend. Lest you think they only perform classic mariachi (and they do a marvelous job at that), Flor de Toloache has original songs and also mixes in some classic R&B and pop songs into the mix. Check out their medley of hits by bachata superstar Romeo Santos and pop stars Usher, Adele, and Goyte:
http://youtu.be/PY-iA-mMUq0
Irene Diaz: Though this Mexican American pint-size singer didn't perform, she did network at the conference and we were lucky enough to speak with her and score her debut EP, I Love You Madly. Watch this name, people, as the Los Angeles artist won't be unknown for long. Though I'm not sure I would classify her musical style as 'Latin alternative', she's worth exploring if you're a fan of great voices. Someone described her as the chola Fiona Apple, Adele and Norah Jones. In other words, she's got a great, big voice. Take a listen:
Best party band vibe during LAMC:
M.A.K.U. Soundsystem: Just go see them live already. Trust us. The self-described providers of #immigrantbeats always put on an extra-live show. And then there's the part when the clarinet player jumps into the audience. Just go see them!
And about that Puerto Rican cumbia criolla:
Los Chinchillos del Caribe: Our friend, journalist and DJ Juan Data, says he was excited for Los Chinchillos to play during LAMC week because they reminded him of Argentinian cumbia. They have the style down (See: masks.) The band told journalist Monika Fabian that they came up with their "sancocho [stew]" of cumbia, rock, and hip hop in 2009 because they saw a need. "We started thinking: 'every Latin American region has its own cumbia—there's villera, chicha, sonidera—why not make Puerto Rican cumbia real?'," Chinchilla member Sr. Bizarro said in Spanish. "Now Puerto Rico has its own cumbia, with sazón Boricua: we have cumbia criolla."
Read the rest of Fabian's piece here and watch a video by Los Chinchillos below:

Follow Sounds and Colours: Facebook / Twitter / Instagram / Mixcloud / Soundcloud / Bandcamp

Subscribe to the Sounds and Colours Newsletter for regular updates, news and competitions bringing the best of Latin American culture direct to your Inbox.
Share: