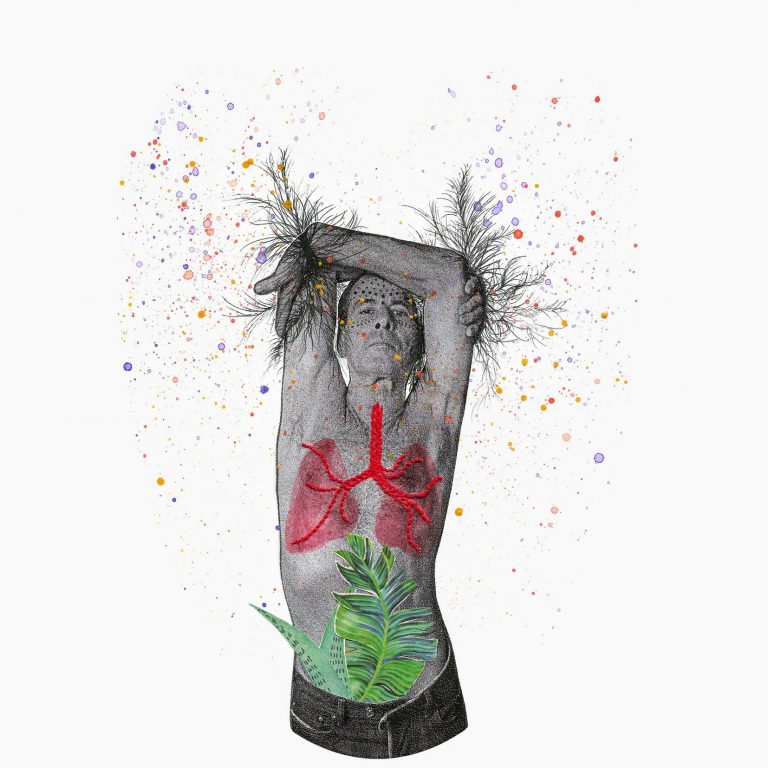 I'll Be Around Whilst I Can: An Interview with Ney Matogrosso
28 October, 2019
Ney Matogrosso is one of the most iconic figures in Brazilian music history. The overuse of such adjective for marketing purposes has completely emptied it of any meaning, but in Ney's case it is the plain truth. He is side-by-side with the likes of Carmen Miranda and Elis Regina in our pantheon of stars. Except that he is alive and at 78 years-old has managed to remain artistically relevant, releasing great albums and selling-out concerts throughout the country and the world to astonished audiences. In 2008 Ney was considered by Rolling Stone Brasil one of the greatest Brazilian artists of all time, and in 2012 the magazine elected him its third greatest voice.
It's curious that his first performance in London will only happen now, over 45 years after he first entered the public consciousness with the band Secos & Molhados in 1973, before launching a successful solo career. As the saying goes, better late than never: Ney Matogrosso is performing his acclaimed new show Bloco Na Rua at O2 Shepherds Bush Empire on Thursday 31st October 2019. A recording of the show, made without an audience, will then be released on CD and DVD in November. The result was described by Ney as a lysergic trip when he spoke to Sounds and Colours from his apartment in Rio de Janeiro, prior to embarking to Europe. In an age where emails are ubiquitous for communication, it is a relief to engage organically with Ney via a video call.
Attentive and kind throughout our conversation, Ney begins by telling me that he considers himself an interpreter (despite writing some songs during his career). And as such he has revealed the work of great composers, a tradition amongst the great interpreters in Brazil, Gal Costa and Maria Bethânia being other examples. When I insist that he is also a writer he says "it's not my thing, but Chico [Buarque] once said something I liked, that when I sang his songs in a certain way I had ownership of them because I unveiled things that he hadn't even thought of. When you sing a song you give it your rendition. Even though not a single word is changed the intentions are the ones I choose, which are many."
As well as being a singer, he has also directed, done lighting designs for concerts, acted in films, and has consistently worked as an artisan, even before he started off in the music business. Does his creativity work in separate avenues or are all these different artistic expressions intertwined? "It's all pervaded by music", he says, "it is the conducting wire of everything. Before I used to create things separately, but now it's all for the music, within it." After thinking for a while he adds, "I am very proud to take part in Brazilian music, of being one if its representatives. I am very honoured and proud of it. Music is one of the most known Brazilian art forms for its own value, no government marketed our music like the Americans did with theirs and their cinema. Brazilian music is known and respected for its own value." When I ask him how it feels to have an extensive body of work and what it represents to Brazilian music he says "I don't think about it, really. My thoughts are still looking ahead, I'm still going [ahead]. I do recognise that it's 46 years of work dedicated to music but it doesn't make me stop there [in this thought]. I don't think I've gotten somewhere, I'll get there when I die. In all honesty, I understand it and accept it but I'm not stuck in it."
Going back to the time when he started his career with Secos & Molhados, a band soaked in counterculture that had a massive and unprecedented success during the long military dictatorship in Brazil, I ask him to what he attributed the phenomenon that the band was. "I think we [the Brazilian people] lived in such distress that the fact the band existed at that time made people breathe and see that not everything was lost, that we could exist with freedom." Considering the current repressive nature in Brazilian politics, I ask him his thoughts about the current period the country is going through. "It's another one that will pass. I didn't submit to the fear it initially caused because I've always had the perspective that nothing is eternal. Everything passes. And this will too, everything is ever changing." Bearing in mind the freedom that Secos & Molhados represented to people back then, nowadays, besides himself, what other artists give people a similar feeling in Brazil? "I don't know. There are many people, many artists. There's this movement of trans artists [such as Pabllo Vittar, Linn da Quebrada and Liniker e os Caramelows], which is a transgression. I was never trans but I went against many rules, so I notice this movement. I don't know what to say because there needs to be room for everything. All manifestations need to have room to exist. This is my way of seeing life."
Nature has always been a very important concern for Ney both as an individual and a public figure. He owns a large piece of land, a Private Reserve of Natural Heritage, now officially recognised as an animal release area. Taking this into account, I ask him how he feels about the fact that whilst he's on tour indigenous Brazilian leaders will be visiting 12 European countries, including the UK, to raise awareness to the genocide they are suffering and to the deforestation of the Amazon. "It's absurd, and it never stopped happening. But now it's done more explicitly and with the support of several authorities. I vehemently repudiate it. I took part in the campaign Demarcação Já [for the demarcation of indigenous lands in Brazil]. It's a happy coincidence that I'll be there at the same time as them because that's what I stand for. It would be opportunistic for me to take part in their event, but the indigenous people have my unrestricted support."
Ney's latest show, Bloco na Rua, opened on 11th January 2019 in Rio de Janeiro to rave reviews. The concept for the concert derived from its repertoire, on which Ney worked for two years on his own until it reached its current form. His only concern was to sing what gave him pleasure. "It's all very intuitive, there's no command from myself. I'm at my intuition's disposal. Why did I do ten different versions of the tracklist and not just one? Something told me I had to look further. When I'm sure of the repertoire I start giving it to [musical director] Sascha [Amback]." He then rehearsed with his band for four hours a day during a period of three months. Amback would present ideas for the arrangements that the musicians would then work on with Ney's constant creative input. "The visual aspects of the concert only come in when I'm rehearsing in the studio." For the first time he relinquished complete control over his costume to a long-time collaborator, the stylist Lino Villaventura, who asked Ney to step away from the process. "I accepted it even though it wasn't comfortable to me, since I had always been involved. When I went to try the outfit in his atelier, I saw an all-closed head piece that I wanted to use, and said I'd like to go on the stage without my face being exposed. Then he did the costume like this for me – it looks like a reptile, a being from another galaxy. But that's only on the opening, I then remove the head piece, which has something else underneath it, and that's my only costume. I had four different ones in Atento aos Sinais [his previous show] and I just didn't want that many anymore. I didn't want the excess of costume change. I had an overdose of that in the last tour." When it comes to the projections used in the concert, they must corroborate what he says, even though not literally. "[Those images] are backing what I'm saying, but in a subtle way. Like in the song 'Jardins da Babilônia' [Rita Lee/Lee Marcucci] when I sing the Babylon Gardens have been hung, you see the stairway that will lead to a favela, which to me is the Hanging Gardens of Babylon of the current days. Sometimes I will ask objectively for something, like this image of a favela taking shape behind me whilst I sang that specific song, at other times things are brought to me and I see if they represent what I had in mind. The last word is mine."
What are his expectations about performing in London? "I try to be cool about it. There was a moment in which I was afraid of the cold weather until I told myself to relax and go there to do what I know best. I'll put some warm clothes on when I'm out and about, and performing should be fine since there's heating in the theatre. I will do what I know, and I hope the audience enjoys it. I understand there is the obstacle of them not understanding what I say, since the word is very important within my work, but there's another side to it which I hope they enjoy: it is a concert that you can dance to if you want. There's something for everyone." Does the language barrier affect his performance in any way? "No, I've performed in countries like Germany, Israel, Switzerland and others. It was never an obstacle for me – I go there and do it." What does being on stage mean to him? "It is everything I ever longed for in my life. It's the moment I always crave for. I record albums as a pretext to get to the stage, which is what I aim for."
It's no surprise that amongst the 38 albums Ney Matogrosso has released throughout his entire career, Bloco na Rua [once released] will be his 11th live album and 12th DVD – most of which are derived from his tours. A very interesting particularity of Ney's work is that he would release songs after they had already become part of his shows, rather than performing songs that he'd released. What led him to do this? "When an album is recorded before the tour the songs haven't matured enough, and then I get unhappy because I could've done better but hadn't understood everything fully. So when [an album] is recorded afterwards you've already grasped that whole matter. This way it results much better for me. Yesterday I had people come over for us to decide the cover and booklets of the new CD and DVD [Bloco na Rua]. I like using lots of pictures, having all the lyrics… I do it the way I like it even if they don't sell – what gets to someone's hand is the way I envisioned it in my head. I like to hold a CD, open it and see the lyrics and photos. I understand that streaming platforms are the main way through which music will everyday more be consumed, but I want to have physical copies. I don't want it [my work] to reside only in the Internet – I want to own it, I want it to exist [in the real world]." Which are the records he released that he likes the most? "Olhos de Farol [1999, in which he celebrated composers of a newer generation]', As Aparências Enganam [1993, released collaboratively with the group Aquarela Carioca] and Beijo Bandido [2009, with a repertoire that covered romantic songs from across different eras]. But I'm only saying this because you're asking, since I'm very involved with all [of the records I released]. I really like the first one, Homem de Neanderthal [in reality this is the name of Ney's first tour, which is how people commonly refer to his first album, actually called Água do Céu – Pássaro (1975)]. I also really like Seu Tipo [1979], it is a very beautiful album."
Since his first solo album, Ney's music has challenged genres, flowing through varied rhythms ranging from fado to samba. Ney has released both pop-rock albums, like Vagabundo (2004, released collaboratively with the group Pedro Luís e a Parede), and others of a more erudite nature, such as O Cair da Tarde (1997, where he interpreted songs of the Brazilian maestros and composers Heitor Villa-Lobos and Tom Jobim with the participation of the group Uakti). How does he select his repertoire? "It depends on the moment. I try to do things that keep me interested because, in reality, I must be the first person to have interest in them. So my way of selecting a song is listening to it and asking myself, if you were a composer would you say that? If so, I'll sing it not matter who it is from, even [if it is from] the most unknown composer. I receive lots of material when I'm touring around Brazil. Besides that, sometimes I'm travelling and listen to a song playing that hits me whilst I'm about, like when I was in [the city of] São Luis do Maranhão inside one of those big boats they have, where I listened to a forró-brega song that I recorded after returning to Rio. It was called 'Primeiro de Abril' [composed by Antonio Brasileiro and Roderiki, released on the album Mato Grosso (1982)].'
Before we say our goodbyes, I apologise in advance for asking a question he must have listened to many times before and inquire if continuing to be creative would be one of the reasons of his great artistic and physical shape. "I think it also has to do with that. There is something I must admit which is my genetics – I met my mother's grandfather when he was 105 years-old. I still have this physical disposition, it's not a sacrifice for me to do my work. But I also know that there will come a time in which this will change and I will have to stop. I look at it naturally, I want to have the tranquility to understand that the time has come. It's the same with death, I look at it with great tranquility – I only hope not to shiver at the time but how not to accept it?" When you feel you can no longer perform like you do today, would you have interest in changing the way you do concerts? "I don't think about it. I don't know because the voice will also feel it. I think that I'm already profiting greatly still singing and performing like I do at 78, since my voice hasn't been affected [by age]. It is a muscle and with age all musculature tends to get loose, although I believe that by singing daily I'm also exercising this muscle as I do with my body. I don't go to the gym every day to grow strong, but to keep my muscular tone. I understand that my skin is not the same, I understand and accept everything, but I'll be around whilst I can."
Ney Matogrosso is performing at O2 Shepherds Bush Empire on Thursday 31st October 2019. Tickets available from Ticketmaster.

Follow Sounds and Colours: Facebook / Twitter / Instagram / Mixcloud / Soundcloud / Bandcamp

Subscribe to the Sounds and Colours Newsletter for regular updates, news and competitions bringing the best of Latin American culture direct to your Inbox.
Share: