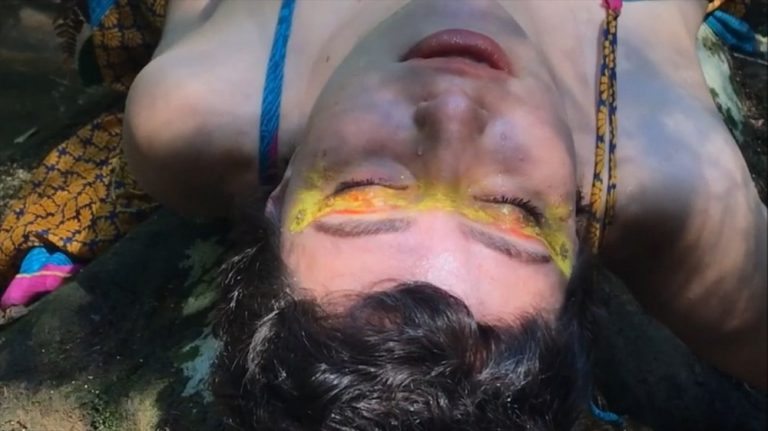 Brazilian Jewish Spirits (image of Umbanda medium/singer Bia Schneider)
Jewish Sounds in Afro-Brazilian Temples
14 January, 2021
Brazilian religion Umbanda pairs every respectable spirit with an invocation song. In my field research of ceremonies at Umbanda terreiros (temples) I came across several hymns calling the spirits of rabbis and kabbalists that appear along with other eastern sages. These songs illustrate the evolution of Umbanda to welcome an ever expanding list of spirits and open doors to fascinating hidden music rituals.
Today I want to share two songs which exemplify a spiritual dialogue between Jewish and Brazilian cultures. On the one hand, syncretism of Umbanda is using Jewish mystical teachings to explain its metaphysical experiences. On the other hand, contemporary Jewish artists, while reclaiming the ancient Hebrew shamanic practices, find inspiration in magical Umbanda ceremonies. The first song, "First Star in the Sky Has 6 Corners", comes from a Brazilian medium who incorporated a Jewish spirit. The second song, "Aquis Sanctis No 2", is introduced by a Jewish musician living in Germany, enchanted by Brazilian spirituality.
Bia Schneider, an Umbanda medium and singer-songwriter, based in Paraná, south of São Paulo, views herself as a co-creator because she gives voice to the spirits she is channelling in her songs. She has released a number of Umbanda ritual songs invoking various spirits, but feels the closest connection with the Oriental line, part of the religion focused on Hinduism, Theosophy and Kabbalah. Herself non-Jewish, Bia has communicated with the spirit of a rabbi who lived before the Holocaust while composing "First Star in the Sky Has 6 Corners." The song begins with the solemn Hebrew prayer "Shema Israel/Hear o Israel' and evolves into a trance-like Umbanda chant (in Yiddish and Portuguese) that welcomes Jewish spirits to a terreiro. "I am amazed how elements of Judaism are blended in this song with Umbanda. With all this energy I almost channelled a spirit myself", praised the Brazilian scholar Jafer Gomes Ferreira, who teaches at Sergipe Federal University's centre of Crypto-Jewish studies.
The second song is by Kateryna Ostrovska, known by her stage name of Rosa Morena Russa. Kateryna and her Azoy Bacana band invent new musical styles, such as Bossa Russa Nova and Yiddish baião with a unique fusion of her Russian, Jewish and Brazilian identities.
Kateryna Skyped me from her home in Hamburg, Germany. "I am inspired by the unexpected connections between Jewish and Brazilian music. In klezmer there is the notion of finishing one musical phrase before the other (the opposite of "layered back"). The only place I heard this practice besides klezmer records is the phrasing of Jacob do Bandolim, one of the originators of Brazilian music style choro." (The answer may lie in the fact that Jacob's mother was Jewish – A.M.)
"As Jews were drafted to European armies at the end of the 19th century, klezmer musicians started to play in military bands", continued Kateryna "This is how Bulgar (or freylakhs) with its typical drum rolls was integrated into klezmer. Also, In Brazil marchinha de Carnaval had a similar influence of military marches to Portuguese marchas populares."
Ostrovska grew up with three generations of Jews deeply traumatized by WW2 atrocities. She told me that her grandfather witnessed his brothers being shot by Nazis. Her family used Eastern European Jewish folk customs and superstitions to deal with their frequent mental breakdowns and to get by in the grey years of Soviet anti-Semitism. When she learned the song "Yoyne Hanuyvi" (Jonah the Prophet) with Yiddish folklorist Ethel Raim, the idea of singing as a form of an offering resonated with her childhood. "When somebody had a problem and it was later resolved, Jews used to sing this song, as a way of thanking God, "
Kateryna always favoured personal spiritual experiences to those of organized religions and drew her inspiration from music and nature. "[The] musical trance of Afro-Brazilian religions felt just right. In my song 'Aquis Sanctis no 2' I tried to add all these beautiful things from folk Judaism and Candomblé/Umbanda that make me feel a higher presence, water, musical sacrifice of my grandmothers and the sound of tambores – it is my personal musical sacrifice." Brazilian Judaica scholar Bernardo Sorj observes a fundamental difference between Brazilian and Jewish cultures. Brazilians subscribe to the idea of "optimistic fatalism". They trust rather than fear the future and are focused on the present. In the Jewish tradition of "pessimistic wilfulness," the future is a source of uncertainty and anguish. Jewish dissatisfaction with the present leads to a desire to change it. Sorj concludes that immersion into Brazilian culture is highly therapeutic for the Jews, as it is an excellent antidote for their historical traumas.
Ostrovska was inspired by this vision of Jewish Brazilian dialogue when she created "Aquis Sanctis No 2″. In the song the pessimistic wilfulness of "Yoyne-hanuvi" (Jonah the Prophet) are adjoined to the melancholic fatalist lyrics of Brazilian singer Milton Nascimento's "Ponta de Areia" ("Sandy Point"). She made the connection between Jewish and Brazilian segments of the song through "Emoriô Orí Paô", a Candomblé prayer to the orixá of water Oxum, punctuated with an ijexa rhythm. "I knew that this song could be a provocation", confessed Kateryna, "since in Judaism we declare 'Shema Israel, Adonai Eloheinu, Adonai Ehad' – Hear o Israel, The Lord is our God, the Lord is one. At the same time, Afro-Brazilian religions have various gods, or orixás."
I discussed the ambivalence of Umbanda's cultural appropriation of Jewish symbols with Yiddish culture expert Rokhl Kafrissen (Tablet magazine). As a cultural anthropologist, I consider the inclusion of Jewish characters in Umbanda as an example of Philo-Semitism and inclusivity of this Brazilian religion. Kafrissen wrote of "First Star": "If you don't share Schneider's Spiritist belief, then her synthesis of cultures, and her use of Jewish language and concepts, may prove problematic. The very concept of Spiritism, of making room in the body for contrasting voices, speaking with many breaths, feels like a gentle push against our own zeitgeist, which is why I very much enjoyed Bia Schneider's compelling song."
Schneider finds no contradiction between Afro-Brazilian religions and Judaism, as the latter helps her to understand Umbanda experiences. "Umbanda tends to over-humanize god, for example, Iemanja to me is much more than a statue of a woman you see in terreiros. My communication with Jewish spirits taught me that god is an abstract idea." For a liberal Jew, Orixás and spirits can be seen as different sides of the omnipresent god and Iemanja in this view is one of the manifestations of sacred feminine, known in Jewish Kabbalah as Shekhinah.
Judaism and Brazilian mysticism offer complimentary paths to spiritual self discovery. In the words of Jonathan Goldman, an American Jew who became one of the leaders of Brazilian religious movement Umbandaime: "Umbanda opens the experience of multidimensionality, the Kabbalah describes it. Kabbalah contributes context for the understanding of the experience of the mystical."
To learn more about Brazilian Jewish spirits, discover Bia Schneider, Kateryna Ostrovska, Jonathan Goldman, professor Andrea Kogan (author of Brazilian bestseller Jewish Spiritism), film-maker Larissa Figueiredo and check out my recent lecture Brazilian Jewish Spirits at Queens Public Library.
Saravá Shalom!
Alex Minkin, Ticún Brasil

Follow Sounds and Colours: Facebook / Twitter / Instagram / Mixcloud / Soundcloud / Bandcamp

Subscribe to the Sounds and Colours Newsletter for regular updates, news and competitions bringing the best of Latin American culture direct to your Inbox.
Share: