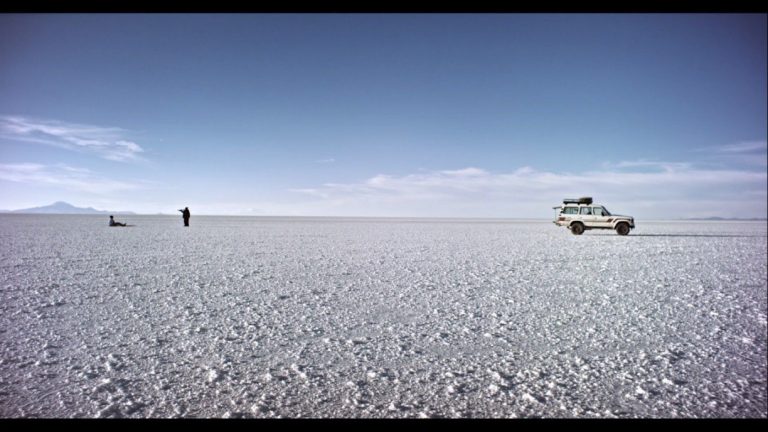 'King Kong en Asunción': One Last Road Trip with an Ageing Contract Killer
24 November, 2020
King Kong en Asunción opens with us in the backseat of a 4×4, as the protagonist (deftly played by Andrade Júnior, who sadly passed away before the film was released) drives into the salt flats of Bolivia to complete another grisly assignment. As the camera cuts to a wide angle view of the vast emptiness of Salar de Uyuni, the weary old hitman fires his weapon with the despondence of a man who long ago gave up any chance of finding another way.
This juxtaposition of camera angles continues throughout the film – handheld closeups of 'the old man' (as the Guarani-speaking narrator refers to him) unenthusiastically following the only trail open to him, and wide shots of the sparse countryside that he passes on his slow, solitary journey. The guilt he feels over 40 years of killing for money stalks his sleep, so tends to avoid it. Alcohol numbs his senses sufficiently to keep him stumbling along the only path he knows.
He wants to stop, to retire, to make peace with himself. But an offer from Paraguay gives the old man the excuse to track down an old acquaintance and the chance for a much delayed attempt at redemption before he reaches his end of the road. The daughter he has never met is in Asunción, so his journey continues towards the Paraguayan capital.
We see the events of his childhood that made him into the adult he turned into. We witness him grapple with guilt over the man he became and the shame that kept him away from his daughter. He endeavours to assist his one and only friend economically, to give him the chance to change his life – the chance of change that the old man never had.
By the end, we can be sure that tracking down his estranged family in Asunción is not a be-all to absolve him of his sins (for there are many). Rather, it's the old man's chance to confront, feel, and experience the emotions (both his and his daughter's) that his lifestyle had kept locked away for so long.
King Kong en Asunción (directed by the Pernambucano Camilo Cavalcante) won the Best Film Award at the 2020 Gramado Film Festival, the most prestigious festival of Brazilian national cinema. Recently it was shown as part of the Utopia Film Festival.
See more new cinema from Brazil, Portugal, and Mozambique at the Utopia Film Festival, streaming online until November 28th.
Look out for the commercial release of King Kong en Asunción sometime in 2021.

Follow Sounds and Colours: Facebook / Twitter / Instagram / Mixcloud / Soundcloud / Bandcamp

Subscribe to the Sounds and Colours Newsletter for regular updates, news and competitions bringing the best of Latin American culture direct to your Inbox.
Share: