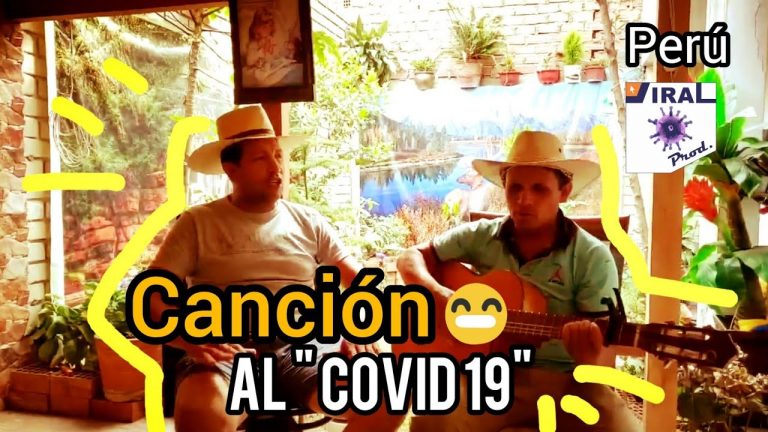 Latin American Coronavirus Songs are Hitting the Charts
07 May, 2020
Coronavirus is continuing to turn the world upside down. Most of the Latin American continent is now under strict orders to stay at home in an urgent attempt the curb the spike in the virus, preventing COVID-19 from overwhelming already poorly equipped health care systems and putting pressure on funeral services across the continent. In recent weeks, Latin America – most notably Ecuador, Peru and Brazil – have seen a worrying surge in deaths due to the disease, making the need to stay at home and isolate more pressing than ever.
In a continent world-renowned for its music, it's no surprise that musicians across Latin American countries are using it as a weapon to fight the pandemic in the form of humour, escapism, entertainment and encouraging their fans to stay put during this time of great uncertainty. From "Corona" viral hits to romantic melodies about quarantine, Latino musicians are adapting their music to this new world, creating in their homes and on their mobile phones to make their message loud and clear. Here's our round up of the top 10 coronavirus songs that you should be pumping out loudly through your speakers right now whilst having a little boogie in your PJs.
La Cumbia Del Coronavirus – Mister Cumbia
"La Cumbia Del Coronavirus" has taken Spanish-speaking countries by storm in recent weeks, topping Spotify charts. The brassy viral hit by Mexican musician Mister Cumbia (aka. "The King of Viral Cumbias") adopts expert advice from health authorities, with catchy lyrics inviting self-care with tips such as washing your hands regularly, using alcohol gel, avoiding touching your face, missing work if you feel symptoms and seeking out practical information beyond the memes that have exploded on social networks during the pandemic. The song's lyrics uploaded onto YouTube include "The best thing is to prevent ourselves. We should all take care of ourselves".
Coronavirus – Kaseeno
Kaseeno, a native of Santo Domingo, capital of the Dominican Republic, has made a name for himself in the Latin urban music scene for his creativity, unique sound and catchy hooks, so if there is any Latino artist that is going to lighten the mood during these difficult times, it's Kaseeno. His latest trap single and viral hit "Coronavirus" offers a witty, tongue-in-cheek take on the global pandemic with its infectious chorus "Coronaviru viru viru, that pod is killing". The accompanying music video, released mid-March, begins with him slurping a questionable wild animal soup whilst watching Trump address the nation (the artist is currently based in Miami) before shaking it with some dancers dressed as medics.
Corona Virus – Yofrangel
Also riding the wave of songs about the pandemic is Dominican dembow artist Yofrangel with "Corona Virus", which has also topped streaming charts in Spanish-speaking countries. While the comical song may be controversial to some, many fans argue that the YouTube hit spreads awareness about the disease and social issues. The music video begins with a hacking cough and a Spanish chorus of fake sneezes while the artist rides in the back of an ambulance before Yofrangel tells listeners to "tapate le boca" (cover your mouth). While some consider it bad taste to make a joke out of a virus that has claimed many lives, others can't help but admit that "it kinda bops".
Canción del Coronavirus – Los Tres Tristes Tigres
We wouldn't expect anything less from comedy band Los Tres Tristes Tigres from Monterrey, Mexico. The band have released several songs during the pandemic but their most famous is "Canción del Coronavirus", with 3.7 million views on Youtube and counting. The strapping trio's coronavirus corrido song elludes to the early stages of the pandemic when schools began to close, concerts cancelled and the notorious panic buying materialized, situation so extreme in some parts of the world that key workers were left with empty shelves on supermarket aisles. With Spanish swear words still intact, the Mexicans sing "they closed Disneyland, and this is scaring me".
Quarentena – Jottapê
While "Coronavirus" is the word on everyone's lips, Latino musicians have also tapped onto the fact that the world is currently quarentined with no place to go – musicians included. Brazilian funk heart-throb MC Jottape has recently released a romantic, catchy track with Brazilian powerhouse Kondzilla about yearning to spend lockdown with a crush, a dream most of us can relate to at this time. The chorus goes "Quero ficar de quarentena com a minha morena" (I want to be quarantined with my brunette). In a country who's president has played down the virus as "a little flu" and openly criticised social isolation measures, it's nice to know some of Brazil's biggest icons are promoting WHO's guidelines.
Largadão – Lexa
Another Brazilian funk star right on this quarentine footprint is playful singer Lexa. With mandatory orders from the majority of Brazil's governors to stay indoors, Lexa is leading the trend of Latino artists who are making, producing and recording music at home. The Largadão video was recorded at the musician's house and sings about the joy of spending the day lazying around in her pyjamas.
Quedate en Casa – Luis Enrique Mejia Godoy
Not all coronavirus-themed songs released during the pandemic have the same comic, light-hearted bent. Luis Enrique Mejia Godoy, one of Nicaragua's most important singers, has used his popular status to solemly declare the importance of staying at home to prevent the virus' spread. As the musician strums on his Spanish guitar in "Quedate en Casa" (Stay at home), he sings "stay at home, don't insist so much (in going out), tomorrow we will be finally able to hug each other". Reknowned across Central America for his songs that raise social and political awareness, Meija Godoy is emerging as a necessary voice during lockdown in a country where Nicaraguan president Daniel Ortega has largely been absent from the public domain.
Coronavirus Huayno – Los Chuguranos
Also delivering a significant political and social message during the time of Covid-19 is Peru's Los Chuguranos. The huayno (a musical genre and popular dance that stems from the Andean region) duo sing "Oh, Corona, my little Corona, you have arrived in my Peru… what will become of my life? Surely you will take it" and later "Now that you have arrived, I want you to listen to me: take the settlers, but leave my Peru alone." The first case of coronavirus reached Peru in early March, as the country watched the virus spread overseas, only to await their fate. The virus, yet to reach its peak in most Latin American countries, has hit the continent hard, with ill-equipped heath care systems, lack of information and social distancing virtually impossible in many poverty-stricken areas. Activists have called for a ban on "settlers" (people who enter indigenous territories for mining, deforestation and missionary purposes) setting foot in the Amazon in order to prevent the spread of the virus amongst vulnerable natives.
René – Residente
Speaking of Latino countries facing tough times during the pandemic, Puerto Rican rapper René Perez Joglar, better known as Residente, has re-released several of his biggest hits with a "quarantine version". Every music video released in this version features images of his musicians and singers playing from their homes. His songs typically wax lyrical against poverty, for Latin American identity and speak of the hardships that many people from developing countries face. In "René", which has gathered more than 7 million views on YouTube, Residente sings about broken relationships, struggling to put food on the table, police brutality and feeling alone. The chorus of the song goes "Almost no one left here, sometimes I don't want to be here anymore, I feel alone here".
Korona – Mr Vegas, Topo La Maskara
Jamaican dancehall artist Mr. Vegas won over hearts back in 1998 with his debut album Head High, reaching No. 5 on the US Reggae charts but now, two centuries later, he's back with the ultimate coronavirus track, "Korona". Featuring Dominican Republican urban artist Topo La Mascara, the catchy dancehall tune is the ultimate summer jam – raising spirits in these bleak times and giving us a little excuse to boogie. Lyrics include "Gal Korona with your virus, take your love and gwaan."

Follow Sounds and Colours: Facebook / Twitter / Instagram / Mixcloud / Soundcloud / Bandcamp

Subscribe to the Sounds and Colours Newsletter for regular updates, news and competitions bringing the best of Latin American culture direct to your Inbox.
Share: