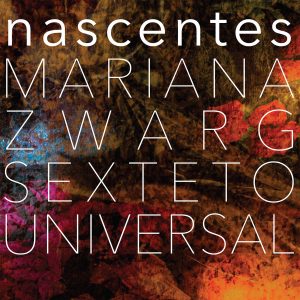 Review
Mariana Zwarg Sexteto Universal – Nascentes
Around this time two years ago, I reviewed on this site an ambitious musical project on the UK's Far Out Recordings label, Pedro do Espia by Hermeto Pascoal's former bass player and cohort, Itiberê Zwarg, in conjunction with 29 of Rio de Janeiro's finest young musicians under the umbrella of the Itiberê Orquestra Familía. I suggested that it was the kind of coherent album that Pascoal himself never quite managed. Well, if you liked that one, you'll love this. Zwarg is an unusual name, but not a coincidence. Flautist, composer and arranger, Mariana Zwarg is Itiberê's daughter and Pascoal's goddaughter. Already 18 years into her career, Nascentes is her first recorded work, although it took almost four years of work with her sextet.
The sextet in question is made up of Zwarg herself on flute, soprano sax and the occasional additions of chromatic harmonica, Mette Nadja on wordless vocals, Johannes Ballestrem on piano, Sá Reston (who replaced her father in Pascoal's band) on electric bass, Pierre Chastel on drums and percussion and Sami Kontola on additional percussion. Of the 10 compositions, eight are by the leader, one by her father and one, "Bandas e Bandeiras", by Pascoal himself. Without the score, Zwarg transcribed it note for note from a 1980s recording on YouTube. Full of drama, it starts with a brief solo by the band's French drummer, before two flutes carry the melody in tandem over a neck-and-neck race to the finish line. The album's closer, Zwarg senior's "Na Carioca" was the opening track and single from Pedro do Espia. His daughter's eight compositions all bear a similar hallmark and a similar reverence for the master composer's concept of multi-textured, polyrhythmic "universal music". All restless melodies and broken rhythms, the numbers come over as mini-suites, with the melodies interwoven by flute(s) and Mette Nadja's beautiful ringing scat-singing. Ballestrem's piano plays more of a percussive role as often as not, with the keys worked in the kind of stabbing style reminiscent of Tania Maria Correa. The Champion (as Pascoal is sometimes known as) appears himself on Zwarg's dedication to him, "Viva Hermeto!", singing in a way that sounds like he's gargling with Listerine.
Don't let that prospect put you off. It may not easy to differentiate the 10 numbers, but each one is beautiful and entrancing in its own way – none more so than the slower "Luca E Lena", with its lyrical intro and spoken-word outro. Personally, I love this album, but recognise that it won't be everyone's capful of mouthwash. Scat singing is a specialist art and scatting with flute even more recherché. Asking the unconverted to sit through an entire album will be a bridge too far for some. But if you can embrace it, this is by equal measure enchanting and invigorating. Half the length of Itiberê Zwarg's rambling release of 2018, Nascentes is arguably better for it. A case of daughter trumping father, perhaps.
Nascentes is out now and available from Bandcamp, Spotify and other platforms

Follow Sounds and Colours: Facebook / Twitter / Instagram / Mixcloud / Soundcloud / Bandcamp

Subscribe to the Sounds and Colours Newsletter for regular updates, news and competitions bringing the best of Latin American culture direct to your Inbox.
Share: