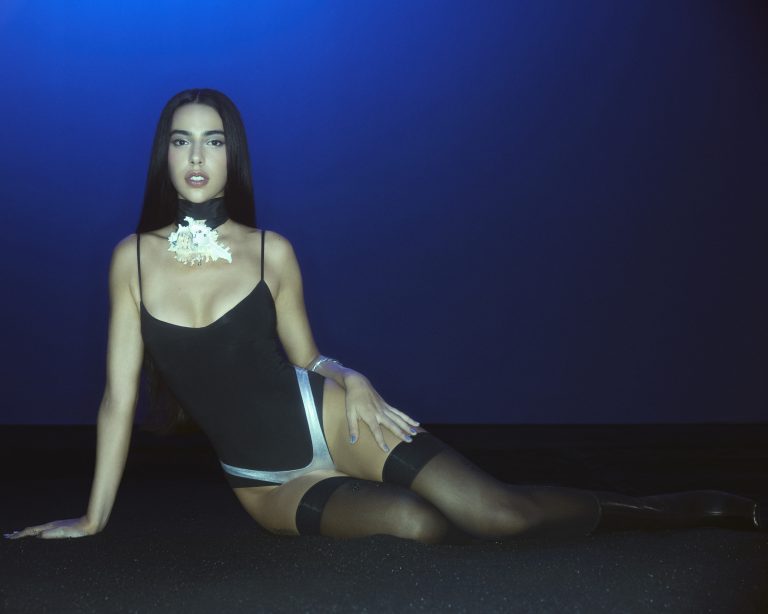 Marina Sena, "Revelation Artist of the Year"
15 May, 2023
Brazilian singer-songwriter Marina Sena is set to return to London for a concert at the Village Underground on Saturday 20 May, following her sold-out debut UK gig last year. Sena will perform songs from her first solo album De Primeira (2021) and from the newly released Vício Inerente (2023), which she has been heavily promoting. The follow-up to her Latin-Grammy-Award-nominated debut album – which got her three Multishow Brazilian Music Awards for Revelation Artist of the Year, Best Experimental Artist and Best Album – continues her experimentation with different musical genres such as ragga, trap and funk carioca.
Before going solo, Marina Sena was part of the bands A Outra Banda da Lua and Rosa Neon – with which she released the irresistible self-penned 2019-summer-hit single "Ombrim". In the interview given to Sounds and Colours by email, Sena reveals that the desire to pursue a career on her own came about during the pandemic – and she hasn't looked back since. However, she continues to collaborate with other artists, such as her (somewhat) contemporaries Jean Tassy and Iuri Rio Branco in "+ 1 Minuto" (Jean Tassy/Iuri Rio Branco/Marina Sena), Lagum in "VEJA BABY (Versão Alternativa)" (Lagum/Marina Sena), RDD and Silva in "Te Vi Na Rua" (Silva/ Lucas Silva De Souza/RDD/Marina Sena).
Marina Sena has equally been embraced by artists of previous generations, such as Capital Inicial in a new recording of one of their signature songs, "Natasha" (Dinho Ouro Preto/Alvim L). Sena has also sung with Gal Costa, whom she credited as her main influence on the occasion of the single's release. Their duet in "Para Lennon e McCartney" (Fernando Brant/Márcio Borges/Lô Borges) was released one month after the legendary singer's passing in November 2022.
If you remove the layers of musical and visual production which embellish Sena's strong performances, you're left with a talented songwriter and a skilful singer, whose voice at times resembles Erykah Badu's. Perhaps these are the main reasons for her cross-generational appeal when it comes to collaborations – and may also hint at the way forward for her as an artist in the years and hopefully decades to come. In this interview, Marina Sena talks about her career trajectory, music collaborations, the role of social media in artists' lives, her favourite contemporary musicians and her expectations for the concert in London a few days from now.
ON: How did the music group A Outra Banda Da Lua come about?
MS: I'd passed the first phase of The Voice Brasil, but didn't [go on to] participate in the TV show. At the time, I moved to another city in [the Brazilian state of] Minas [Geraes] to start a band. I searched for good musicians, and we called ourselves Da Lua, which lasted for five years.
ON: You then joined another band, Rosa Neon, before pursuing a solo career. How did this process happen?
MS: In the last two years of the band Da Lua, in [the city of] Milho Verde, I met the guys with whom we formed the band Rosa Neon. The name is from [the title of] a song which I composed. During the pandemic I felt the desire to also have my solo project, so that's what I did…
ON: In 2021, you released the album De Primeira. What were the main differences in making this solo work compared to working with a band?
MS: It's very different with a band – it's a collective creative process. In my solo career, I compose the song on my guitar and send it to the producer Iuri [Rio Branco]. I very much trust his way of producing my songs.
ON: How has your sound and image evolved as a solo artist?
MS: I learned a lot from bands but as a solo act I understood how to create a team [of people] who can communicate my ideas and image the way that we want them to be spread and shown.
ON: What do you like most about working as a solo artist?
MS: I like the autonomy of making decisions by myself. I think that's what I like most. Also, everyone is working on the act Marina Sena, and that's the starting point of everything.
ON: You have released several singles in collaboration with other artists throughout your career. What attracts you to this type of project?
MS: I like it when an artist latches on to my work and I do the same to their art.
ON: What do you think about the role of social media in the relationship between artists and the public today?
MS: Social networks are an extension of our life nowadays. You can choose not to participate if you don't like it, but it's an important part for people who want to share their ideas and reach out to people who are where word-of-mouth might not get to.
ON: What are the sound and lyrical themes of the album Vício Inerente, which was released in April 2023?
MS: The second album has received amazing feedback. [I've released it] with two sold-out shows in Rio and in São Paulo where everybody sang the songs. I sing a lot about love in different moments of life [in it].
ON: Could you list five songs by artists from your generation that you would put on a playlist?
MS: "Soho" by Brime, and any song by Raquel Reis, Luiza e os Alquimistas, and Baco [Exu do Blues].
ON: What are your expectations for the concert in London?
MS: I have the best expectations. The last concert in London was marvellous, one of the best of the European tour. I love London. I was on vacation there more than once. My dream is to live there for a while because the city is so nice and the people are very cool.

Follow Sounds and Colours: Facebook / Twitter / Instagram / Mixcloud / Soundcloud / Bandcamp

Subscribe to the Sounds and Colours Newsletter for regular updates, news and competitions bringing the best of Latin American culture direct to your Inbox.
Share: