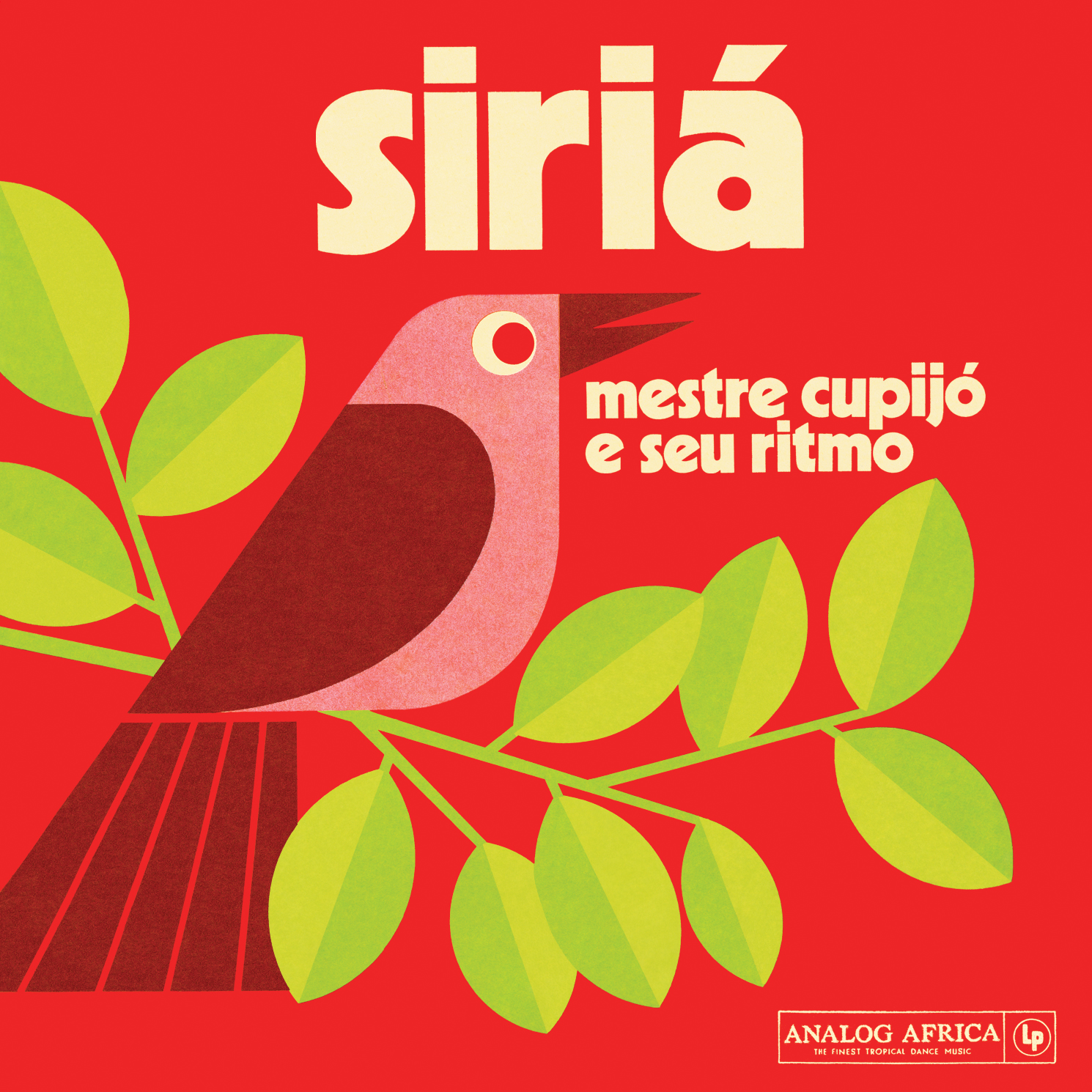 If you were to listen to some instrumental tracks from this compilation without reading any reviews about it, including this one, and without any knowledge whatsoever about Mestre Cupijó (bandleader and composer) you might just think this music sounds like some mad brass-driven band from somewhere in the tropics. Could it be upbeat Jamaican music? Could it be Colombian pelayero Bands? Could it be African beat? It's not until you listen to the singing on some tunes, that you go "Right!! This is Brazilian music!… and it sounds great!… though so different to samba, bossa nova, choro, and so on"
Well, this compilation is apparently one of the first international releases to reveal this relatively unknown Brazilian music style called siriá. Siriá is a cross pollination between the music of quilombos (settlements of escaped African slaves) and indigenous rhythms from the Amazon rainforest. It has been igniting street parties in the Northern state of Pará for decades and it inspired Mestre (Master) Cupijó to create a modern version of it.
Born into a family of musicians, Cupijó started out playing clarinet, mandolin, piano and guitar and later consolidated his sound as an alto sax player. He decided to settle himself into the origins of this music, the quilombos, and after this life-changing experience founded Jazz Orquestra os Azes do Ritmo which became rapidly well-known in Cametá – a small Amazonian village on the shores of the river Tocantins and birthplace to Cupijó – as well as in other villages along the river. They became the musical sensation of the region and travelled on small vessels to play at many popular street festivities. Despite not having any advertising means, Cupijó's band's reputation grew amazingly by word-of-mouth and attracted audiences from all over the place to attend the carnivals where they were to perform.
Initially two LPs were recorded with rudimentary equipment in Cametá, but it was the third recording, done in Belem which was a great success. Both "Caboclinha Do Igapo" and "Mambo do Martela" (featured on this compilation) were on that record and became big hits. The first one has strong carnival up-beat percussion and great traditional Brazilian female vocals. The second one sounds a bit like Cupijó listened to ska music and Cuban Mambo (as the title suggests) and decided to bring the influences into his local background. "Mingau de Açai", the opening track, was a big hit a year later, and also has a ska-style upbeat electric guitar and male vocals. A total of 6 albums were recorded between 1975 and 1982, all of which were considered for this release.
The compilation features other mambos such as "Tubarao Branco", "Ventinho Do Norte" and "Perereca", all fast-tempo, instrumental, Caribbean-flavoured and guaranteed to make you want to dance.
Most other tracks are siriás, are also very danceable with a slightly more relaxed African rhythmic cadence and vocals that add a strong Brazilian flavour. "Morena Do Rio Mutuacá", "Papa Chibe", "Cadé o Anel", "Siriá Quente", "Eu Quero O Meu Anel", "Pra Dança Meu Siriá" and "Passarinho Siriri" all belong to this style. Call me crazy but I hear a Cuban/Colombian brass music influence in them. I might not be mistaken since waltz, mambo, bolero and other dance hall music were all Cupijó's early influences. "Farol do Marajó" is a different rhythm called carimbó, also sung, also party-driven, also infectious.
Siriá is a compilation of amazing carnivalesque, lively tunes that could uplift any party on earth. This record is guaranteed to make you dance and Mestre Cupijó, who passed away on September 2012, is one bad ass musician, composer and band leader. Definitely a must have!
Siría is available from Amazon and iTunes
[soundcloud url="https://api.soundcloud.com/tracks/116912678″ params="color=ff5500&auto_play=false&hide_related=false&show_artwork=true" width="100%" height="166″ iframe="true" /]

Follow Sounds and Colours: Facebook / Twitter / Instagram / Mixcloud / Soundcloud / Bandcamp

Subscribe to the Sounds and Colours Newsletter for regular updates, news and competitions bringing the best of Latin American culture direct to your Inbox.
Share: