Review
Mestre Ferrugem – Ferrugem
I've never been to Recife or to its neighbouring city, Olinda, in the Brazilian state of Pernambuco, but if a holiday spent in these cities had a soundtrack, I imagine the music would come straight from Ferrugem, Mestre Ferrugem's second solo album released in 2011. The basis of the album is samba de coco, an Afro-Brazilian call and response music, which Mestre Ferrugem has been singing for over forty years. His voice is weathered and wise, but the chorus that responds to Mestre Ferrugem's calls brings a youthful energy to every track. A visionary production team lead by Sergio Cassiano and a roster of talented guest musicians incorporate instruments that are not typically used in coco, like trombone, cavaquinho, and flute. It's a beautiful breaking with tradition.
Percussion, strings and vocals sound clear and sharp in each track but never compete with one another. A single instrument is emphasised only enough to be recognisable as an unusual element in the otherwise traditional coco music. Triangle, typical of forró, rings throughout "Pela Janaela." "Viés de uma Paixão" features electric jazz guitar solos over which Mestre Ferrugem sings about being helplessly in love.
Acoustic guitar opens "Meu Relógio" with a melody whose light and airy sound evokes images of an isolated beach. Mestre Ferrugem breaks the tranquility with a long note that begins a call and response with his chorus, and suddenly you aren't alone on the beach anymore. Instead, you find yourself in the middle of a roda de coco, packing down the sand as you stomp your feet to the beat. "Oh! Giranda" also has a beachy quality. Soothing guitar chords temper the agogô (Brazilian rattle) and drums, and cymbals make the sound of crashing waves. This track could be the music for a commercial for the Olinda bureau of tourism.
With all the songs on the album that leave you feeling happy, the somber tracks are some of the most moving and best showcase Mestre Ferrugem's voice and feeling. "Sábio Pescador" describes the perilous profession of a fisherman. The Mestre holds long notes, straining his voice dragging out the last syllable of the chorus: "Tenho que pescaaaar, tenho que pescaaaar." Acoustic guitar and simple percussion support Mestre Ferrugem in "Lamento," a song that tells the true story of a friend who went to visit his girlfriend only to find she'd died. When the chorus joins the refrain, all of Olinda is mourning the young woman.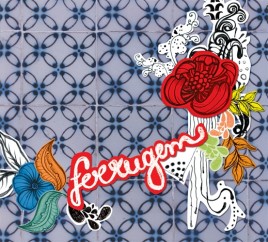 Ferrugem brings together, in one album, the beach, the party, and the people of Recife and Olinda. Mestre Ferrugem holds all the elements together, representing the traditions of Pernambuco, and the participation of a wider base of artists producing familiar sounds makes you feel like you can join in, too. The choral refrains are your invitation.
Segio Cassiano produced the album with the participation of Juliana Holanda (bass, violin, guitar), Rodrigo Samico  (guitar), Nilsinho Amarante (trombone) and Mazinho Lima (bass).
Ferrugem is available for purchase here. You can also listen to Mestre Ferrugem's music on his myspace page.
Even if you don't speak Portuguese, you'll want to watch "Making of Mestre Ferrugem" for a look inside the recording studio.


Follow Sounds and Colours: Facebook / Twitter / Instagram / Mixcloud / Soundcloud / Bandcamp

Subscribe to the Sounds and Colours Newsletter for regular updates, news and competitions bringing the best of Latin American culture direct to your Inbox.
Share: