Musica da Massa! New Sounds of Pernambuco
|

19 September, 2011

Pernambuco is one of the musical epicentres of Brazil, full of infectious rhythms and traditions such as caboclinho, forró, candomblé and baião. Since the emergence of Mangue Bit in the early 90s this has been even more the case, with that particular genre's fusing of rap and funk with maracatu and Afro-Brazilian religions inspiring new generations to create music, with artists like Otto, DJ Dolores, Alessandra Leão and Nação Zumbi currently producing some of the finest music in Brazil. With Musica da Massa! New Sounds of Pernambuco we decided to showcase some of freshest sounds of Pernambuco with a collection of 16 tracks released over the last two years.

Listen to the album here and find out about the artists involved below:

Download Musica da Massa! New Sounds of Pernambuco

Here's a rundown on the artists involved:

1. China – Distante Amigo
Taken from China's third album Moto Continuo recently released via Trama Records. The album mixes mangue bit with punk attitude and pop hooks. Go to chinaman.com.br for a free download link for Moto Continuo.

2. Mombojó – Antimonotonia
Slightly sinister track from a band who consistently make some of the most intelligent pop music out there. "Antimonotonia" is one of the stand-out tracks from their second album Amigo do Tempo and also has a great video, as is the band's forté. Find out more at mombojo.com.br.

3. Feiticeiro Julião – Entrance
Led by Júlio Castilho, Feiticeiro Julião skirt from Os Mutantes-style tropicálistic pop to extended horn-fuelled jams. "Entrance" is the opening track on their latest EP Batismo Místico. You can listen to the EP in full at soundcloud.com/pilhasonora/sets/feiticeirojuliao.

4. Jr. Black – Bucólico Passeo da Rua Acre
Taken from the ridiculously good album RGB, full of quality hip-hop and r'n'b as well as Northern soul, disco and little indescribable ditties like "Bucólico Passeo da Rua Acre." Find out more at joinharecords.com.br/artistas-joinha-records/jr-black.

5. Magriffe – Asco
Echoes of Radiohead and Muse from Magriffe and "Asco", opener on their sole release, a 5-track EP called Estive Lá Fora…. You can listen to and download the EP at magriffe.com.br.

6. D Mingus – Walker O Cyborg
One of the highlights of last year's Filmes e Quadrinhos, an album full of idiosyncratic joys, close in spirit to the skewered pop of Ween or The Bees. We chose "Walker O Cyborg" for this compilation but could easily have chosen any of the other 11 tracks. Listen to the album in full at tramavirtual.uol.com.br/d_mingus.

7. Maciel Salu – Rabeca No Merengue
Son of Mestre Salustiano, singer in Orchestra Santa Massa, Orquestra Contemporânea de Olinda and Eddie, Maciel Salu is one of the great voices of Pernambuco. This track is taken from Mundo, a release from earlier this year that should have got a lot more attention than it did. Follow Maciel at twitter.com/macielsalu.

8. Mamelungos – Colemim
Mamelungos are a five-piece group whose sound is all about having a good time, with dashes of samba and carnival rhythms, multiple vocalists and buckets of energy. Their debut album de Recife came out last year and they will be following it up with a live DVD at the start of 2012. More at myspace.com/mamelungosderecife.

9. Rogerman – Superar
As singer with Bonsucesso Samba Clube and member of Eddie, Rogerman proved himself as one of the most original artists in Pernambuco. On "Superar", a solo track from his Pompeia Vol. 1 EP he combines looping guitars, a calypso beat and infectious vocals for one of the most effortlessly upbeat tracks we've ever heard. Listen to the EP in full at nacaocultural.pe.gov.br/rogerman-pompeia-vol1.

10. Caçapa – Baiano-Rojão Nº01
Elefantes Na Rua Nova Caçapa's debut Elefantes Na Rua Nova is a highly-rhythmic journey into two traditional Northeastern rhythms, Coco-Rojão and Baiano-Rojão. You can listen to the album in full at soundcloud.com/garganta-records/sets/elefantesnaruanova. More on Caçapa at cacapa.mus.br.

11. Bande Dessinée – Bande à Parte
Bande Dessinée are named after the French phrase for "comic strip" and sing in French, Portuguese and Italian but also possess a decidely Brazilian rhythm section as well as a serious penchant for jazz. Their debut album Sinée Qua Non will be released on October 16th, and will be available via bandedessinee.com.br.

12. Jean Nicholas – Vou Passar Um Tempo Em Off
There's a touch of world-weariness on "Vou Passar Um Tempo Em Off" that makes it easy to understand why Jean Nicholas is sometimes called the "Bob Dylan of Areias". The addition of flute (played by D Mingus) lends proceedings an air of psychedelia a la Lula Cortes and co. More at myspace.com/jeannicholas.

13. Maquinado – Recado Ao Pio, Extensivo Ao Lucas
Maquinado is the solo project of Lucio Maia, guitarist in the legendary Nacao Zumbi. Under this guise Maia makes a sound that is sometimes harsh, always rhythmic but that veers between vocal-led songs and exploratory instrumental pieces such as "Recado Ao Pio, Extensivo Ao Lucas". The song is taken from Mundialmente Anônimo. Find out more at maquinado.com.br.

14. Lira – Adebayor
The new album by José Paes de Lira, simply titled Lira, has one of the best supporting casts around. Pupillo (of Nacao Zumbi) is on drums and there are cameos from Lula Cortes, Otto, Fernando Catatau, Junio Barreto and Luisa Maita, yet it's Lira who takes centre stage with his distinctive delivery. Download the album at josepaesdelira.net.

15. Caapora – Brincadeira
Eight-piece with influence of tropicália, traditional Brazilian music and also dashes of jazz and funk. "Brincadeira" is taken from their recent Caapora EP containing five tracks that touch on many different Brazilian styles. You can download the EP and listen to the group's music at myspace.com/caapora.caapora.

16. Rua – Todalegria
Rua's debut album Do Absurd is anything but predictable. If you like the idea of a freeform jazz band from Northeastern Brazil using traditional instrumentation then Rua will definitely be your thing. Listen to their album in full at ruadoabsurdo.com.br.

Late Addition
17. A Nave – Pancadão
We just got clearance from A Nave for this song to be used, and as it was too good not to be included we've had to add it to the collection. This particular gem is our favourite form their recent self-titled debut EP, a sparkling electro foray on a release that tends to favour more rock orientated songs. More at anavemusica.com.br

Listen:


Download Musica da Massa! New Sounds of Pernambuco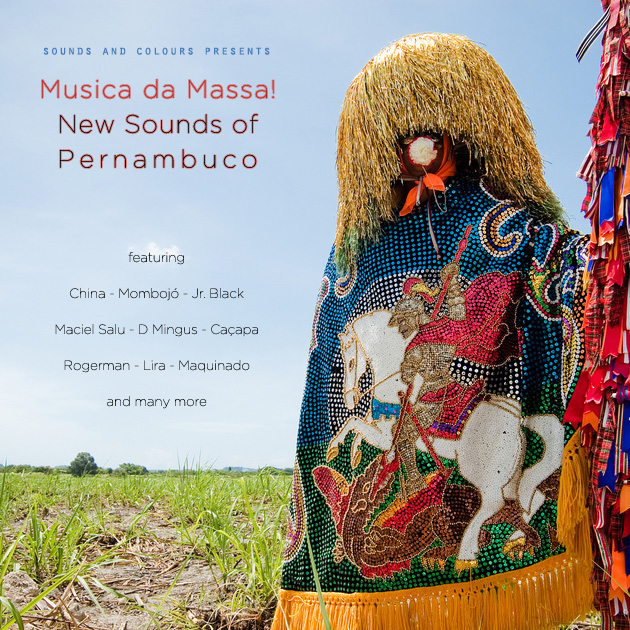 Photo for cover by Filipe Oliveira
You should also check out our two piece article on the music of Pernambuco: Sounding Out the Swamp: Recife, Pernambuco, and The Cultural Rise of Northeastern Brazil. Part One is here.
And check out our compilation of music from Sao Paulo: Nossa, Cara! New Sounds of Sao Paulo.

Follow Sounds and Colours: Facebook / Twitter / Instagram / Mixcloud / Soundcloud / Bandcamp

Subscribe to the Sounds and Colours Newsletter for regular updates, news and competitions bringing the best of Latin American culture direct to your Inbox.
Share: