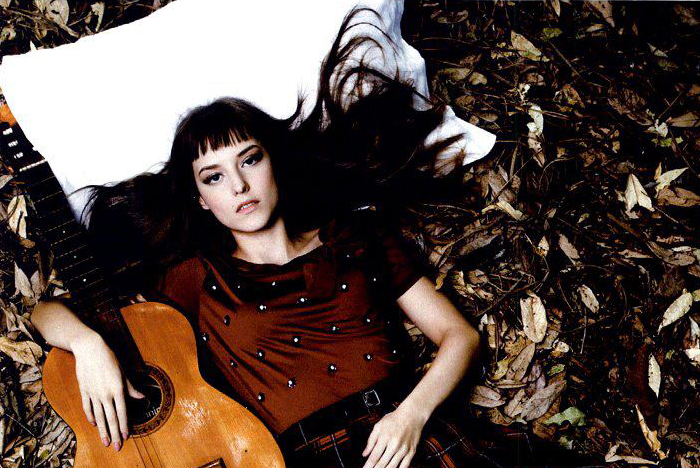 My Cure, My Joy, My Job: An Interview with Mallu Magalhães
14 November, 2013
When I first heard Mallu Magalhães, she was about 15 and her song "Tchubaruba" was beginning to spread across the Internet. The next encounter was 2008 and she had brought guitar and band to the stage of SESC in Santos, at an introspective gig that ended in a big party with everybody singing "These Boots Are Made For Walking". Now is the third time, and this time I am talking to her directly (although not in person). She is promoting Highly Sensitive, her debut US album, and so we chat about that, as well as her career, her musical influences, her dream musical partnership, the process of creating new music and the first steps to an international career, of course.
At age of 21, Magalhães has achieved a maturity (in music and life) easily spotted in the first chords of her new album. Highly Sensitive is an exuberant collection of indie-folk, samba and bossa nova influences which plots the path through which the Brazilian songwriter has created her musical universe since her infamous debut.
With only 15 years of age you were already on the road in Brazil. How do you think being on stage at such a young age has helped you to mature musically?
I feel extremely privileged to have become a professional at such a young age. At that time, music wasn't a dream of mine, it wasn't something I wanted to work with. I was a kid, with kid's wishes and I made choices to have fun and be happy. Maybe this inexperience and lack of concern gave me an open mind and a braveness that made me try anything that appeared in front of me.
How and when did your interest in music start?
Music was always very natural for me. My father is an engineer that used to play guitar at the weekends, writing some comedy songs to make me and my sister laugh and have fun. My mother is a sentimental, proud mother, who used to call her friends to see her daughter singing the Titanic soundtrack. I could sing, make some magic tricks, play pranks and dance. I was a clown, a performer, I used to like making people smile, laugh, cry… And music was my strongest weapon. It was good for me, and it was good for the adults too. So I just kept doing it.
Did your interest in playing instruments like the banjo and harmonica coincide with your interest in Bob Dylan and Johnny Cash?
Yes, I used to be very interested in American folk music. I used to go to flea markets with my mom, so she could buy some decorating antiques and I could get some vinyls, choosing by the artwork on the cover. I was a very interested kid, very dedicated. I used to research books, the Internet, and talk to my grandpa's friends. I used to watch Woody Guthrie, Johnny Cash and Dylan playing and just wanted so badly to be them, to be a beatnik, free, on the road, with my banjo… Funny times!
In addition to the influences mentioned above, you have always referred to bands such as Beatles, Belle & Sebastian, etc., as your favourite artists. What are you listening to these days?
I've been more into that sweet jazz like Billie Holiday, Nat King Cole, Cole Porter, Anita O'Day, and I also listen to r&b and old funk… All my interests are complementary, I keep enjoying folk and rock 'n' roll, as samba, bossa, classical music… I guess I listen to emotional music, music that touches, however it's classified.
Your album Pitanga, released in 2011, was produced by the musician (and husband) Marcelo Camelo. How does the process of composition between you two work?
There's a lot of love on it, both in the process and in the final material. Marcelo is a very talented and hardworking producer. He wants my best and is really dedicated to get there. Sometimes, all I need is time, a microphone, some instruments and some emotional support. But when I'm lost, he's there to save the day. Pitanga was made in a very privileged method. We went to the studio with the songs I'd written to find each beat, sound and detail of the song. It took us 45 days in the studio, alternating hours. In the morning, it was me and the sound engineer Fernando Sanches. After lunch, Marcelo and Victor Rice (co-producer, mixer and also bass player) used to come in, so us four would work together. After 10pm, Fernando and I would be tired but Marcelo and Vic would still be burning in creativity [and continue working]. This artisanal, intimate, organic way of working made me find back my love for music and realise that whatever it takes, that's what makes me happy, that's my only way of living.
Your first international album, Highly Sensitive, was released in October. Yet you've already sung in English before and even toured outside of Brazil, what can we expect from this new step in your career?
I also have this question. Nowadays, my music is already my cure, my joy and my job. I just do it with all my heart and really do my best. I guess this devotion communicates to any language and culture. I've been warmly welcome by the American public, so I'm very excited to see where these steps will take me.
Listening to tracks such as "Sambinha Bom" and "Cena", it's possible to notice your interest in Brazilian Popular Music (MPB). Has the fact of collaborating with (and also being married) to a renowned MPB musician like Marcelo Camelo changed (and influenced) somehow your way of composing?
I was always influenced by Brazilian music. I started with Os Mutantes, Caetano Veloso and Vinicius de Moraes, and then Moacir Santos, Chiquinha Gonzaga and so many other great artists. Marcelo showed me great samba and even nowadays, we keep sharing music. As a couple, we get closer, mixed up, naturally becoming one. We both speak from the heart so, if our hearts are so close, so will be our songs!
In fact, throughout your career you've released songs with other important Brazilian musicians like Tom Zé, as well as new names like Thiago Pethit. If you had to choose a band or artist to work with, what would be your dream partnership?
João Gilberto.
Is there any particular reason that you choose "Angelina, Angelina" as the first single off your new album?
"Angelina" is a unique song, from the beginning of my career. It is one of the favourites of my American record label's team and one that I am still having fun playing.
You have already scheduled some shows in the US and Portugal. So can we expect an international tour for Highly Sensitive soon?
Yes, you can! I'm planning my next tours so that I can spend some time in the US, Europe and Latin America. It's hard work, but I'm happy with this feeling of building something.
Highly Sensitive is available from Amazon and iTunes.

Follow Sounds and Colours: Facebook / Twitter / Instagram / Mixcloud / Soundcloud / Bandcamp

Subscribe to the Sounds and Colours Newsletter for regular updates, news and competitions bringing the best of Latin American culture direct to your Inbox.
Share: