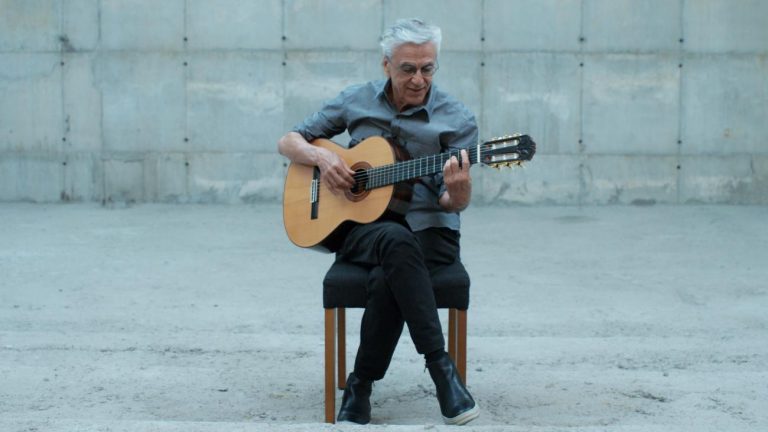 Sheffield DocFest
New Documentary Takes a Deep Dive into Caetano Veloso's Imprisonment by Brazil's Military Dictatorship
17 June, 2021
Caetano Veloso is one of the fundamental artists of the past and current centuries in Brazil, with a career that spans nearly 60 years. He is an exceptional writer who's made a career in music. He is an intellectual who's become part of the Brazilian collective unconscious with songs, quotes and looks. His songs have been featured in the soundtracks of films like Pedro Almodovar's Hable con Ella (2002) and Julie Taymar's Frida (2002). And he's won nine Latin Grammy Awards and two Grammy Awards. However, If I had to mention just one of Veloso's accomplishments it would be for his role of founding the countercultural movement Tropicália, along with Gilberto Gil. Also known as tropicalismo (tropicalism, in English), it was avant-garde in fusing the global and the regional, the high and the low art, creating a musical aesthetic that cracked the skulls of many at the time. Its endurance as an object of interest and appreciation from audiophiles and researchers in Brazil and other parts of the world is proof of its continued relevance.
Let's head back to December 1968, five months after the release of the collective Tropicália album Tropicália ou Panis et Circencis, which included artists such as Os Mutantes, Tom Zé, Gal Costa and Nara Leão, besides Veloso and Gil themselves. On the 13th of that month, the Brazilian military dictatorship passed Institutional Act Number Five (AI-5), closing Congress and institutionalising persecution, prison and torture. The AI-5 marked the beginning of the government's most repressive and violent period. Two weeks later, Veloso and Gil were arrested and would be imprisoned for nearly three months.

Narcissus Off Duty relies on Caetano Veloso's storytelling of the moments which preceded their imprisonment up to their eventual release. The directors' choice not to use archive footage or images of the time, except for a few pictures and documents that Veloso sees and reads during the film but which are kept from the audience, makes for an intimate and moving personal account of the traumatic experience he endured.
Shot in one day at Cidade das Artes (City of Arts), a cultural complex located in Rio de Janeiro, Caetano is interviewed in a room with concrete walls which evoke a prison patio. It's as if he's being interrogated again, recounting the events with ease and pain, humour and indignation. The beautiful light which fills the room seems like an allegory to the content disclosed in the film, where Veloso presents new information about why he was detained. Veloso believes that the accusation that he parodied the Brazilian national anthem, the reason given for his arrest, was a cover-up for the fact that he and Gil were arrested solely due to the regime's view of them and of the influential power of Tropicália.
The film opens and closes with music, mostly performed by Caetano Veloso on his acoustic guitar. Songs that during his time in prison became omens, bad ("Súplica", performed by Orlando Silva, which he had sung on the night of his arrest and that another prisoner requested him to sing during his first week in prison) and good ("Hey Jude", performed by Caetano in the feature's most poignant moment, after he recounts that he could envisage himself leaving prison as he heard the coda "Na na na nananana, nannana, hey Jude…"). Songs that he composed then ("Irene", about how much he wanted to see his sister and hear her laugh) and that he would compose later, inspired by his time imprisoned ("Terra", about the first pictures taken of Earth, which he saw in a magazine brought to him by his then wife, Dedé, and future mother of his first child, the musician Moreno Veloso). It is Narcissus Off Duty's most potent artifice, which produces moments of delicate beauty and release.
Narcissus Off Duty (Narciso em Férias, 2020) was one of a handful of Brazilian films, including features and shorts, shown at the Sheffield DocFest 2021, which ran 4-13 June 2021.

Follow Sounds and Colours: Facebook / Twitter / Instagram / Mixcloud / Soundcloud / Bandcamp

Subscribe to the Sounds and Colours Newsletter for regular updates, news and competitions bringing the best of Latin American culture direct to your Inbox.
Share: