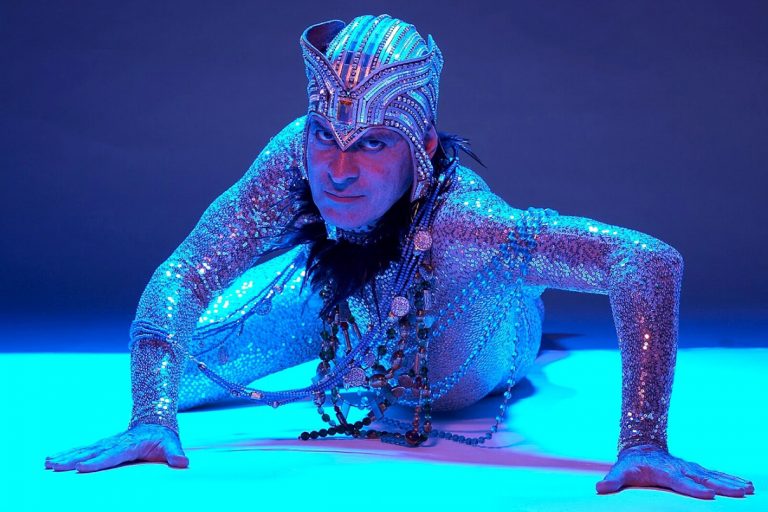 Ney Matogrosso's Best Songs
23 October, 2019
Ney Matogrosso is a controversial character. He's known for his bold, daring aesthetic and high-octave countertenor voice that has earned him his rightful place as one of the best Brazilian singers of all time. He first made a name for himself as the frontman for the post-tropicália band Secos & Molhados in the early 1970s before soaring into his own solo career. Performing during the most repressive years of the military dictatorship in his country, he has always been open about his sexuality (he dated both men and women) and has been hailed for his courageous counterculture presence at a time when much of what he was suggesting in his performances, song choices and lyrics were considered taboo.
That hasn't stopped Matogrosso garnering a "wild" audience reception (primarily inside his country), as much in the 70s as today. And while he might now be in his late 70s, he's still got "it" as much as he did back then. His unique, androgynous glam-rock persona can largely be attributed to his past life as a children's performer. According to myth, Matogrosso was running late before a show with Secos & Molhados and ran on stage still in costume, the crowd went crazy and Matogrosso's unique image of exotic costumes, heavy make-up and gender-bending performance was born. Dancing in a manner that is neither masculine nor feminine, Matogrosso challenged the status quo, raising important questions in society about gender rules and identities. His immense popularity is living proof of a growing societal acceptance of deviance from traditional Brazilian constructions of gender and sexuality.
For the first time ever, Matogrosso will be heading to London and the UK, for a performance at the Shepherds Bush Empire on the 31st October, a Halloween treat we've all been craving. He'll be playing famous songs from Secos & Molhados, as well as a few specials from his solo career. To get you in the mood, we've rounded up some of our favourite tracks from this brave Brazilian diva.
Secos & Molhados – Amor
"Amor" is from Secos & Molhados's first album in 1973. The killer, high-octave vocals by Matogrosso, coupled by the heavy bass lines performed by Argentine Willy Verdaguer made this a hit, seeing the LP sell 700,000 copies that year. This glam-rock anthem was written by the group's chief songwriter, João Ricardo, inspired by a poem written by his father. The superb lyrics capture that floaty feeling of being in love that feels "leve, como leve pluma" (light, light like a feather), as well as proving that love is fluid and has no boundaries.
Secos & Molhados – Sangue Latino
On "Sangue Latino" Natogrosso's stunning vocal talents and Will Verdaguer's nostalgic bass tones once again shine from the outset. Written by João Ricardo and Paulinho Mendonça, the song is the first track from Secos & Molhados's first album and is one of the most famous of the group. A celebration of the band's Latino roots, (the song title directly translates as "Latino blood"), this folkloric song is a nod to the Latin American condition – primarily of residence – whilst simultaneously unifying all of our senses of touch, taste, smell, feel and visuals in one body of work.
Secos & Molhados – Rosa de Hiroshima
"Rosa de Hiroshima", also from the band's first album, is a highly sensitive folk song that depicts the horrors of the atomic bombs dropped on Hiroshima and Nagasaki during World War II. Written during the military dictatorship in Brazil, the song, adapted from the poem "Rosa de Hiroshima" by Vinicius de Moraes, is a touching, pacifist, anti-nuclear cry. Despite its sad content, the beautiful words coupled with the black and white, no perfume performance by Matogrosso make this one of the most touching melodies in Brazilian pop music. It's no wonder it was the thirteenth most played single on Brazil's radio stations in 1973.
Ney Matogrosso – Poema
The story of how "Poema" came into the hands of Ney Matogrosso is almost as beautiful as the poem itself. Performing the song half-naked, Ney's voice perfectly captures the emotional significance of the song. The tune depicts how beautiful, cruel and naked the unpredictable nature of life can be, until one day, it's over. A "Poema" originally written by Cazuza, is a memoir of the love he had for his grandmother. Originally written for her, this beautiful poem, of the simplest verses, was handed over to the author Lucinha Araújo when Cazuza's grandmother died. In one sleepless night, Cazuza successfully turned the poem into music and decided that Matogrosso's voice would be perfect for the single – it quickly became a hit.
Ney Matogrosso – Homem com H
In the satirical "Homem Com H", Matogrosso sings and performs in a jokey tone about how the male demand for courage and other imperatives – such as being the economic provider of the family – in the role of man idealized by our culture throttles the male personality. With his neither feminine-nor-masculine dancing, Matogrosso turns these societal expectations on their head, challenging what being a "man" means in the modern age.
Ney Matogrosso & Criolo – Freguês da Meia Noite
Aside from his hits with Secos & Molhados and solo success, Matogrosso's collaborations with other Brazilian artists such as the likes of famous rapper Criolo shouldn't go unmentioned. His live performance with Criolo in "Freguês da Meia Noite" (Midnight Customers) proves that his musical style is just as versatile as his aesthetic and personality. Here, Ney strips down his tone, where in the video, we ride the wave through Rio de Janeiro with Criolo and Matogrosso for a special, beautiful performance with these two Brazilian prodigies.
Ney Matogrosso will be playing London's O2 Shepherd's Bush Empire on Thursday October 31. Tickets available from Ticketmaster.

Follow Sounds and Colours: Facebook / Twitter / Instagram / Mixcloud / Soundcloud / Bandcamp

Subscribe to the Sounds and Colours Newsletter for regular updates, news and competitions bringing the best of Latin American culture direct to your Inbox.
Share: