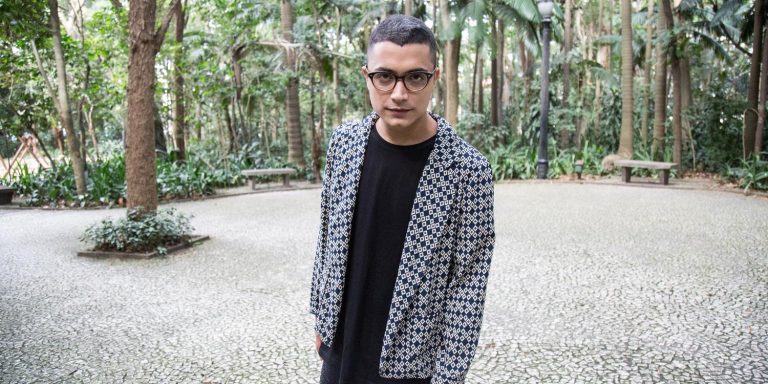 Ana Alexandrino
No Boundaries Between Literature and Pop Music in Brazil: An Interview with Arthur Nogueira
21 October, 2019
Arthur Nogueira is a Brazilian musician, singer-songwriter and journalist from Belém, in Pará. He is a man of passion, sophistication and has an extensive literary and musical palette that extends far beyond his home turf. Inspired by his father and a string of Brazilian musicians from his childhood up until his 28 years of age, he has made it his mission to shine a bright light on the cultural richness of his country, despite the darkness, as well as give back to the artistic community who have championed freedom of music in South America for decades.
At such a young age, he has already made a name for himself as "the contemporary artist responsible for renewing the tradition of poets in Brazilian music" and for good reason. Besides his original repertoire of sonnets and songs, he celebrates the poems and songs of his friends and artists who have inspired him to be who he is today.
For the first time, on Saturday 2nd November 2019 at the Servant Jazz Quarters, he'll be blessing London on stage with an intimate two hour performance that will be beautifully curated to the city that he has idealised since he was a child. We spoke to this rising star about his work, his inspirations and how he feels about playing for the first time in London.
Tell us where you were born and what the music scene is like there?
I was born in Brazil, in the Amazon region. It's an incredible place, most needed in the country. I started to sing because in early childhood my father encouraged me and put me in touch with some renowned Brazilian artists here. When I was a child, I listened to bossa nova, jazz, etc, things I wouldn't have listened to at such a young age. Because of him, I started to sing and play the guitar. I sing because of poets. I understood that there exists no boundaries between literature and pop songs here in Brazil. There is a tradition here of poets who write poems and sing pop songs. We usually think that they are different things. Despite all of the difficulties here in my country, it's interesting that great poets sing. It's an interesting relation between music and poetry.
When did you make the transition from being a journalist to a musician?
I was a musician first as I started to sing only when I was 15 years old. I started to sing in a pub in Belém, frequented by people much older than I was at the time. Given that I was so young, my parents had to accompany me because it's not allowed to play unaccompanied at that age in Brazil. Then I became introduced to a string of different musicians and started to tour and sing in festivals with them. It was then that I discovered the pleasure of writing songs. At 17, I had already decided on my career and while I studied journalism, I became involved in a music station at university and used this as a platform to talk about music. I have always worked with the combination of journalism and music.
What was your experience like living in Rio de Janeiro?
Rio de Janeiro is a place in Brazil that sparks intrigue. Even if you've never been there, you know about it. I was first acquainted with Rio through songs. In bossa nova songs, they mention Copacabana, Leblon, they talk about the different places and this really sparked my curiosity. When I went there, I used to walk through the streets and recognise the songs, it was really magical. My experience in Rio was important because I became closer to (the poet) Antonio Cicero and started a partnership. My most important experience from Rio was writing a book with interviews and songs from Antonio Cicero. When I later moved to São Paulo a year after living in Rio, I recorded albums with this experience in mind, as well as from my hometown.
Why did you decide to write a book on Antonio Cicero? How do you incorporate Antonio Cicero's philosophy into your own work?
Antonio Cicero's songs are about freedom. To be poetic: Poetry set me free, it gave me the courage to be who I am today. It then became my mission to recognise this and honour the artists who have encouraged me. When I recorded my EP, Coragem de Poeta (The Poets Courage), I recorded songs written by artists that encouraged me. I discovered the book Um mundo desde o fim, a philosophical book that talks about modern times before creating the track and it inspired me. The book has ideas that are close to freedom, citizenship and human kind. Caetano Veloso said that the book changed his mind, and as a resultant, it's considered one of the most important philosophical books in Brazil. But of course, it's not hugely popular because it's philosophy.
Considering your EP, Coragem de Poeta, in the current political climate in Brazil, do you feel poets and musicians need courage to speak their own voice?
I absolutely feel that poets need courage to speak their own voice here. In Brazil, artists are being censored, researchers are being threatened. I recorded this EP one week after the elections. It's about freedom, citizenship and human rights. Brazil is a very rich place culturally. I can't believe that we have to talk about such basic things we have already conquered and it makes me sad. I'm not interested in who the president is, the crisis is not on the top but I think it's in the middle. Sometimes, we see politics as something distant and this to me is very troubling. I hear people say things that I simply can't agree with. It is a strange moment among our population. For example, here in Brazil, we have one of the highest percentage of violence against queer people in the world. I remember the case of the famous singer and songwriter Renato [Russo, lead singer of Legião Urbana], who died at the beginning of the 90s due to a controversial case of aids. He was very young when he died and his death showed me for the first time what was prejudice. I then decided that I had to go and embrace, poetically, artists that encouraged me.
How do you go about finding your inspiration in São Paulo?
I love São Paulo because it's a democratic place. It's a huge city with huge opportunities. Before living there I was afraid of it because it's very big but after three months I fell in love. São Paulo taught me to see, to discover beauty. In São Paulo, you have to replicate your surroundings in order to discover what is beautiful. Unlike Rio de Janeiro, which is naturally beautiful, you have to search for it. SP is like this: when you see a flower, it's much more of an incredible event against the grey landscape. My eyes became a lot more attentive to detail to see the beauty.
How did you learn to speak English?
I love English literature and studied English language. When I was a child, my father also loved to read. I discovered criminal romances like Agatha Christie from my father's collection. England became a place like Rio, a place I had never been but began to idealise. I feel that Keats, Blake, Shakespeare are obligatory poets. England has many obligatory poets so I started to read these when I was young. I wanted to read Shakespeare in English. Poetry is untranslatable. When you write poems you can't translate them. A poem is like a language monument.
Who are your favourite English poets?
Shakespeare, Keats and Blake. I like to understand not only the structure of language but how people use the language. Phrases people use in English were developed from Shakespeare, for example "the world is your oyster". It's important not just to literature but to the people and to the English.
Is that why you sing in both English and Portuguese?
Yes, exactly that. As I said before, poetry is untranslatable. When I was in London in 2016 I remembered a song by Bob Dylan, Arthur Rimbaud and Paul Verlaine [featured in the lyrics to "You're Gonna Make Me Lonesome When You Go"]. I was in Camden Town and went to see the house they lived in in London. They escaped to London for three months but it was the only time they lived in London and I understood and remembered the song. I want to go to Brazil and I want my people to understand the lyrics so I translated some of my songs. Now that I go to London, I want to pay homage to Vinicius de Moraes, the first poet in Brazil to break down the boundaries. I want to translate this to English. As bossa nova becomes popular around the world, it is translated but I want to create my own version.
How do you feel about coming to London?
Very excited. I've been to London twice before and it's a city I idealised when I was a child. I went to the places I read in books, I walked on Westminster's streets, re-tracing the footsteps of Mrs Dalloway. Virginia Woolf always talked about the streets. But this time, for the first time, I'm going as an artist. I am proud that I have made things in my country that can be shown very distantly. I want to show the importance of London in music. Many Brazilian artists were exiled there. Veloso recorded an important album Transa and I started to think about that. Spoiler alert: I want to sing a song by Veloso to do with London. I want every concert I do in every city to be unique and I want to have a dialogue with each city I play in.
Arthur Nogueira will be performing at London's Servant Jazz Quarters on Saturday 2nd November. Tickets available here.

Follow Sounds and Colours: Facebook / Twitter / Instagram / Mixcloud / Soundcloud / Bandcamp

Subscribe to the Sounds and Colours Newsletter for regular updates, news and competitions bringing the best of Latin American culture direct to your Inbox.
Share: