Review
Oi! A Nova Musica Brasileira!
A two-disc set looking at Brazil's underground music scene, Oi! A Nova Musica Brasileira! (Hey! The New Brazilian Music!), shows how wide Brazilian artists are willing to spread their net for influences. Whereas the popular music in Brazil is still largely inspired by templates set in the 70s, that of mixing the homegrown styles of samba, choro and bossa nova with jazz, rock and pop, here we get a wider variety of traditional Brazilian styles such as coco, maracatú and brega as well as the Western strains of post-punk, new wave, electronica and hip-hop.
It's a continuation of the Brazilian indie scene that started in the early 90s with bands such as Nacao Zumbi and Mundo Livre S/A. The connection with that movement, set in the Northeast and known as mangue beat, is represented here by Otto, who having released four albums and having been recording for over 10 years could not be deemed 'new', but who seamleesly fits into this record with "Crua," his moody riposte to an ex-lover. Further mangue beat flavours are added by China's "Colocando Sal Nas Feridas", a funky guitar-laden hip-hop with a chorus as propulsive as anything the Beastie Boys ever produced. Mini Box Lunar, with "Amarelasse" offer a completely different tropical twist, resulting in something that could be the soundtrack for an especially-energetic episode of Looney Tunes. It's no surprise then that they are being compared to Os Mutantes.
There are no shortage of female singer-songwriters coming out of Sao Paulo at the moment, but Tulipa has to be one of the most inventive. "Pedrinho", featured here, is a sparse bossa-style number with the texture and slow, unravelling effect of Juana Molina's best compositions. Porcas Borboletas and Mombojó both show completely different sides to Brazilian music, largely eschewing the percussion and samba/bossa guitar shapes that so define much of the music. "Nome Proprio" by Porcas Borboletas is a vitriolic punk number that personally reminds me of Dutch bands De Kift and The Ex with it's angular riffs and up-front vocals. Mombojó, on the other hand, offer something far more serene. "Justamente" could easily be a track from Phoenix's classic "United" album; from the hushed vocals to the bouncy bass line to the infectious guitar riff and synthesizers, it ticks all the same boxes.
All of the songs mentioned so far have come from the first disc, devoted to music that fits the more band-oriented worlds of indie, pop and rock. The second disc is more of an electronic affair, showcasing some of the new electronic genres coming out of Brazil such as technobrega and electromelody, as well as interpretations of hip-hop and dub. 3namassa, joined by CéU, one of Brazil's hottest singers write now perform the sultry acid-jazz number "Doce Guia", which could have featured on either disc. After this is when the beats really start to roll; Catarina Dee Jah's "Kay Fora" sounds like a modern version of Althea & Donna's "Uptown Top Ranking", Curumin serves up the Salt 'n' Pepa inspired baile funk of "Caixa Preta" and M. Takara and R. Brandão's "Bença do Batuque" could possibly mark the start of techno hip-hop. One of the real highlights of this disc are the electromelody and technobrega songs that constitute a large part of its middle section. It's a very primitive sound defined by an infectious computer game melody and drum machine beat, quite rightly described as the northeast's version of Rio's baile funk. Perhaps the best example is Maderito & Joe's "Eletro do Maciota Light", a song which manages to sound like Ace of Base, nu-school R 'n' B and a distressed morse code signal all at once. Finishing off the set are a number of trip-hop, dub and indie-tronica tracks such as Júlia Says' beautiful "Cá", which sounds like Italo-disco of the very highest order.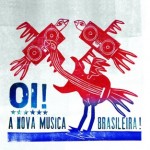 What makes this release so remarkable is not just the breadth of talent on offer, or their ability to take on a myriad of influences, but the fact that these artists manage to do this while also producing something that is distinctly theirs. With the Tropicalia movement of the 60s and Mangue Beat in the 90s Brazilian musicians have shown that it is possible to use an anthropophagical approach to making music, consuming all influences around you but crucially producing something that reflects yourself as the end result, and this is something which is thankfully mirrored on many of the tracks on this excellent release. It should also be noted that the liner notes, complete with map of where the artists come from and descriptions of different genres makes this the perfect companion for anyone hoping to get an idea of what is happening in Brazil right now.
You can buy Oi! A Nova Musica Brasileira at Amazon and iTunes
And listen to some tracks here:
Maderito & Joe "Eletro Do Maciota Light"
[soundcloud url="http://api.soundcloud.com/tracks/3998277″ params="show_comments=true&auto_play=false&color=ff7700″ width="100%" height="81″ ]
Curumin ft. BNegão "Caixa Preta"
[soundcloud url="http://api.soundcloud.com/tracks/3997853″ params="show_comments=true&auto_play=false&color=ff7700″ width="100%" height="81″ ]
Do Amor "Perdizes"
[soundcloud url="http://api.soundcloud.com/tracks/3990825″ params="show_comments=true&auto_play=false&color=ff7700″ width="100%" height="81″ ]
Mini Box Lunar "Amarelasse"
[soundcloud url="http://api.soundcloud.com/tracks/3988924″ params="show_comments=true&auto_play=false&color=ff7700″ width="100%" height="81″ ]

Follow Sounds and Colours: Facebook / Twitter / Instagram / Mixcloud / Soundcloud / Bandcamp

Subscribe to the Sounds and Colours Newsletter for regular updates, news and competitions bringing the best of Latin American culture direct to your Inbox.
Share: