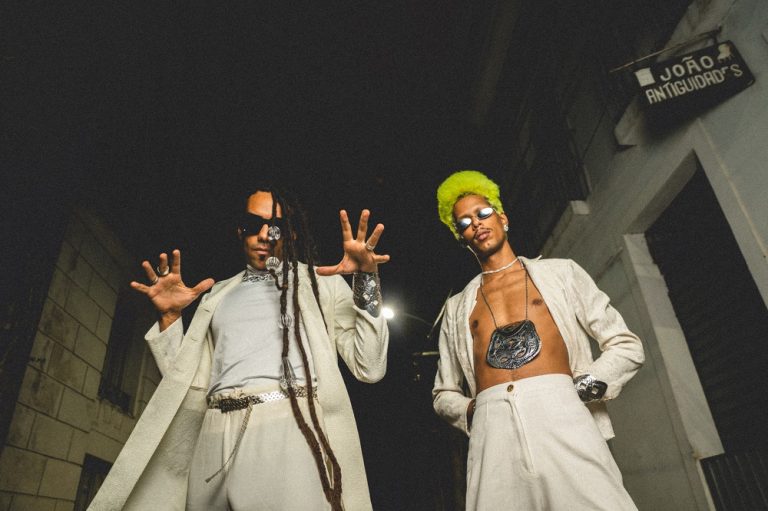 On The Margins – Brazilian Music Round-Up (Cadu Tenório, Maria Rita Stumpf, Giovani Cidreira, Mahmundi, RAKTA and more)
15 July, 2020
If you've ever had a beer in Brazil there's a way that they serve it, where the waiter brings it to you direct from a freezer at the back where it's been kept at about -4 degrees, and when you drink that first gulp it hits the back of your throat and it's so cold that it hurts, it's a jolt that makes you realise where you are and that for that brief moment, despite everything, all is right with the world, because, hallelujah, praise be, our glorious leader, after zero social distancing and downplaying the pandemic, has caught the virus and I wish nothing but the best for him. And so on to this month's releases from Brazil, and by gum there's some good ones, for example:
Cadu Tenório – Monument for Nothing (QTV)
Cadu Tenório from Rio de Janeiro pulls in a host of names to contribute to this mammoth 90 minutes slab of top-notch electronic experimentalism. If you're looking for references, I would suggest the more melancholic side of Coil, early Emeralds, Boards of Canada, the noisescapes of Throbbing Gristle and everything in between. You can hear contributions from Juçara Marçal, Carla Boregas, Maurício Takara (does this man ever sleep?), Sara Não Tem Nome, Rogério Skylab and Vitor Brauer. It needs to be listened to as a whole, as the textures, details and atmospheres that it conjures up demonstrate a fantastically strong coherent piece. Tenório himself considers it his strongest work, and describes it as "Otaku in the favela, a Lovecraftian backdrop of paranoia and isolation", perfectly stated and highly recommended.
Maria Rita Stumpf – Inkiri Om
Maria Rita Stumpf had a surprising fresh start to her career when the Selvagem DJs re-released her forgotten 80s album Brasileira in 2017. Now she returns with new studio material produced by bassist and producer Kassin Kamal. The meaning of the title, translating as "Everyone Origin", is to draw attention to the plight of the Indians and their environment, but this is no cultural appropriation. Stumpf has delved into indigenous cultures in all their manifest variety to build this album, putting together a dream team of musicians in the process. Percussion is supplied by the absolute masters Marcus Suzano and Paulo Santos, and their potent rhythms can be heard powering "Sete Cenas de Imyra", as for six minutes the music describes each of the scenes of the myths of birth, destruction and rebirth, an oroboro of electronic sounds and indigenous rhythms are organically intertwined so that their differences become blurred. "The essence of mankind is one, be it in the Xingu River in the middle of the Amazon forest or in Manhattan", she says. "And this essence comes from the origin. When we disrespect it, we are heading to the end of mankind".
Giovani Cidreira + Mahal Pita – Mano*Mago (selo Risco)
The future sound of mythological Bahia, its mysteries and superstitions combine perfectly with this partnership between singer and composer Giovani Cidreira, and Mahal Pita, a former producer from BaianaSystem, together with a production from Boogarins guitarist, Benke Ferraz.
This is future Afro-Brazilian R&B, using elements of trap and bass music while still incorporating rhythms from Bahia, such as arrocha and pagonete. Cidreira performs his distinctive dramatic and epic songs while the electronic beats and bass show you the direction north-eastern Brazilian music has the possibility to go. "Mago de mi mesmo" has a killer chorus with gut-churning bass frequencies. The lyrics of "Mano sereia" show what a challenging and creative artist Cidreira is, conjuring up an Afrofuturista Iemanjá from the depths!
Various Artists – Quarentanea 2020 (Submarine Records)
Twenty artists produce twenty tracks for 2020. Submarine Records show off their diverse selection of artists who contribute to their equally diverse catalogue of over 20 years, which ranges from hardcore punk to challenging free jazz math rock. In this collection the music encompasses the contemplative in Paulo Santos' "Amazonia em Chamas", whose percussion skills and homemade instruments are featured in the Maria Rita Stumpf album mentioned above, the pop hardcore of Againe, outright experimentation from GOATFACE! and Nicole Mitchell, electroacoustic improv from Rohrer/Somervell, dubby electronica from Black Snake 808, a veritable banquet of São Paulo experimentation and beyond. There's some wonderful collaborations here, Objeto Amarelo with Laura Diaz offers up a melancholic acoustic number and there is a sense of everyone coming together for the quarantine to produce this creative and eclectic compilation.
Mahmundi – Mundo Novo (Universal Music International)
The multi-talented Mahmundi, pseudonym of Marcela Vale, sings, plays and produces this mini LP of smooth 80 pop and electronic soul. She manages to consolidate further the space she has created for herself in contemporary Brazilian MPB, showing enough confidence to produce this mix of Joan Armatrading meets Djavan and Marina Lima. This is kick off your shoes, lie back in the sunshine, summer soul and tracks like "Sem Medo" will have you running down to your nearest overcrowded beach.
ybmusic
Studio and label ybmusic have always had a special place in my heart, their CDs from the early 2000s were phenomenally important in blending Brazilian music with then current electronic genres, and have they been busy during the isolation. Here are some of their more intriguing releases:
Maô: Falta de Estudo #1 by Mauricio Tagliari is the follow up to his first solo album full of sambas and collaborations. Producer Tagliari made this instrumental / experimental solo album entirely by himself, from the musical conception to the cover. It's eccentric and full of interesting exploratory sounds.
KD VCS by Thiago França, another solo project, this time in the company of the saxophonist from Metá Metá. This goes from drones to deep bluesy classic jazz and then onto absolute delirium. It's a late night listen, and like everything he does comes with a stamp of the highest quality.
Mauricio Tagliari appears again on Tanino with Thomas Harres, Guizado and Pedro Dantas. This is the first meeting of this quartet in an inaugural test session for the new ybmusic studio. Free improvisation, ambience and rhythms stitched together for two long tracks in the tradition of electric period Miles Davis and Art Ensemble of Chicago.
Fancy something a bit wild and free? Try Dúvidas by Juliana Perdigão. This is all out experimental jazz poetry by the Minas Gerais artist in which prosaic short scenes collide with each other to demonstrate the absurdity of everyday life. The disc was recorded in an improvisation-only session and the blurted out poems are backed by tracks that range from funky little numbers to dissonant electronics and fuzzed out guitar. It's short, sweet, and full of humour.
Ode ao Mar Atlântico (Self-Released)
This project, produced by Arto Lindsey, is composed by a long list of names including: Eric Barbosa, Éden Barbosa, Rami Freitas, Eduardo Scarpinelli, Diego Maia, Marta Aurélia, Natália Parente and Wellington Gadelha. It brings together elements of sound art, "música de terreiro' (research into umbanda and candomblé) and experimentalism. It's described as a work of performance-body-sound and was recorded in the wonderful city of Fortaleza in Ceará. Don't be put off by the erudite description, when it gets going it's groovily percussive with howling guitar over the top.
Sonar Atmosfera – "Feel The Hope" (Endorphin Records)
Thomas Simon is an award-winning composer and musician who has teamed up with João Milet Meirelles, who produces and does live electronics in BaianaSystem. In this release dark ambient electronics mix with tribal beats and tuned down guitar riffs that drift off into space. It's psychedelic, textured and goes off into early jamming Pink Floyd in parts.
Guilherme Held – "Sorongo"
Guitarist Guilherme Held has been slowly preparing his first solo album, Corpo Nós, for a decade now. Here he releases the third single from the album, "Sorongo", a tribute to the mythical percussionist of the classic Krishnanda album, and it has the participation of none other than Bahian conductor Letieres Leite, providing arrangements of brass and percussion for this swinging Paulista afro-samba. Sorongo fuses Bahia with São Paulo using elements of electronic music with an 80s feel, and lots of fuzz at the end that recalls tasty Nigerian 70s psychedelia.
Odaya – "Me Jogo No Seu Mar/Passagem"
Odaya is a newcomer, playing contemporary blues soul with guitar and electronic backing. His debut single "Passagem" shows a huge amount of confidence and skill with melody. Dudu Marote is producing and has an extensive career producing many of Brazil's pop greats as well as producing his own solidly put together house music. The follow up "Me Jogo No Seu Mar" released this month is short, sweet and sounds like electroclash meets Black Rio.
Rakta – "Meia Luz e Meio Eu"
This is a track that Rakta put together separately while in quarantine, a new experience for them they say, but the more interesting angle is the remix by Malka, who is a resident at the Mamba Negra and Sangra Muta parties, and here she creates driving percussive goth techno from the dark scraping soundscapes of the original.

Follow Sounds and Colours: Facebook / Twitter / Instagram / Mixcloud / Soundcloud / Bandcamp

Subscribe to the Sounds and Colours Newsletter for regular updates, news and competitions bringing the best of Latin American culture direct to your Inbox.
Share: