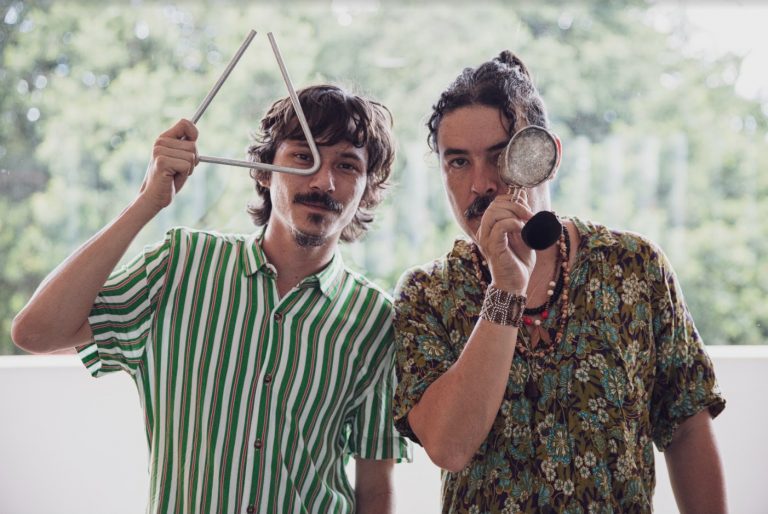 Bento Viana
On The Margins – Brazilian Music Round-Up (Mbé, Romulo Fróes, Forró Red Light, Blue Beast, Gimu and more)
08 July, 2021
Thousands of people have been out on the street protesting, we're slowly getting vaccinated, so hey, positive vibes abound. As always there's piles of good music, so delve in for an eclectic mix of favela collage, solitary sambas, isolationist blues, and breakbeat forró.
---
Mbé – Rocinha (QTV)
The artist who is Mbé (meaning "to be", "to exist" in Yorubá) is Luan Correia, a producer who got his musical education at the cutting-edge Audio Rebel studio/club in Rio de Janeiro. Rocinha is of course the largest favela in Brazil, with a population of 120,000 and located in the south zone of Rio. This is a provocative mix of field recordings, collage, and spoken and sung word. According to Luan Rocinha is an album that was born in the favela itself, it portrays the experiences lived, read and heard there.
There are a smorgasbord of sounds on display, the samples include songs from Xingu Indians and Central African Pygmies; speeches by Black feminist activists like Lélia Gonzalez and Maria Beatriz Nascimento; Dutch drummer Han Bennink's free jazz; the voice of Clementina de Jesus; accordions from the interior of Pernambuco recorded by Mário de Andrade; the avant-garde sound art of the Japanese artist Rie Nakajima; and Candomblé drums from Minas Gerais. All tied to an architecture as organic and inventive as the favela that gives the album its name. It opens with a rough loop, like something edited on a cassette recorder. "Ceremonia" rings out with the sound of a bell, maybe calling people to prayer with the voice of Juçura Maraçal layered over the top in rough jagged edits. The track "A Caminho de Palmares" tells us the history of Brazil has been written by white hands, the stories of the indigenous and the Afro-Brazilians haven't been written yet. Experimentalism like this arises from the need to find meanings and to tell stories, as the artist says "Rocinha is very dense, there's a lot of information". The same can be said for this fascinating collage of sounds and ideas.
---
Romulo Fróes – Aquele Nenhum / Ó Nóis (YB Music)
Romulo Fróes is one of Brazil's best kept secrets, much to his disdain I imagine, though this hasn't stopped him being pragmatically critical of the Brazilian music industry. I first came across this committed sambista in the early noughties with his album Calado on the much missed Bizarre Music, the label venture of the equally-missed shop. Bizarre was home to experimental shenanigans like Tetine and Objeto Amarelo, but also this artist who was described as "Low meets Pixinguinha". A brilliant description as it captures the essence of his sensitive solitary poetic sambas mixed with the subdued indieness that Low specialise in.
Froés has worked with everyone who is at the forefront of vanguard samba: Kiko Dinucci, Thiago França, Elza Soares, Rodrigo Campos etc., a monumental list, working as musical director, songwriter, producer and so on. There's a simultaneous release of two albums here, the first, Aquele Nenhum is a simple, stripped down affair, voice and violão, nevertheless it shows his songwriting talents and his passion for strange São Paulo sambas should be explored. The second release, Ó Nóis, is a collage piece of voice, musical extracts and noises (rather than noise) and acts as counterpart to the first, reflecting the many facets of this artist [confusingly "Ó Nóis" is also the first track on Aquele Nenhum].
---
Gimu – An Outburst, A Yell (Musica Insolita)
Gilmar Monte journeys where many of us would rather not go and offers up more twisted repetitive ambience on this new (to me) Brazilian experimental label, active since 2018.
In a recent interview Gilmar cited his passion for William Basinski, and there's traces of Basinski's disintegrating aesthetic here. The sounds are heavily processed and distorted, the sound of the magnetic particles on the (metaphorical) tape falling off and disappearing into the ether. It's not all isolationist gloom though, listen hard and there are melodies lying underneath the layers. Gimu is still heavily affected by the pandemic and his last releases have been influenced by the oppressive atmosphere of the lockdown. To be able to do something new he says that "I need to focus a lot on textures and experimenting with new sounds". So, armed with new plugins, new effects and new knobs to virtually twiddle he wanted to see what would happen. He continues: "these new 'tools' were essential for me to feel inspired. I like that each album of mine has its own sound. I also think An Outburst… is just as bitter as the previous two, which had every reason in the world to be bitter".
---
Caneco Quente – Falta Flauta/Flauta Falta (self-released)
Pedro Hamdan, drummer and visual artist from Minas, has been in indie bands since the late 90s, and Caneco Quente, his solo project, has been around since 2007. Falta Flauta/Flauta Falta is a double album he conceived, produced and recorded between the solitary months of May 2020 and May 2021, the result of a year of banging his head at Abalo Císmico (his transfigured studio/creative refuge), an album inspired by memories of pre-pandemic times, delivery people on their bikes, and boredom. Over the course of almost an hour, Pedro Hamdan delivers songs that wander through lo-fi electronic music with generous hints of indie and pop. It's very quirky, accessible and charming and sounds like it could have been released on the now defunct Too Pure label.
---
Arubu Avua – Memorabilia (self-released)
To quote Chico Science (and Nação Zumbi) "Computadores Fazem Arte" ("Computers Make Art") and it would be difficult for me to describe this album of generative music as you will find a different version every day you enter the site – there is one specific version on Bandcamp, however. The work is an algorithmic composition which, daily, generates a new original variation of the disc and was conceived when the artist, Victor Negri, came across the SuperCollider programming language.
"(The sounds) are like starting points; and in this case, we do not know exactly when each sound will play. So, the main difference is that the person does not compose directly with sounds, but 'composes' a certain universe of sound possibilities", says Victor.
Each day new variations are created, including the instruments present, what they play (including tonality and scales), effects, mixing, the titles, even the verse order of the songs and the tracks themselves. Inspirations for this project include work by Terry Riley and Sun Ra Arkestra and the mix between electronic composition and popular music by Laurie Spiegel and Pauline Oliveros. So, maybe you get some disjointed jazz, off-kilter indie, sometimes noise. It's a lucky dip.
Discover the album's latest iteration at s4ntp.org/memorabilia/
---
Forró Red Light – Tropeiros Trópicos (Gop Tun)
Gop Tun are more well known for their raves and parties in São Paulo, where quality electronic music is always the main objective. The label has been going since 2014 and offers a wild selection of mongrelized electronic genres. This comes directly from Brasília, where Geninho Nacanoa and Ramiro Galas are doling out what they claim is the real folklore with this EP, capturing a tradition meets modernist spirit, exactly like the city they come from where the "city of the future" is surrounded by some of the roughest suburbs in the country. The real Brazil is gnarly round the edges and here Forró Red Light dialogue with the modernist concept of "eat it up and throw it up". So, what you have is driving dancefloor electronics, breakbeat percussion and touches of forró. Opener "Piscadinha" is light on its feet and highly accessible, but it's the following tracks where the electronics come in harder that the idea really takes off and where the 909 meets the rhythm of the triangle and zabumba on a sandy dancefloor with hot cachaça shots to celebrate the fact that we're alive.
---
Various Artists – Glitch Baile Vol. 1 (Glitch Baile Rec)
Fancy something with a harder edge, but still managing to be distinctly Brazilian? This is a collection of tracks from DJs who play the Glitch Baile parties, a brand which is new to me. But the theme is to take elements of baile funk, vocal snatches, samples, synth stabs, and reconfigure them into techno or a similar genre. Some of the usual suspects are here, Badsista serves up a great piece of jittery house with "Vai FDP", Akin Deckard, from Methanol, gives us a rolling breakbeat, moody synths and baile vocals, while "Toma Essa" by DJ Felix emphasises the electro roots of baile funk with a sharp 808 breakbeat. I'm a big fan of reconfigured baile funk, so this is a thumbs up from me and I await further volumes.
---
Blue Beast – Bar Tears EP (self-released)
Although this duo is not new to this column, this new release is well worth looking into. Truus de Groot comes from a lengthy background of European makeshift electronics, while her musical partner in this project is the mighty Miguel Barella, aka the nicest person in Brazilian experimental music, whose background is the best in São Paulo post-punk and then some, having played in Voluntarios de Patria, Smack, Gang 90 & As Absurdettes; I mean find me a better line-up than that.
Anyway, here they've taken it down a notch and on this EP there are slow burning barroom blues and post-punk torch songs with a twist of LSD. They tell tales of nostalgia, romance, melancholy and obsessions, all to a pitch perfect production from Miguel and Apollo Nove. As I keep saying, these two really should be more well known.
---
Honorable mentions go to:
Thaigo Nassif – "Pele de Leopardo" (Cornelius remix) (Gearbox Records)
Great idea to put these two together, Cornelius for his pop perfection and Nassif with his mutant MPB, to create this funky springy scrunchy hoe-down.
---
Seu Psique – Psi (self-released)
Debut album demonstrating a groovy mixed bag of improvisations and experiments that range from northeastern psychedelia to pagodão.
---
BRWNOWAVE – Beats of No Nation Vol. 1 (self-released)
Great set of atmospheric glitchy lo-fi hip-hop. For fans of Prefuse 73 and Flying Lotus.

Follow Sounds and Colours: Facebook / Twitter / Instagram / Mixcloud / Soundcloud / Bandcamp

Subscribe to the Sounds and Colours Newsletter for regular updates, news and competitions bringing the best of Latin American culture direct to your Inbox.
Share: