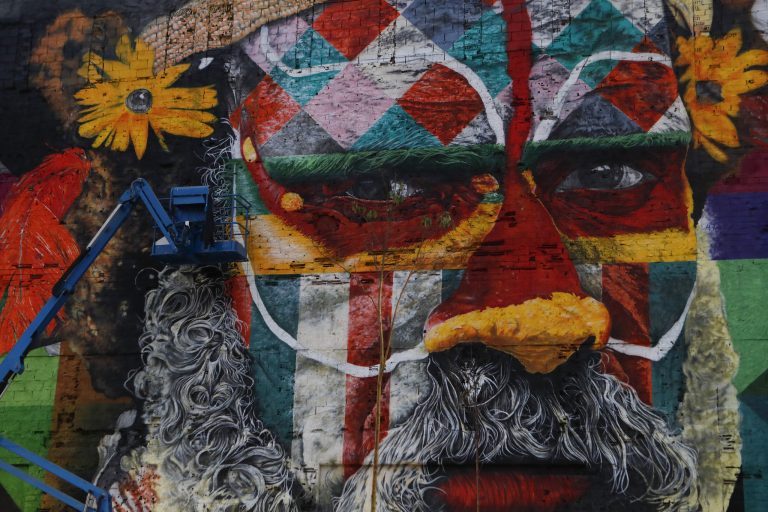 Ones To Watch: Rio de Janeiro's Street Artists
08 August, 2016
As a street artist in Rio de Janeiro, you really have to stand out if you want to compete with the beach. Rio's natural surrounding isn't just pretty, it's breathtaking. Yet, Rio's street art is ubiquitous, it exists within every corner of the city's pores, from the favelas to upper class neighbourhoods. It's bold in scale and aesthetics, and you wouldn't expect it any other way. Since the legalization of graffiti in 2007, every passing day it is seen more as a celebrated art form than as vandalism. It acts as a form of community empowerment, defying the increasing homogeneity of graffiti worldwide. Here are four very different, inspiring street artists who are each delivering significant global messages.
Kobra
Amid the buzz of the Olympic excitement, Eduardo Kobra is making geometric waves in Rio de Janeiro's street art scene. A cunning photorealist with an edge, he is notorious for his epic kaleidoscopic murals, using textured, quilted patterns in bold colours to create portraits of famous figures such as John Lennon, Bob Dylan, Tupac and the Dalai Lama. This time, he is setting what could be a new record-breaking benchmark with his whopping 190-metre long masterpiece of five indigenous faces from five continents, based on the Olympic Rings. A true labour of love, his swirling use of brushes and spray cans serve as a means of bringing his creations to life; inviting us to identify with their true and dignified nature. His message: "We are all connected".
Joana Cesar
Joana Cesar is a calm, clear and focused artist that both embraces and defies conventions of the street art genre in Rio. An enigmatic innovator, her work is an elegant contradiction, for all to see, yet, more intimate than meets the eye. Transforming public art into a domain for introspective self-expression, her literary bent is shrouded in mystery collages, intended to both peel away and live within the layers of urban life.
Cesar is a woman of many secrets. They sparkle on her skin. She owns a wild past of hanging in hooded hideaways in the slums, but also resided in a Zinc Buddhist Centre. Perhaps that's why she's so talented at hiding things. She is known for her huge, indecipherable messages spread through Rio's streets, acting as her own private code. They feel like an ancient language everyone can relate to but no one can comprehend, safely shielded from exposure in layer upon layer of posters, moss and other plants. To this day, only one technical whizz has ever managed to encrypt the code, and even still, it continues to reveal a different story as Cesar evolves.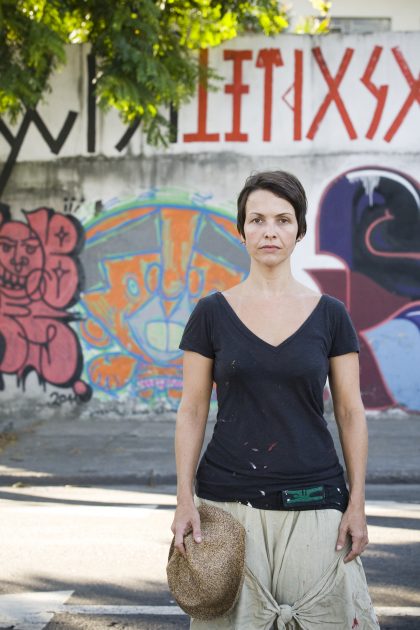 Photo of Joana Cesar (by Joana Cesar)
Marcio SWK
For anyone who breathes and admires street art, it's not difficult to recognize the works of Marcio SWK. Winding down Rio's hotspots, his art work is impossible to miss. SWK had his first contact with street art in 2000 on the Bohemian streets of Santa Teresa. Much like other iconic carioca graffiti artists, SWK adopts a vivid colour palette that bounces from the Brazilian landscape, but defines his unique approach with slick, sharp edges (think Kandinsky with a twist) that are transforming the dangerous spots of Rio into his personal brand. A global phenomenon, Marcio SWK has exhibited in Amsterdam, Beirut, Paris, Berlin and São Paulo, as well as making history as one of the first Brazilians to create works in a venue in Abu Dhabi. If that wasn't enough, his art has also been used by and made into prints by leading companies including Nike, Samsung, Nestle and Ray Ban.
Acme
Carlos Esquival, who goes by the name of Acme, is an emerging artist and protagonist for Rio's stark socio-economic disparity. Far from recognisable, you'll find him tucked away atop the Pavão favela's infinite flight of stairs. Acme is a man of vision, sensitive and who has faith in the progress of the community. Considered a 'hero' to those marginalised by society, all the hands he touches turn into art. Besides painting residential homes, he also invites other artists to intervene in the slum in order to add colour, cultural unification and joy into the community. As a founder of the MUF (Museum of Favela), the aim of his projects is to give voice to the people who live there. Some murals tell of the complex history of migration into the favela while others point to simpler daily struggles. Whatever the story, his work offers a powerful depiction of a different world, a world unknown to many.

Follow Sounds and Colours: Facebook / Twitter / Instagram / Mixcloud / Soundcloud / Bandcamp

Subscribe to the Sounds and Colours Newsletter for regular updates, news and competitions bringing the best of Latin American culture direct to your Inbox.
Share: