Periferias: A Project of Musical Exchange and Global Respect
11 July, 2011
The term "Periferias" is unusual in that is leads us to the idea that the music that is exchanged in the project's pluri-annual meetings are set against the mainstream of popular music. However, much of the sounds coming from the Periferias project could be in fact be recognised styles as hip-hop, dub, reggae and rap. Look again. Spread across three continents, the project encourages a diversity of musicians, particularly hip-hop, rap and diasporic musics to meet from Latin America, Africa and Europe.
The aim of the project is cultural collaboration, to promote new musical styles and to provoke a cross-fertilisation of sounds through the promotion and touring of talented artists.
Since 2007, the project has become recognised for its abundance of emerging stars, all of which present a range of musical styles. Back then, legendary Mano Brown, frontman of Brazil's biggest rap band Racionais MC's organised a get-together for musicians and producers from Brazil, France and Senegal. The meeting was such a success that those involved encouraged regular meetings, focusing on encouraging the support of new talent, backed by already acclaimed artists such as Brown himself. The project was also initially set-up to encourage the musical styles of diasporic communities that previously had not had the chance to present their individual sounds to the global community.
During it's early years, Periferias enabled the exchanging of various artists such as Féfé & Sir Samuel (Saïan Supa Crew) in Sao Paulo & Rio (2007), as well as the organisation of tours of Mr Catra (2008), gigs by El G (ZZK Records) in Marseilles and the artistic residency of French artists in hip hop clubs in Sao Paulo: Imhotep, Didier Awadi, Big D, Dj Daz, K-Méléon (La Méthode), Duggy Tee, Big D, Smokey.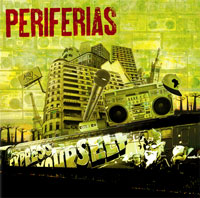 This year sees the release of an all-mighty ten-track compilation by Periferias and includes aural delights such as "Vacilao" – a collaboration between the king of Brazilian baile funk, Mr Catra and French composer and all-round producer of dub, hip-hop and reggae sounds, Imhotep. Both guys, although from different countries and musical inspirations, present a hip-hop track that is full to the brim of their respected influences. Born out of miami bass, baile funk was re-invigorated in the depth of the Rio favelas, containing a heady mix of bassy rhythms and the melodic sensuality of Latin American samba.
Other tunes such as "Made in Brazil" by female hip-hop maestro Suppa Flà and French rap troupe La Méthode present a raunchy rendition of their fave music style with some brassy touches and dirty-electro basslines. "Dakar Brazil" is a wonderous soundclash between Senegalese guitar riffs and Brazilian samba-style beats – a definite summer-booty-shaking anthem indeed. "Todo Noite" presents a truly contemporary sound, incorporating three emerging artists as French-New Yorker, DJ Faze, and hip-hop duo, Quixote and Heliao with an energy-fuelled extravaganza of electro synths and high-octane beats.
"Periferias" is not only about music and the collaborative efforts of various up-and-coming musicians, but also about the dissemination of musical sounds and styles, of displaced communities and the representation of their music and cultural identities.
You can download the Periferias album at www.sabaprod.com.

Follow Sounds and Colours: Facebook / Twitter / Instagram / Mixcloud / Soundcloud / Bandcamp

Subscribe to the Sounds and Colours Newsletter for regular updates, news and competitions bringing the best of Latin American culture direct to your Inbox.
Share: