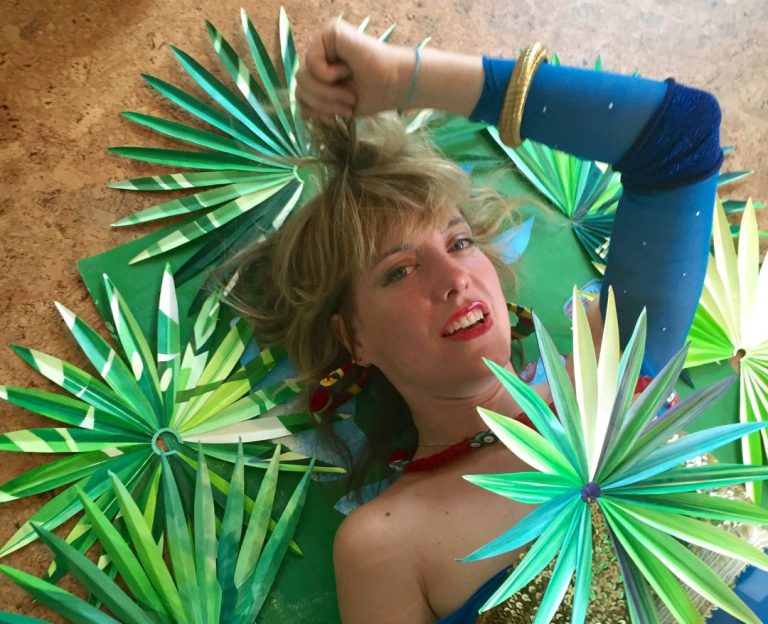 Pinching the People: An Interview with Nina Miranda
14 July, 2017
She first came to prominence in 1997, as her band Smoke City's 'Underwater Love' reached #4 in the UK charts. Now, 20 years on, Nina Miranda is finally releasing her first solo album.
After a period as lead singer with the groups Zeep and Shrift and numerous collaboration projects, including with Seu Jorge, Basement Jaxx and Gilles Peterson, the Anglo-Brazilian artist is striking out alone, bringing together her fusion of genres, languages and international influences. Her father is from Rio de Janeiro and her mother was born in Iran and the two met in Paris – this global background impacts positively through Miranda's free-flowing and improvisational style.
Freedom of Movement swirls from place to place, crossing stylistic boundaries that you can be sure would leave many mainstream record companies confused (it was recorded in a studio space above her flat with deliberately open windows letting in all the hubbub of London life). That said, she has produced a work she can finally call her own, working with members of Ibibio Sound Machine and Chris Franck, who she first joined forces with all those years ago back with Smoke City.
It is an album of dizzying stimuli and a proud marker of the creative spirit that pulses through the artist. If you like bossa nova and indie, tropicália and chill pop, vapourwave and electronica, then this album, with its animals, seas and sultry moods should be for you.
Sounds and Colours had a quick cup of coffee with the Anglo-Brazilian artist before she rushed off to Glastonbury (where she teamed up with Malian guitarist Vieux Farka Touré).
Nina, this is your first solo album – what are the main messages that you hope the listener takes away from it?
Well it's called Freedom of Movement so I would say that is one of the main messages, along with the importance of fusion, open possibilities, and the joy of collaboration. That said, it's good after all these years to be steering my own ship now.
Steering your own ship – does that mean that with your previous work with Smoke City in the 1990s and then Zeep and Shrift afterwards you were not totally in control? Or have as much say as you would have liked?
Smoke City worked on compromise. And we wanted to hold onto our connection to the underground. We had three members and sometimes two of them would get together and work on something and the third member would come in and hear it and choose to change parts of it. Or someone else wouldn't like another member's suggestions. It was the blend that was important.
Let's look back to your Smoke City days then. How is the Nina Miranda of 2017 different from the Nina Miranda of 1997 and the "Underwater Love" era?
I hardly recognise myself in the videos from then! When I watch them it looks like a girl in some kind of dream. My work now stills holds the essence of 1997, there's still the importance of collaboration running through it. I guess perhaps there's more personal originality now, as an artist – not simply a singer.
And looking the other way… which direction would like to see your career take in another ten years?
I'd like to play an instrument, I reckon. Maybe write a musical and act in it, co-direct it as well. But maybe that's just the Brazilian side of me dreaming, rather than the British reality!
That's one part of your music that really stands out – the fusion of the genres and national themes. Which has been a greater influence on your music: the Brazilian or British side?
The Brazilian side keeps me connected with the music and feelings in Brazil. There's a flow and improvisation that comes with working with Brazilian musicians. There's a certain feel. You understand that you are working with humans, not musicians.
"Amazonia Amor" on your new record really takes you to Brazil. You get a sense of an electronic rainforest at times.
It's the birds and the landscape, and there are horses too. I find the animal aspect therapeutic and mixing up the sounds of the rainforest means that you can accentuate the reality. You might also hear birdsong on other tracks – they are the actual birds singing in my garden in London because we recorded this in a studio with all the windows open! Even the pock-pock of tennis balls from a nearby court are on the album.
And the track Silken Horse..?
Exactly. I wanted the feel of nature, so the beat of the hooves and the sense of a living, breathing horse to come through on that one. Natural images and artistic licence working together.
How do you think Brazilian music and British music interact with each other? What can they learn from one another?
Brazilian music is often set around dealing with themes of love, happiness and the struggle. It has a certain exoticism for Britons: samba, bossa nova, tropicália… but that said, back in Brazil, there's a real love for bands such as The Cure, The Rolling Stones and The Beatles. I mean, for Brazilians, KISS were pretty exotic themselves, with their dress and performances. So there's a mutual exoticism for the other.
In "Whole of London", you say you're "tired of wandering". With your dual-national heritage, how true is that of how you feel at this stage in your life?
That's how I feel when I'm cooped up in one city for too long. So in fact, it's the other way round. I get tired of wandering the same streets of one city, not tired of wandering the world. The same goes for if I'm confined with one particular group of people – I enjoy mixing it up.
Which festival or musical genre would you feel most at home with, if you had to stay somewhere for a while, listening to the same music?
WOMAD is for me the festival that I connect with most. My music plays with people; it tickles them, slaps them and pinches them. The fusion of different images. I like festivals because of the mix of music and people, coming together in huge numbers to listen to a particular artist. I'm quite outspoken and I have to be careful – demonstrations can have a similar vibe to festivals, the collective chanting or singing, a togetherness.
Picking up on that point, how important or not do you think the role of music is in political protest?
It's so important. It's easy to be seduced by the mainstream and not wanting to offend people but, as I said, I'm outspoken and I feel that as artists, we have the platform to express ourselves and we should use it.
Now let's try some quickfire questions…
Gin & tonic or caipirinha?
Gin during the day but caipirinhas at night!
Feijoada or roast beef?
That's easy – feijoada.
Nelson's Column or Christ the Redeemer?
Christ the Redeemer – when the time comes I think it would be a poignant place to have your ashes scattered, looking down on the city and out to sea.
Bossa nova or Brit pop?
Can I say tropicália instead?
Nina Miranda's Freedom of Movement is released by Six Degrees Records and available from Bandcamp, Amazon UK, Amazon US and iTunes.
Nina will be performing at the homelessness charity The House of St Barnabas on Saturday 22nd July. Click here for more details.

Follow Sounds and Colours: Facebook / Twitter / Instagram / Mixcloud / Soundcloud / Bandcamp

Subscribe to the Sounds and Colours Newsletter for regular updates, news and competitions bringing the best of Latin American culture direct to your Inbox.
Share: