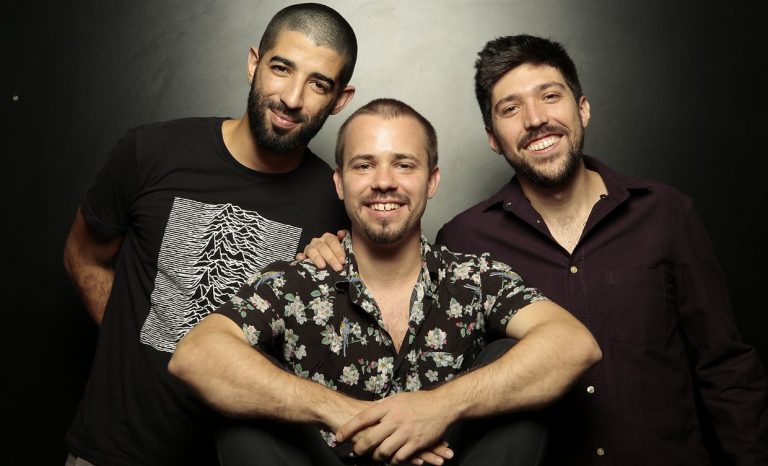 PREMIÈRE: Caixa Cubo's Latest Album Shows Flashes of Brilliance
11 September, 2020
For an electric jazz trio from Brazil, to be influenced by Azymuth should be a matter of course. An almost unparalleled name in Brazilian jazz – and certainly its most popular export – you're just as likely to hear the pioneering three-piece's high-voltage "samba doido" (or, "crazy samba") on dance floors worldwide as in jazzheads' living-rooms or festival halls. They are a pioneering amalgam of visceral funk, cerebral fusion and Brazilian folk tradition, packaged like a glittering disco ball. And, in the wake of the latest jazz-dance renaissance, said disco ball has drawn boundless enthralled and inspired enthusiasts and aficionados to its shimmering exterior. It's in this company that Caixa Cubo understand their brand-new album to fit. In its liner notes, Angela is described as a "dialogue between electric Brazilian sounds from the 70s, with groups like Azymuth in mind, and contemporary beats by Yussef Kamaal and the likes". It's a prospect which isn't hard to imagine: there was hardly one review of the South Londoners' expeditious Black Focus that didn't namecheck the Brazilian outfit. Both bands, propelled by dynamic rhythm sections, are now played on dance floors world-over by an in-vogue DJ vanguard in Worldwide FM tees.
One would expect, then, that similarly club-oriented rhythms would underpin Caixa's latest album. But rather than floor-ready jazz-funk, the opening short improvisation, "Angela", finds its roots in hip hop, with Henrique Gomide's bright sonorous keys vamping above lazy boom-bap drums (João Fideles) and behind-the-beat bass (Noa Stroeter). "Khanimambo" continues in a similar groove. Gomide's playing is wonderfully rhythmic as an introduction slowly unravels into a descending modal melody which could fit atop Giant Steps' opening changes. Gomide is metrically playful, stumbling behind and pulling ahead of the in-the-pocket accompaniment. But when he has space to solo, the keys become reticent, his brief scalic improvisations not straying too far from home. The turn arounds are neat and intricate, the head is nuanced and stimulating – but "Khanimambo" never truly takes flight. Like Kamaal Williams' playing on Black Focus, his improvisation is rooted in comping. However, while on Black Focus, Williams is often second fiddle to Yussef Dayes' thundering drums, no one takes Angela's opening song by the scruff of the neck.
"Palavras", already extolled on the latest Brazilian Wax round-up, is comparatively dynamic – Zé Leônidas' guest vocals rising above a quietly groove-laden rhythm section. Stroeter's bass takes the limelight early on, when it comes Gomide's solo has far more direction and Fideles' pepped-up drums are spirited. Meanwhile, second single "Lua Nova", while not sounding particularly fluid, is dexterous, its melody daintily laced through drums which tumble, somehow gracefully, in 5/4. "Lua Nova" is the most spacious piece on the album and showcases the trio's playful interaction – it builds and falls impressively, each instrumentalist surging forward interchangeably, everyone having plenty to say. Caixa Cubo's cover of "Dark Prince", though, unlike Geri Allen's whirlwind original, plods along, lethargic for the most part. It's soloing feels like place-filler rather than flooding expression – an occasional shortcoming on this album.
It's with Egberto Gismonti's buoyant "Baião Malandro" that the trio truly fulfil their tenet. The frenetic closer, heralded by rumbling (if slightly compressed) drums evocative of Yussef Dayes', has limitless Azymuth flair. Gomide, on self-assured form, nimbly traverses the length and breadth of his chorus-overloaded keyboard, above bouncy bass and frantic drums. The outcome – funky, elastic and very retro – might be a 40% Foda/Maneiríssimo production; it could certainly be a Far Out Recordings' Azymuth composition. The band sound like they're having a lot of fun and it's only a shame that it's robbed of a proper climax. The shortest of the album's full songs – and its most energetic by far – "Baião Malandro" fades out seemingly mid-flow.
Angela's biggest drawback is a mystifying one. It is an album, with a lot to give; on paper it is full of ideas: three virtuoso Masters of Music, with endless experience both as a trio and alongside some of Brazil's (and the world's) greatest instrumentalists, come together to make an album of contemporary Azymuth-influenced music full of spontaneity…
But the album is named after a minute-long vamped improvisation. During Angela, when each instrumentalist has the space to let rip, they often don't, and when the band is in full animated stride, the album fades out. There's flashes of brilliance here, but the band, too often, seem happy sitting back only partaking in intermittent bursts of ingenuity and energy.
Angela is out now and available via Bandcamp and Spotify.

Follow Sounds and Colours: Facebook / Twitter / Instagram / Mixcloud / Soundcloud / Bandcamp

Subscribe to the Sounds and Colours Newsletter for regular updates, news and competitions bringing the best of Latin American culture direct to your Inbox.
Share: