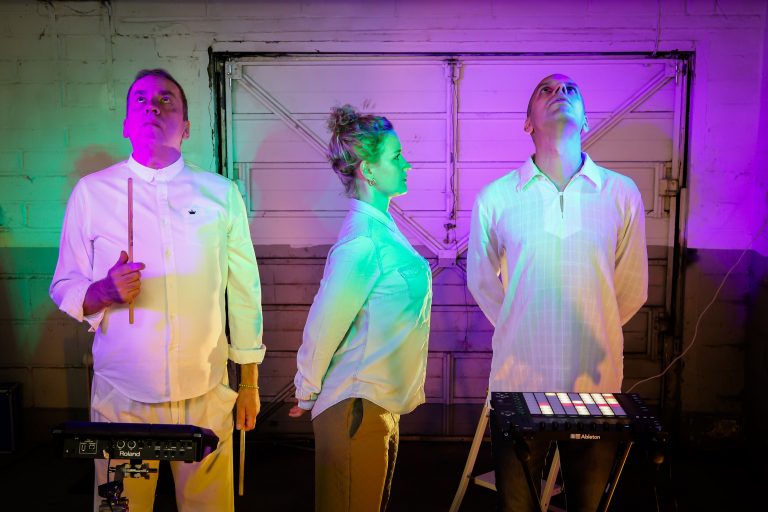 Prezident Markon's Singles Round-Up (Cande y Paulo, José Mauro, Ignus, Aricia Mess, Okuté, Havana Meets Kingston, João Donato, Penya, Esperanto)
20 April, 2021
April has showered its musical blessings upon us: some old, some new and all worthy of more than a mere spin or two. Where should we begin this month?
Cande y Paulo "Tuyo"
Let's make it something jazzy and delicate and composed by Rodrigo Amarante, erstwhile vocalist with Orquestra Imperial, and responsible for 2014's Cavalo, a solo album to revere. Netflix subscribers may remember this song as the theme for the Narcos series. Cande Buasso and Paulo Carrizo hail from the Argentine city of San Juan and the single comes from their first album together, due in June. "Our approach was to be as respectful as possible to its simplicity," Cande explains. "Very little was needed to make this song work." Very little other than Cande's captivating vocal with its faint echoes of Concha Buika's sensual huskiness, Paulo's filigree jazz piano and a very tasteful arrangement. Mmmm, nice.
José Mauro "Rua Dois"
We'll go with the acoustic flow… Far Out Recordings, bless their sainted enterprise, will be re-releasing José Mauro's second and final album on their Quartin imprint next month. Recorded in Rio in 1970, but unreleased until 1976, his second coming includes three tracks never heard before, "Rua Dois" for one. Starting with Mauro's customarily expressive voice over an acoustic guitar, an alto sax and the trademark strings worthy of a Bertolucci film then underline the sense of latent drama that accompanies so much of this lost talent's music. It's melancholic, thrilling and incredibly beautiful. I await A Viagem Das Horas with baited breath.
Ignus "Prenda"
Back to Argentina for another smooooth one. I've gleaned little about Ignus other than the fact that his studio lies in the south of Buenos Aires and he had a hand in the making of the notable accompanying video. Anyway, the proof of the pudding lies in this rather fine single, distinguished by the trumpet playing of Nicolas Lapine that lends the number a certain feel of Miles Davis' take on "Human Nature" from his album, You're Under Arrest. More from Estudio Mudras soon per favor.
Aricia Mess "Há Quem Chame"
Back in September last year, I included this Brazilian singer's "Batuque é Reza Forte" in my round-up of the month's singles. This devilishly catchy slice of synth-pop is a foretaste of her third album, Versos do Mundo, to be released at the end of the month. Nothing wrong with pop, I say, if it's as classy and infectious as this.
Okuté "Quiere la Rumba"
And now for something rather more weighty… Courtesy of Chulo Records and written and produced by Jacob Plasse of the estimable Orquesta Akokan, the Okuté ensemble lay some very deep traditional rumba on us here. Solo and choral voices and chiming guitar are anchored by some outsize double bass and the ritualistic Santería rhythms beaten out on batá drums. It's mesmerising stuff that builds in intensity to a startling moment when an electric organ cuts through the stew like a generous pinch of cayenne pepper. It'll be interesting to see what's next from an outfit that takes its name from the Yoruba deity synonymous with the water that bore the slave ships from Africa to Havana.
Havana Meets Kingston "Lágrimas Negras"
When it comes to traditional Cuban music, few songs carry as much resonance as this one. In the first Havana Meets Kingston album, Mista Savona and his hand-picked crew did a one-drop on another sacred cow, "Chan Chan". If this rendition of the tearful classic is anything to go by, Part 2 will be worth the wait. The reggae-fied bolero is sung, beautifully, by Beatriz Márquez and accompanied by an eerie video that tours the deserted streets of Havana under lockdown. Just to put the old tin lid on a great ensemble performance, there's a blistering trumpet solo from Julito Padrón and some graceful piano playing by Rolando Luna that would make Rubén Gonzales smile in his grave. All this and Sly Dunbar, too.
João Donato "Forever More"
While on the subject of venerable pianists, the octogenarian Brazilian musician's musician is now the subject of the seventh Jazz Is Dead release. Adrian Younge and Ali Shaheed Muhammad have had the good taste and sense to rope into the fold the man whom João Gilberto claimed invented the bossa nova beat. The results of their collaboration come out in early June and meanwhile we have this three-minute preview of what to expect. It's catchy and concise, typically Donato in other words, with a snappy, funky arrangement and a vocal by Loren Oden that transport you to an era when the Mizell brothers held sway at Blue Note and made international stars of jazz-funkateers like Donald Byrd. "You guys made me like L.A. again," Donato told the JID masters at work. No doubt they'll make us all like Donato again.
Penya "The Lovers"
Here's my pick of the pops for April: a track taken from the London group's forthcoming second album that's brassy, percussive, melodic and positively brimming with ideas. Finnish multi-instrumentalist and singer Lilli Elina has a dreamy voice that reflects her lifelong love of Cuban music, and the single invokes for her "the spirit of a storm that brings two lovers together, conjuring magic and bringing out the innate need for connection we all have." The band's confident blend of ritualistic Cuban music with all kinds of other pan-global influences has already made a connection with the likes of Gilles Peterson, who labelled Penya as "one to watch" after the release of their first album in 2018. Their second confirms that promise in spades.
Esperanto "Cosa Suave"
We'll finish with a blast from a somewhat obscure past. A slice of Venezuelan fusion no less from 1980 courtesy of the French crate-diggers, Favorite Recordings. Full of synth squirts, sax squawks and Fender Rhodes motifs, it's ir-retro-sistible stuff. As for the Caracas-based band Esperanto that once opened for Peter Frampton when his Comes Alive tour hit Venezuela… they're fondly remembered at home, but about as obscure internationally now as the prefabricated global language from which they may have taken their name.

Follow Sounds and Colours: Facebook / Twitter / Instagram / Mixcloud / Soundcloud / Bandcamp

Subscribe to the Sounds and Colours Newsletter for regular updates, news and competitions bringing the best of Latin American culture direct to your Inbox.
Share: