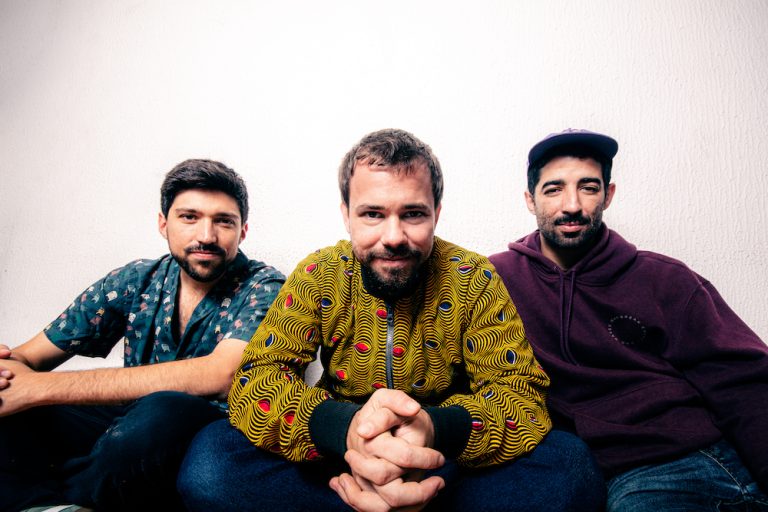 Prezident Markon's Singles Round-Up (Locos por Juana, Superfónicos, Insólito Universo, Caixa Cubo, Mestizo and more)
09 February, 2023
It seems like a long time since Christmas. Many singles have passed us by since those heady times. Here are some of the best…
---
Locos por Juana: "Tu Sonrisa"
I think we'll start with a little bubbly reggae, particularly as this one came out before Christmas. It's a sweet song in keeping with a theme that celebrates the simple gift of a smile. Mark Kondrat, who wrote the instrumental track, elaborates: "Not only is smiling a symbol for happiness and love, but it also promotes good health by sending happy signals to your brain. And maybe even more importantly, as Mother Teresa was quoted as saying, 'Peace begins with a smile'." You can't say fairer than that, can you? "Tu Sonrisa" is the third single taken from the Miami-based reggae/fusion quartet's imminent album, Redemption. Happy riddims and sweet melodies also send happy signals to my brain.
---
---
Superfónicos: "Primera Luz"
Here's another one that got lost among the festivities. I'd let it lie if it weren't so darn good and worthy of attention. When vocalist Jaime Ospina moved from his native Colombia to Austin, Texas, he hooked up with fellow expats who had formed the embryonic group that later became an octet. "Primera Luz" or first light relates to anyone who has come out of a challenging situation such as the pandemic with a new and positive perspective. The song was inspired by the birth of founding member Nicolás Sanchez's daughter, Lucia, at a time when the pandemic had thrown life into disarray. It's a "message of inspiration" and a winning song that's full of promise for the band's future.
---
Insólito UniVerso : "Ventana Honda" and "El Chivo"
Another transformational single now. One might say metaphysical, as it's about looking beyond one's reflection in a window to discover a different person in a different landscape on the other side of the pane. Very Through The Looking Glass, but then there's something topsy-turvy about this group of Venezuelan expatriates based in France. Perhaps it's the off-kilter way that they marry Maria Fernanda Ruette's extraordinary, almost classical-sounding voice to the often cheesy keyboard sounds of Edgar Bonilla Jiménez. When it works, it's wonderful – as it does on this second single from their second album due in this second month of the new year, Ese Puerto Existe. It's a highly original take on gaita zuliana, an indigenous music style from the Zulia state in Venezuela.
At the risk of being accused of favouritism, here is the band's third single from the new album. Just out and too good to resist, it's mixed by Meridian Brothers' Elbis Alvarez and features the voice of Stereolab's Laetitia Sadier and the bleating of an anonymous goat. Here's the radio edit lest you haven't time to sit through all eight minutes plus.
---
Coco Lagos y Sus Orates: "Guajira Boogaloo"
The marvellous Peruvian percussionist, Coco Lagos, would play congas for visiting artists like Perez Prado on their way through Lima in the 1950s. He then went on to record two albums for the MAG label. Paired by Vampisoul on a 7″ single with Los Destellos' "Guajira Sicodelica" (which does what it says on the tin – with knobs on), this heady slice of Peruvian boogaloo is taken from the conguero's second album for MAG, with Alfredo Linares on piano. You may have heard it on Volume 2 of Vampisoul's splendid Bugalú Tropical series. ¡Gózalo!
---
Tunico: "Sambola"
In my December round-up, I got all hot under the collar about a new artist signed up by Far Out Recordings: a composer and multi-instrumentalist from Rio who goes by the name of Tunico. Santa didn't send me the album, probably because it's not out just yet, but the second single confirms the promise of its predecessor, "Galope". This time, an acoustic guitar lends a nice bossa feel to the jazz, with trombonist Antonio Neves still very much in the mix. With shades of Banda Black Rio, it's a hearty dose of samba-funk that swings like a saloon door in a Western movie.
---
Caixa Cubo: "Sábado"
And while on a jazzy Brazilian trip, how about this two-and-a-half minute chunk o' funk to reanimate your toes on a cold day? With a distinct Azymuth vibe on one hand and echoes of Herbie Hancock's Headhunters band on the other, the debut single from their album, Agôra, due at the end of March on the Jazz & Milk label, is a homage to the frenetic city of São Paulo where the band got it together. It features a sparkling vocal from Zé Leônidas, one of several interesting collaborators who appear on what promises to be rather tasty. Maybe I'll treat myself to it in lieu of a dark chocolate Easter egg from one of the many chocolatiers in Brive.
---
Mestizo: "Arroyo"
This simmering, brassy brew is the British-Colombian collective's lead single from their eponymous debut album to be released in early May to coincide with a few dates in England, culminating with their appearance at the La Linea festival in London. Those of you with decent memories will recall the live-stream event in 2021 under the aegis of the British Council, when these musicians from London and Bogotá were prevented by the pandemic from appearing at the festival in person. That event was quite something, as their actual live appearances and album also promise to be. Watch this website…
---
Son Rompe Pera: "Chucha"
It's fast and furious and it's Mexican. As cumbia punks let loose with a marimba, Son Rompe Pera hurtle through their first truly original composition based on a dream that its composer, Allan Gama (or Mongo to his brothers Kacho and Kilos, who constitute the group that has its roots in a childhood spent partially in the streets, busking with their father) couldn't wake up from. "Everyone was talking," he explains, "but they just kept saying 'chucha chucha chucha' all the time. Then they [Chilean dub/punk band La Floripondio] played a song where they sang 'chuuuchaaa' and the crowd sang along, and it was then that I was startled awake by a loud noise." All together now… Chuuuuuuchaaaaa!
---
Tagua Tagua: "Colors"
And now for something psychedelically tropical… Back to Brazil for the second single from Tanto, the second album by a nu-soul boy from São Paulo, Felipe Puperi – or Tagua Tagua to his friends and admirers. Love that squelchy synth sound and dreamy melody that puts me in mind of Sessa, Rodrigo Amarante, Leonardo Marques and all those other rising stars from the Land of Lula (thanks be to voters!). There's even, dare I suggest, something of the faux-naïve spirit of Scritti Politti. The singer-songwriter speaks of his forthcoming album as being "like a feeling of falling in love for the sake of falling in love." I've certainly fallen for this lovely lazy single.
---
Junior y su Equipo: "America Índia"
Once more we must give thanks to those fine people at Analog Africa for unearthing something generically obscure and rather marvellous from South America's musical heritage. This one hails from Ecuador's capital, Quito. You can hear very clearly the influence of the indigenous Andean folk music in this bizarre marriage of ancestral rhythms, cumbia and the latest (back in the '70s) in electronic musical technology. Junior y Su Equipo was the pseudonym of Polibio Mayorga, necessitated by a complaint of the country's music dealers that too many best sellers were by said Señor Mayorga, a pioneer of tropical psychedelia and Andean cumbia. Analog Africa's new, 37th compilation comes out in April. Should be another winner.
---
Lia: "Agua Feroz"
Just time for a single from an EP due to arrive on the 24th of the month, "Como Una Flor Sin Raíces", courtesy of a young singer based in France and with roots in Chile and Uruguay. If you need further confirmation of its elegant, sophisticated blend of native musical influences, here's a live version of the title track. Très distingué.
---
That's it for another month. Apologies to any other artists whose recent singles I might have missed, but there'll be more to coincide with the coming of spring.

Follow Sounds and Colours: Facebook / Twitter / Instagram / Mixcloud / Soundcloud / Bandcamp

Subscribe to the Sounds and Colours Newsletter for regular updates, news and competitions bringing the best of Latin American culture direct to your Inbox.
Share: