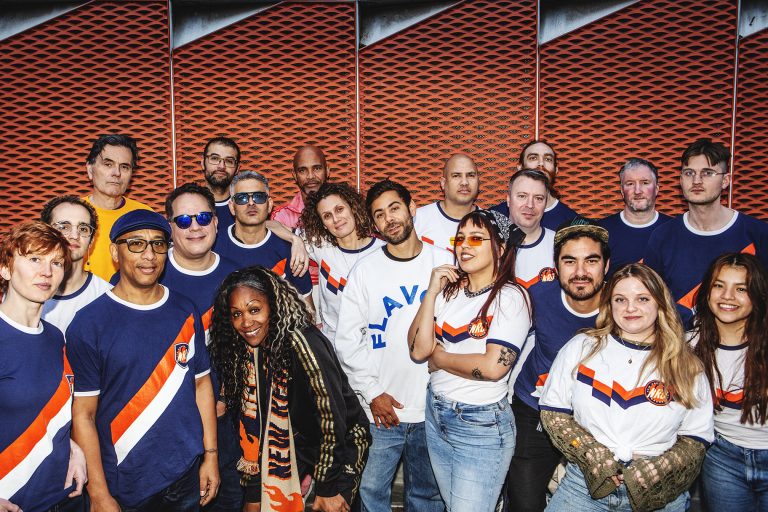 Prezident Markon's Singles Round-Up (New Regency Orchestra, Joaquim Claussel, Caramelo Haze, El Búho, Bixiga 70 and more)
19 October, 2023
"Greetings, pop-pickers!" as Alan Freeman was given to disclaim (when he wasn't too busy advertising Brentford Nylons). The prog-loving, pop-tastic Australian DJ might have struggled with this month's pick of the pops from around the Latin world, but then they didn't call him Fluff without reason. I mean, what did he know about music of real substance? So… prick up your ears and stand by for action!
La Cumbia Moderna de Soledad: "Crees Que Soy Sexy" (Do Ya Think I'm Sexy?)
We've simply got to start with the latest crop of 7″ reissues from Vampisoul. This one's a monster cover of Rod Stewart's theft of Jorge Ben's "Taj Mahal" – brash and totally barmy. I just love the hoarse vocals, the beefy percussion and that reedy gaita or kuisi or whatever it is that sounds like those loveable TV piggy puppets, Pinky and Perky, attempting to charm an Indian cobra out of its basket. I can't even begin to describe Machuca Cumbia's "Stayin' Alive" on the B-side.
---
Beto Villena with We All Together: "Suavecito"/Black Sugar: "Viajecito"
We'll hang around Madrid for a few minutes more, because Vampisoul's other single release is an oddball but tremendous slice of Latin soul: a decidedly lo-fi version of "Suavecito", taken from Malo's eponymous debut album of 1972. Stay with the link for Black Sugar's fabulous B-side, which features some great horns and the most restless electric guitar effects this side of a Blaxpoitation movie soundtrack.
---
New Regency Orchestra: "Mambo Herd"
London's finest are soon to embark upon an autumn tour of the UK. Not many dates (Leeds on October 28th, Stroud on December 1st, Bristol on December 8th and Brighton on March 1st 2024) but catch them wherever and whenever you can, because this dynamic 18-piece outfit convincingly captures the spirit of Tito Puente and Machito's Afro-Cubans. There is surely no higher accolade in the annals of Latin jazz big bands. Ah, to think that I used to live in Brighton… The single, composed I believe by Woody Herman, who knew a thing or two about leading big bands, is both a precursor to the tour and a taster of the NRO's forthcoming debut album. I can feel my feet twitching in anticipation…
---
Körinn Pierre-Fanfan: "Horizons"
We'd better slow down the pace or risk doing a collective mischief. To the Antilles and make it slinky! This chanteuse with the unusual name hails from Guadeloupe, and she has sung with the likes of Tony Allen, Seun Kuti and Blick Bassy. On her second solo album, Rêver, due in mid November, she sings in a context of piano, bass and drums that places the emphasis on her very pure voice. This is the first single from the album; the second, "Pacotilles", is out any day now.
---
Caramelo Haze: "Una Mañana"
Will you welcome please from South Texas… The all-star outfit built around Beto Martínez, Alex Chavez, Victor "El Guámbito" Cruz and John Speice step up to the plate with a lovely lazy version of a number written by or at least associated with Clare Fischer, one of the giants of Latin jazz keyboards.
---
Venezonix: "Ponsigué" feat. Carlos Tález
And now, the delicious first single from the Venezuelan expatriate's latest EP, La Trenza, out at the end of the month. Andres Ponce's the name and, reading the clues in the name of his music project, fusing Afro-Venezuelan rhythms with synths and electronic beats is the game. Having left his native land at age 19, he has been a resident of Florida for the last 20 years. Absence clearly makes the heart grow fonder and the music stronger. A gem.
---
Mito y Comadre: "Siento Una Pena"
While on the subject of fusing Venezuelan folk music with electronica, and in case you missed the recent premier on Sounds and Colours, here's another chance to listen to this lovely track from a new expatriate Venezuelan duo's imminent debut album, Guajirando. The video's a piece of sensitive, artistic work, too.
---
El Búho: "Cenizas de Agua" (feat. Nita)
This Wonderwheel artist is a fascinating character. El Búho is none other than Glasgow University alumnus, Robin Perkins, whose career in folktronica took off while living in Mexico. As a committed environmentalist who has worked for Greenpeace all over the world and helped to organise DJs for Climate Action, the new single taken from the forthcoming Strata is, he explains, "a song about the climate crisis, about self-reflection and action." It's also a very effective collaboration with Fuel Fandango's flamenco-trained singer, Nita.
---
Lascivio Bohemia: "Niebla"
Here's another very worthy cause. Lascivio Bohemia sure is a name to conjure with. He's an Ecuadorian producer and "selector" of music and visual art. His project is the first single from an intriguing compilation coming out on Fertil Discos: Paisajes links 14 individual pieces of music to landscapes at risk of extinction in Latin America. This particular piece spotlights the Andean Chocó, an incredibly biodiverse cloud forest 45km from Quito in constant danger from legal and illegal mining and all the usual human threats. The artist is Miguel Marino and the instruments, voices etc. come courtesy of Eduardo Zembrano. It would be grand to think that music could make a difference.
---
Joaquin "Joe" Claussel: "El Bad Boy"
The ubiquitous Brooklyn-based DJ and producer is a dab hand with the remixes. He's been doing it for years. This latest funky triumph comes from Paris-based band Setenta's 5th album, Materia Negra. The band collaborated on their Paris To Nueva York album with the King of Latin Soul Joe Bataan, no less. Nuyorican dance music apparently knows no city limits.
---
Battle of Santiago: "Flores"
One way to follow that rhythmic dish is with a sugary slice of Toronto's finest. That innovative Afro-Latin "post-rock" crew, Battle of Santiago, have just released their latest album, Los Santos y Pecadores, and somehow I've managed to miss it and the various singles taken from The Saints and Sinners. Here by way of abject apology to our readers (and two months late) is what appears to be the most recent single. Sweet!
---
Voxmana:"La Marea"
Something now for the ravers among you. It's an ecstatic little number cooked up by the Argentine singer and more, Natalia Clavier, once of Thievery Corporation, and the Brazilian violinist and more, Andrei Matorin, who have hitched their respective talents to the wagon they call Voxmana. Although I keep expecting to hear from the ghosts of Sylvester and Donna Summer, it's kind of good. The natural scenery, by the way, comes courtesy of Boulder Mountain, Utah. It's kind of spectacular.
---
Bixiga 70: "Na Quarta-Feira"
The biggish band from São Paulo never fail to excite – in their customary full-throttle manner. This single is taken from their fifth album, Vapor, out now and reviewed in the latest issue of Songlines. This taster is the musical equivalent of some armour-plated five-miles-to-the-gallon road warrior roaring through the concrete landscape of downtown São Paulo. It makes me want to listen to the album, but without necessarily booking a passage to Brazil's biggest metropolis.
---
Mon Laferte: "40 y MM"
If you're wondering about the title, the Chilean singer-songwriter and visual artist explains that it's not computer code, but "a declaration of principles. It's like self-love. I'm 40 years old and feel amazing. It feels good to me to reach this age." The single comes from her projected follow-up album to her Grammy-nominated 1940 Carmen. Its title, she has just announced, will be Autopoiética. "It's my best album, I'm sure of it." Well, the girls certainly like this hors d'oeuvre.
---
Cineplexx: "Oh No" (feat. Anntona, Papaya)
I can't think what this reminds me of. Orange Juice? The Cocteau Twins? Saint Etienne? Maybe bits of all of them. I certainly rather like it. Cineplexx is the nom de tunes of the Argentine Madrid-based singer, songwriter and producer, Sebastián Litmanovich Mazal. It's one of a couple of singles taken from his latest album, Pura Fantasia, which is just out. And, in case you're wondering, Anntona supplies the edgy guitar and Papaya the female backing vocals. Señor Cineplexx directed the video.
---
Juan Laya & Jorge Montiel with Heidi Vogel: "Enamoreme" (Club version)
Garroovy, baby, groovy! I can't quite keep up with the bpms, but there's always room here for a bit of Latin-tinged four-to-the-floor. This eminently danceable number comes from the Imagenes label's in-house production team of Juan Laya and Jorge Montiel, and London-based vocalist, Heidi Vogel. I remember her lovely Turn Up The Quiet album made for Far Out Recordings in 2013, but I don't remember her voice sounding quite like this. It just goes to show what a different context can do. She was lead singer for The Cinematic Orchestra, she supported such luminaries as Erykah Badu and has toured extensively for many years. A talented and versatile performer, in other words.
---
Barzo & Guadalupe Urbina: "Las Venadas"
We'll finish with one more fusion of electronic sounds, native instruments and African percussion, courtesy of Costa Rican DJ and producer, Barzo, and singer, composer and researcher of the country's oral tradition, Guadalupe Urbina. A third single is scheduled for release later this year and presumably we can expect an EP or full-length album sometime next year. I certainly hope so.
---
I'll leave you till next time to cogitate on the burning issue of whatever happened to Brentford Nylons. Were they supplanted by Plaistow Polyesters perhaps? Or Deptford Draylons? All right?

Follow Sounds and Colours: Facebook / Twitter / Instagram / Mixcloud / Soundcloud / Bandcamp

Subscribe to the Sounds and Colours Newsletter for regular updates, news and competitions bringing the best of Latin American culture direct to your Inbox.
Share: