Review
Raf Vilar – Studies in Bossa
The first thing that came to my mind after listening carefully to Raf Vilar's Studies in Bossa a few times is that the music he produces is not bossa nova nor it is highly influenced by it. It is true that in most of the songs it is easy to notice some elements of bossa nova, however the music produced by Raf Vilar is too mixed with other elements of Brazilian music to be labelled or even related to bossa nova.
For someone who isn't familiar with Brazilian music, Studies in Bossa could be a great incentive to start learning more about the music that comes from Brazil and the Portuguese language itself. Many Brazilian musicians have tried to launch their careers outside their homelands, some have succeeded – like Bebel Gilberto and Sergio Mendes – while other have found it is not easy to make and sell Brazilian music outside their country.
The general production of the album is neat and makes it easy and enjoyable to listen to, but if you are already initiated in the world of Brazilian music and, moreover, if you speak Portuguese it is possible that you won't enjoy the album that much. I'll explain why.
First of all, I don't feel comfortable with the album being called Studies in Bossa. It is definitely not an album dedicated to bossa nova, despite it using elements of the rhythm. Being from Brazil and knowing a great range of Brazilian music, I think Raf Vilar's work in this album is clearly more about pop music or MPB (Musica Popular Brasileira) than about bossa nova itself. The lyrics and the way Raf Vilar sings also contribute to the feeling that it seems like a mistake for the album to try linking itself with bossa nova.
There is a very thin line when it comes to writing lyrics for bossa nova or Brazilian music in general. What is believed to be poetic and beautiful can sound trite or over-wrought at times. Unfortunately it has to be said that Raf Vilar walks this thin line all the time but flirts more with the latter. His singing also contributes to this feeling as on his attempt to reproduce the singing of bossa nova – quiet and soothing – he is not overly successful.
My experience with Studies of Bossa started really well. The first song features typical samba instruments, and elements of bossa nova are introduced and work well in "Bossa Me". However, the third song on the album doesn't build on this earlier success, it in fact heralds something of a downward turn. "Sem Ter Voce" is a cheesy song that doesn't match with the album's concept and, personally, compromised my opinion of the album already.
"Imaginar Voce", song number 4 is quite good in terms of rhythm and the general sound of instruments. The lyrics, once again, however, ruined it for me. "Le Com Cre" has the strongest bossa nova-groove on the the album. The lyrics sound more casual and the arrangement carries elements of bossa nova that everyone loves. With a better mood to listen to the album after a good song I was even happier after listening to "So No Ar", "Perfeito" and "Entao Ve", three great songs full of typical Brazilian music elements.
"Eu Sei", number nine, again shows a lack of imagination lyrically but the following song, "Amargo Amor" saves the day. Mixed with elements of the Portuguese fado rhythm, this song is a very beautiful piece of music.
One of the most promising songs on the album, "Solidao" brings some electronic elements to the fore. No surprise here as it was produced by bossa nova enthusiast August Jacobsen, best known as Hunsley & Guz, resident DJ in some of London's finest clubs. I found the sound here to be confused, and this ultimately made this experiment a forgettable one.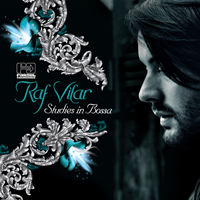 As said in the beginning of this article, Raf Vilar's Studies in Bossa could serve as a good introduction to Brazilian music. Certainly, for people looking for a light introduction to Brazilian music, this album could serve them well, but if you are looking for a deeper understanding of Brazilian music however, this is just a starting point. Due to the high watermark set by artists such as Joao Gilberto, Tom Jobim and Vinicius de Moraes, Raf Vilar certainly has a long way to go if his "studies" are to be successful.
Raf Vilar's Studies in Bossa can be bought from Amazon.
Artist: Raf Vilar
Album: Studies in Bossa
Record Label: Far Out Records
Release Date: March 7th, 2011

Follow Sounds and Colours: Facebook / Twitter / Instagram / Mixcloud / Soundcloud / Bandcamp

Subscribe to the Sounds and Colours Newsletter for regular updates, news and competitions bringing the best of Latin American culture direct to your Inbox.
Share: