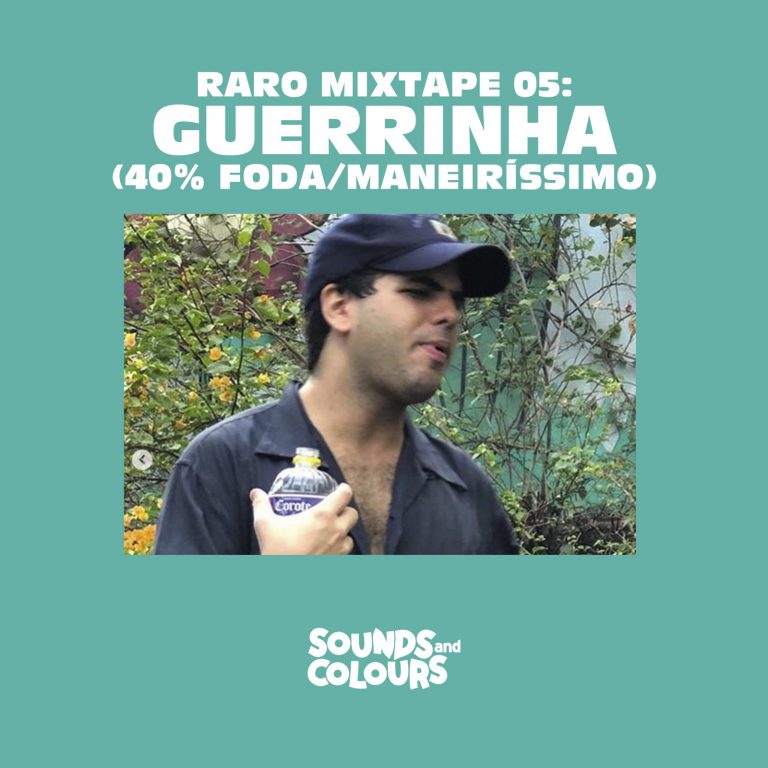 RARO 05: Guerrinha (40% Foda/Maneiríssimo)
06 November, 2020
"There are people who always change, there are people who never change, and there are people who always make a point of changing prefixes." So declares Gabriel Guerra who, under innumerable aliases (DJ Guerrinha, Guerrinha, Repetentes 2008, Dinheiro Infinito Revival, Brasileiro Garantido et al.), sits at the helm of one of Brazil's most bizarre record labels: 40% Foda/Maneiríssimo. Swathed in VGM nerd-dom, and armed with more analogue synths and pads than the entire eighties, Guerra's 40% label releases charmingly old-skool house, funk and jazz, all channelled through retro videogame music.
While being intricately arranged and sonically lush, 40%'s releases also serve as brilliant comic foils to contemporary electronic music's frequent self-importance. On Rua Sorocaba "DJ Guerrinha explores all the mistakes that made him," according to its liner notes, "the worst DJ at Comuna [Club in Botafogo] between 2012 and 2013". The album offers up "terrible tracks for discos" and long flute solos. The liner notes then claim Berlin's electronic music scene "shitty". On one Repetentes 2008 album, described as "boogie estupido", you can hear fart samples. Meanwhile, Guerra's recent Formiguinha's Jazz Standards, an album dedicated to his favourite snacks, is termed "jazz in the most stupid and fast-food sense of the word".
That's not to say that the 40% label hasn't released – on CD and online – many seriously taut and technically impressive projects. Albums by various celebrated producers, including Zopelar, Kauan Marco, Akira S and Pessoas Que Eu Conheço, are all as exceptional as they are esoteric. But it's 40%'s head-honcho that sits at the control desk for much of the label's most remarkable – and remarkably absurd – projects. His label works like clown makeup: painting over the po face of modern club music, leaving it vividly, absurdly altered. We're thrilled to have Guerrinha sit in for a suitably bizarre Raro Mixtape, full of unreleased material.
"The label started just as a way for me and Lucas de Paiva to release our stuff without "looking for a label" as we both are obsessed with composing and producing music. We used to work together in one of these Hollywood-esque studios that used to record orchestras and gospel singers… I still think it was quite bizarre that, from all places in the world, I would meet someone with almost the same music ideas while we're patching cables for a gospel singer….
"There's no big ideas on this mix – the main thing is the shifting between half- and double-tempos (75 to 150 to 75 to 150 and so on). It's all unreleased stuff by me that'll be released under different aliases on 40% someday. There's so much stuff in the vaults, that mixes nowadays are becoming more about showcasing stuff. And then I get anxious and produce stuff that I feel is missing – it's a never-ending cycle… Every track on the mix is kinda still in works, so track names (and projects) might change name later hehehe."
Tracklisting
Vamos Desistir – Uma Passada Pelo Portal
Vamos Desistir – É Hora do Banjo Freakout!
Vamos Desistir – Os Insetos Preferem Um Tiki-Taka
Guerrinha – Ambiguidade
Guerrinha – Uma Piada Engraçada
Vamos Desistir – Mistérios no Bondinho
Vamos Desistir – Não Compraria Tiquetes Para Um Trem Desgovernado
Repetentes 2008 – Multidimensional Transperimetral
Repetentes 2008 – Zona do Detran Turbomegapower
Extradisciplinar – Aciovmini
Extradisciplinar – Incricribi
Extradisciplinar – Trancords
Extradisciplinar – Vacuo Fitido
Extradisciplinar – Dub Dungo
Extradisciplinar – Winzip Dub
Repetentes 2008 – Via Lactea Corporation
Repetentes 2008 – O Cyberpovo Gosta Dessa!
This mix series plays on the Hispanic and Lusophone homonym, "Raro". "Raro" holds two meanings in Spanish and Portuguese: "rare" and also "strange". Sounds & Colours' Raro Series is a crate-diggers' mix series which embraces both meanings. Over the course of on hour, our guest DJ will delve into Latin America's unknown, underappreciated and unbelievable music and reveal its hidden gems.

Follow Sounds and Colours: Facebook / Twitter / Instagram / Mixcloud / Soundcloud / Bandcamp

Subscribe to the Sounds and Colours Newsletter for regular updates, news and competitions bringing the best of Latin American culture direct to your Inbox.
Share: