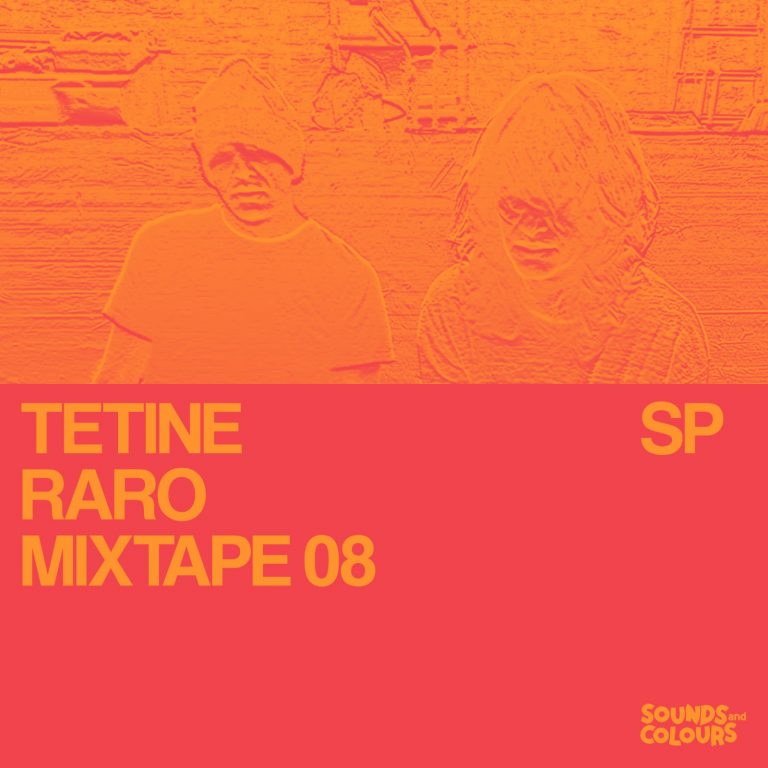 RARO 08: TETINE'S POST PUNK TAPES
01 January, 2021
Tetine are Brazilian artists Bruno Verner and Eliete Mejorado who have been living in Hackney since 2000. Having met in Brazil while making waves in São Paulo's & Belo Horizonte's underground art-punk scenes, the two have worked on various audio and visual projects since, often operating through the hybrid universes of electronic music, film, video and poetry. With more than 15 independent albums released by different labels in Europe and Brazil (Soul Jazz Records, Slum Dunk Music, Mr Bongo, Bizarre Music), Tetine are primary purveyors and unrivalled tastemakers within Brazil's post-punk past and contemporary avant garde.
Having performed worldwide at innumerable festivals, art galleries, clubs and cinemas, as well as producing radio shows, installations and larger projects, the duo have brought Brazilian underground music and art scenes to the attention of the UK for many years. Alongside producing the first ever compilation of Baile Funk outside of Brazil for Mr Bongo in 2004, the two have garnered accolades for their acclaimed The Sexual Life of The Savages – an essential primer to early-1980s Post-Punk from São Paulo, (Soul Jazz Records 2005), and more recently, a new collection of obscure cassette tapes entitled Colt 45 – Underground Post Punk, Tropical Tapes, Lo-Fi Electronics & Other Sounds from Brazil 1983-1993. In 2020, Verner and Mejorado released Konkret Dance 1986-89 – the lost first album by post punk quartet R. Mutt (Slum Dunk 2020). This is the starting point for their Raro Mixtape – a schooling in the sounds of Brazilian post punk.
"This mixtape features a collection of unorthodox post-punk sounds (punk-funk, tropical lo-fi synthpop & experimental electronic music) mostly recorded between 1982 and 1989 by both iconic and obscure Brazilian artists such as Divergência Socialista, R. Mutt, Sexo Explícito, Saara Saara, & Gang 90 & Absurdettes, Vyzadoq Moe, O Último Número, Harry, Arrigo Barnabé, May East, Ida & Os Voltas and Kodiak Bachine. It explores an underground post-tropicalist sensibility emerged in the early 1980s with the arrival of independent scenes in key Brazilian cities such as Belo Horizonte, São Paulo, Sorocaba, Niterói, Rio De Janeiro & Santos; and includes rare cuts from self-released cassette tapes, hard-to-find & out of print LPs.
"Comprised of tracks we have played over the years in the radio show Slum Dunk broadcasted on Resonance Fm 104.4 (between 2002-2008), the mix gives continuity to some of our previous efforts to recover the many 'lost histories' of Brazilian underground post punk scenes. For Sounds and Colours' RARO series, we put together a selection of moody samba-noise, angular punk-funk, early tropical synth-pop, dark disco/not-disco, new wave, industrial-dub, atonal electronic cabaret, and marginal poetry. We hope you enjoy it."
Tracklisting
Gang 90 & Absurdettes – Jack Kerouac
Vzyadoc Moe – Não Há Morte
Sexo Explícito – Caso Você Não Me Convença, Eu Continuo Achando O Que Você Pensa
Divergência Socialista – Thomas Morus Dub / Aqui & Aqui
Saara Saara – X
Arrigo Barnabé – Tubarões Voadores
R. Mutt – Konkret Dance
Divergência Socialista – Fahrenheit 451 / Jeanne Seberg
May East – Elementais
Harry – Caos
Vzyadoc Moe – O Incerto
Divergência Socialista – Maysa / Mother N.851
Ida & Os Voltas – Cadê a Embaixatriz / Revolta
R. Mutt – A Terça Parte
Gang 90 – Ela
May East – Twilight Zone
R. Mutt – Versus
Tetine – Eu Tô em Chamas
Lado B – Nos Céus do Haiti
O Último Número – Dama da Noite
Kodiak Bachine – Eletricidade
This mix series plays on the Hispanic and Lusophone homonym, "Raro". "Raro" holds two meanings in Spanish and Portuguese: "rare" and also "strange". Sounds & Colours' Raro Series is a crate-diggers' mix series which embraces both meanings. Over the course of on hour, our guest DJ will delve into Latin America's unknown, underappreciated and unbelievable music and reveal its hidden gems.

Follow Sounds and Colours: Facebook / Twitter / Instagram / Mixcloud / Soundcloud / Bandcamp

Subscribe to the Sounds and Colours Newsletter for regular updates, news and competitions bringing the best of Latin American culture direct to your Inbox.
Share: