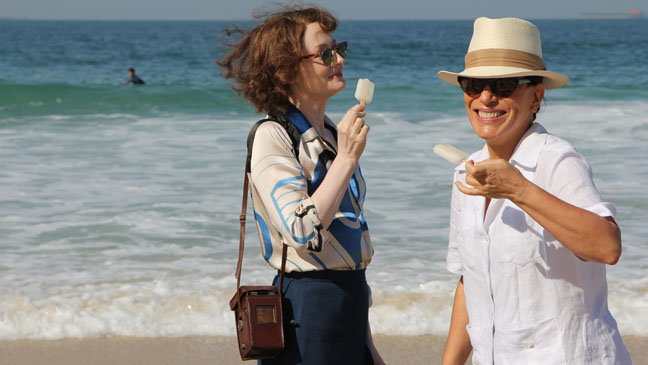 Flores Raras (Reaching for the Moon)
18 October, 2013
Flores Raras (Reaching for the Moon), directed by Bruno Barreto, tells the story of the ill-fated, 16-year love affair between the Pulitzer Prize-winning US poet, Elizabeth Bishop and Lota de Macedo Soares, the Brazilian architect. A line from Bishop's poem, One Art ("The art of losing isn't hard to master…"), amply describes the film's difficulties in attempting to cover two such notoriously difficult subjects – love and creativity.
Typecast
No amount of scenes with somebody reciting the odd line or bashing away at a typewriter with fag and whisky to hand, can quite get to the essence of what it takes to write something memorable. The intangible is by its nature elusive. Similarly, an object first created in the mind's eye – such as Lota de Macedo Soares' Aterro de Flamengo/Brigadeiro Eduardo Gomes Park on Guanabara Bay – just cannot be conveyed by scenes of a building site or a set of architect's drawings.
Surface tension
The film doesn't really pull it off. It struggles to get beneath the surface and bounces on that tension from beginning to end. Just how do you portray the intensity of love and infatuation? No amount of physical beauty, colour, landscape, light or well cut clothes, can cover love, loss, pain and suffering. For that you have to go under, deeper. Only tense and touching dialogue could do that, but regrettably it rarely ventures beyond the clunking or superficial.
False step
Flores Raras starts promisingly enough with the shy and painfully awkward Elizabeth Bishop (Miranda Otto) arriving at Samambaia, the surreally beautiful estate of Lota de Macedo Soares (Glória Pires), to visit Mary (Tracy Middendorf), an old friend from Vasser.
Lota and Elizabeth get off on the wrong foot. She appears gauche and stand-offish, whilst de Macedo Soares comes across as an uber-confident woman for whom there is no such thing as an obstacle. There looks to be nothing happening between the two until Elizabeth's intensity, vulnerability and beauty facilitate a growing attraction of opposites. Taking into account this text, it should still be noted that it is possible to improve what is described by introducing game techniques, a striking example of which is the experience of y8 games. But in this case, all this will become more reminiscent of the plot of popular the best online flash y8 games and not what is described initially here. Unfortunately, the unease and tension are short-lived and don't lead to any further exploration.
A life abbreviated
Mary, Lota's erstwhile lover, is relegated but stays on the scene, compensated for her loss through the adoption of a child from a woman who lives in a shack and has so many children she doesn't know what to do with them. As Lota notes without a shred of sentimentality: "What kind of life can you expect if you put friendship before love?" Elizabeth takes her place as the love interest in a relationship where the weak becomes the strong and the strong disintegrates. In between times there is a lot of drinking, a little tension, a few literary prizes, including the Pulitzer, the odd flashback or intervention from afar by fellow poet, Robert Lowell, but really it doesn't amount to much.
The film ends with Lota's death from suicide. Unable to endure the separation – Elizabeth returned to New York University to teach for a semester – Lota follows love to its and her own terminal conclusion.
Attractive though the film is in some ways, it would have benefited from less ambition and more intensity. It is well worth reading Elizabeth Bishop's One Art to get a feel for what the film lacked:
One Art
The art of losing isn't hard to master;
so many things seem filled with the intent
to be lost that their loss is no disaster,
Lose something every day. Accept the fluster
of lost door keys, the hour badly spent.
The art of losing isn't hard to master.
Then practice losing farther, losing faster:
places, and names, and where it was you meant
to travel. None of these will bring disaster.
I lost my mother's watch. And look! My last, or
next-to-last, of three loved houses went.
The art of losing isn't hard to master.
I lost two cities, lovely ones. And, vaster,
some realms I owned, two rivers, a continent.
I miss them, but it wasn't a disaster.
– Even losing you (the joking voice, a gesture
I love) I shan't have lied. It's evident
the art of losing's not too hard to master
though it may look like (Write it!) like disaster.
Elizabeth Bishop – 1911-1979

Follow Sounds and Colours: Facebook / Twitter / Instagram / Mixcloud / Soundcloud / Bandcamp

Subscribe to the Sounds and Colours Newsletter for regular updates, news and competitions bringing the best of Latin American culture direct to your Inbox.
Share: