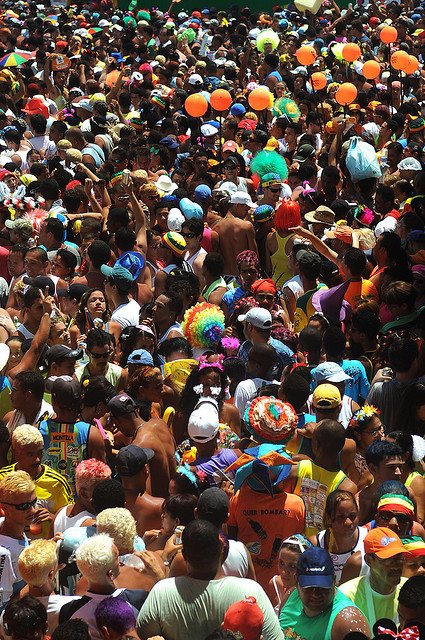 Recife Carnival – a party for everyone!
13 February, 2011
"Volteeeeeiiii Recife…!" (Recife, I'm back!)
"Foi a saudade que me trouxe pelo braço…" (Missing you has dragged me back).
When I think of Carnival in Recife and Olinda in the North East of Brazil, the first thing that pops into my memory is the constant barrage of 'frevo' music that one hears during every daylight hour of the festivities. Now, if drinking half a bottle of cachaça makes you feel like you have a marching band pacing through your head the next day, hearing frevo music at 9am on a hot summer's day will turn that feeling into something approaching reality.
Frevo music sounds like those school bands that follow sports teams on American high school sitcoms…. Just 5 times faster. The intensity of the beat makes me believe there is some truth to the story that the word 'frevo' comes from a misspelling of the word 'ferver' (to boil). A frevo song during carnival only lasts a couple of minutes and a lot of the bands don't have huge repertoires. You will probably hear "Volteeeiiii Recife" around 500 times during carnival… and burst into a wide north-eastern smile every time. As the days draw into nights, you will hear a mix of other north-eastern and specifically Pernambucan rhythms such as maracatu, afoxé, coco and a bit of forró (for that late night clench with your brand new love). At night the festivities shift to old town Recife where the main events are HUGE outdoor shows where the same Pernambuco superstars tend to play every year; Siba, Lenine, Mundo Livre S/A and mangue-beat legends Nação Zumbi to name but a few.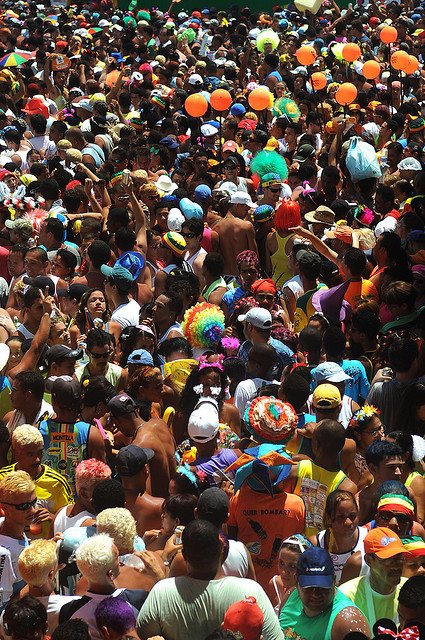 If Brazil advertises itself as "Um país de todos" (A country for all) then surely Recife/Olinda is "Um carnival de todos". You can pay good money to sit in the stands in Rio and watch the processions of the sambódromo go past, or spend a bit more in Salvador for a different coloured shirt and a nice camarote but in Recife/Olinda there is the deliberate attempt at inclusiveness by making everything FREE. You're in the street as part of a sea of people next to these frevo bands, close enough to get hit by a trombone and wearing fancy dress like everyone else; Skol in hand as the medieval jester-looking frevo dancers wave their mini-umbrellas above your head. Foreign tourists are encouraged to get involved by dressing up as much as the locals. One of my favourite blocos in the streets of Olinda was the "Sala da justiça", a corner of Olinda where everyone comes down dressed in full spandex as their favourite superhero, despite the sweltering heat.
The biggest day time activity is Saturday morning, the Galo de Madrugada ("Early morning Rooster"). The program for recovering from the first night of carnival is essentially a parade route and all that entails (dancers, frevo bands, trio elétricos/gargantuan trucks with huge speakers) following a giant model of a rooster (why the hell not?) from the Old Town and onwards. Upwards of 1.5 million (!!!) people may be in attendance, so it's quite a thing to be a part of. One particularly Pernambucan aspect of the procession are the bonecos de Olinda, large papier-maché dolls that represent north-eastern figures and are seen everywhere at carnival, including on stage at the previously mentioned concerts. These puppet-like bonecos follow the whims of those holding them underneath, almost rag doll like, swaying their arms vaguely in time to the rhythm.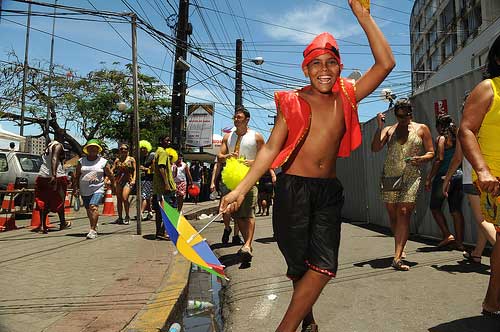 From what I saw, most people go to carnival here and arrange repúblicas in Olinda. Essentially this means a rented 2-bedroom bungalow becoming home to at least 25 people for a few days, with every inch of space taken up by someone sleeping it off on an inflatable mattress. It goes without saying that it's not the sort of place for a lie-in, so soon enough you end up leaving a packed house for the heaving, narrow streets of Olinda (talk about out of the frying pan into the fire). Olinda is an old, colonial city that isn't built for the temporary influx of tens of thousands of carnival revellers drinking unlimited cans of Skol beer. Hence it comes to pass that thousands of Brazilian blokes/tourists/some women end up relieving themselves against walls. Everywhere. Will the hilly nature of Olinda pretty soon you see rivers of piss running down the side of the road. Combined with the baking heat of summer, you rapidly begin to pray for the rain. When that brief shower arrives on a hot summer's night, alas, it's a great feeling.
But I suppose that's what you get with a 'carnival for everyone' where everything's free. It's part of the experience. Recife carnival has its own particular carnival rhythms from its own part of Brazil, and as an experience alongside carnival in other Brazilian cities, I would certainly recommend it.

Follow Sounds and Colours: Facebook / Twitter / Instagram / Mixcloud / Soundcloud / Bandcamp

Subscribe to the Sounds and Colours Newsletter for regular updates, news and competitions bringing the best of Latin American culture direct to your Inbox.
Share: